Introduction to the Reseller Dashboard
Written by GoodBarber Team on
In addition to having access to an unlimited number of app backends, with our
reseller program
also comes a unique interface, called the Reseller Dashboard, serving as a control panel for managing all things related to your account. This video will give you a brief overview of everything it can do, as well as how to go about getting one of your own.
Opening an Account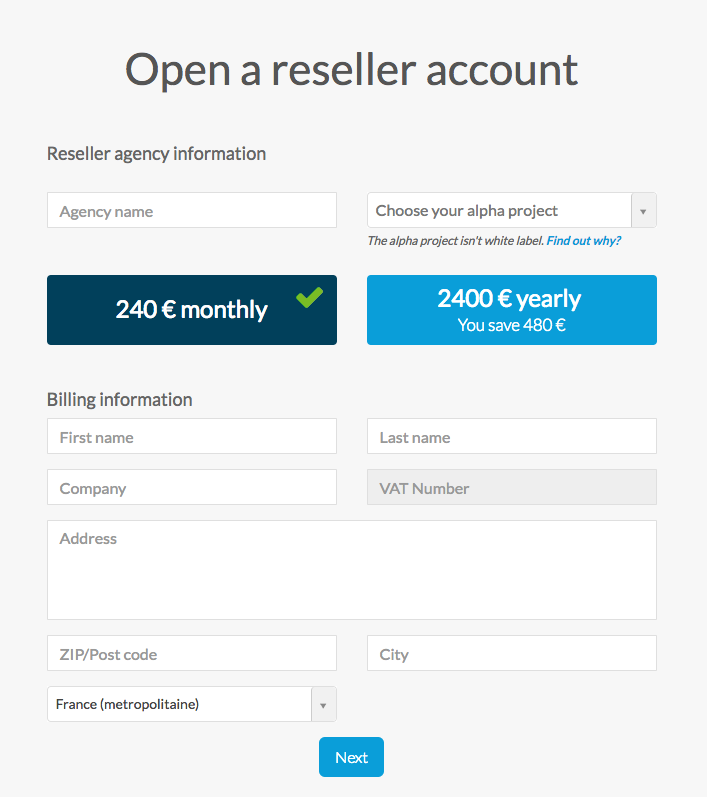 To test the reseller plan, you must log into the backend of any existing project (
create one here
if you don't have one already) and go to
Add-ons > Services > Reseller
where you will be asked to fill in a form.
Be careful when choosing your alpha project, as this is the only one that will not be white label. If you don't have a suitable project for this purpose, just create another one.
Once the form is submitted, your reseller account will be automatically created and you will receive instructions on how to proceed.
Overview of all apps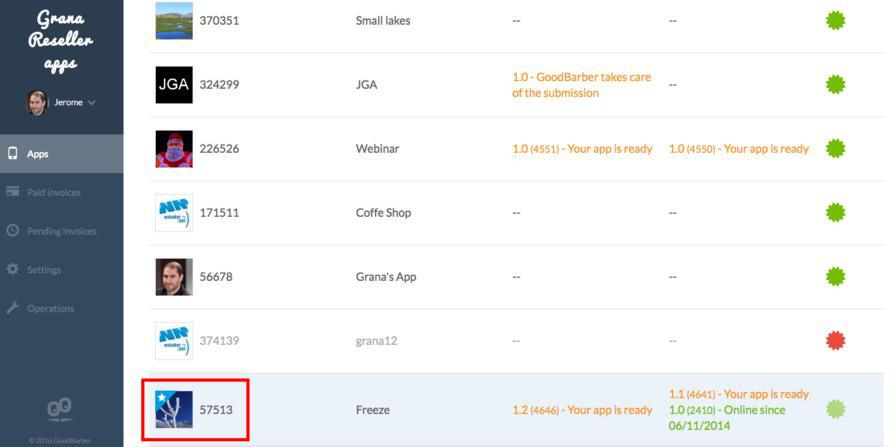 The first thing you'll notice in your reseller dashboard is that all of your apps are displayed, along with their publishing status on both OS's. From here you can create new apps, add existing apps, or remove apps from your account. You can also transfer ownership of apps here, as well as temporarily deactivate projects, which comes in handy if you have
payment issues
with clients, for example.
Your alpha project is the one that is starred.
Payment information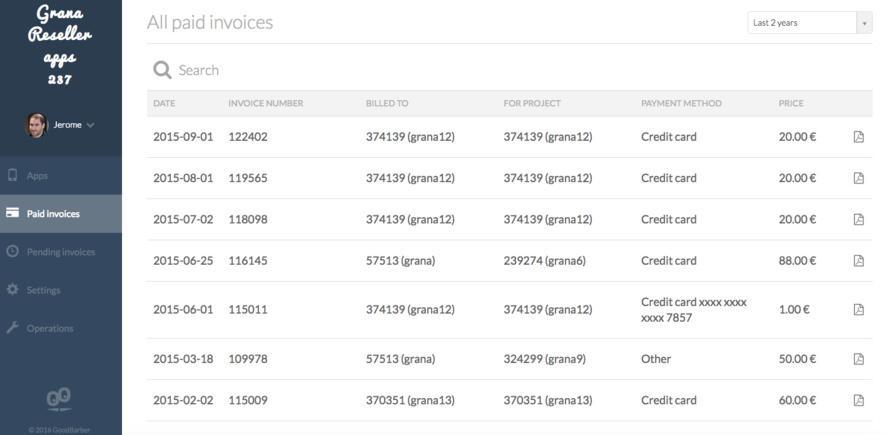 All paid and pending invoices can be seen in this interface. The identification number seen next to each purchase allows you to keep track of which projects you bought what for, since all payments are made only from one backend—the alpha project.
Branding the backend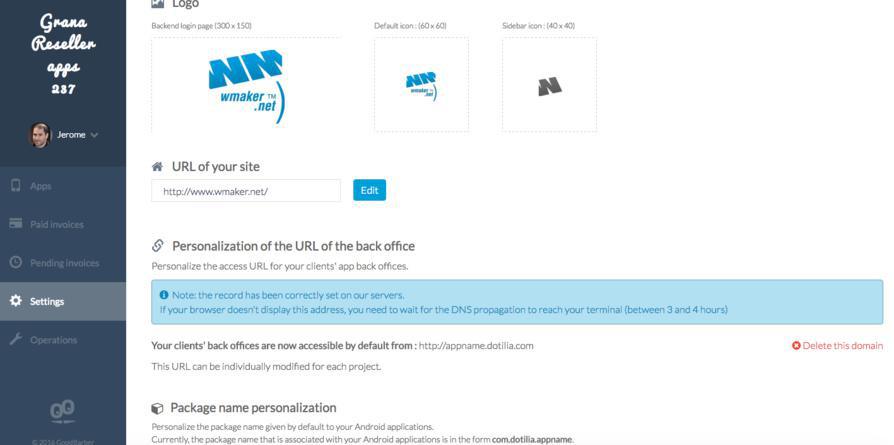 One of the most well-liked features of the reseller plan is the aspect of backend customization. Adding in your own RSS feed, social media accounts, and clickable logos sending users to your website are all ways you can make the backend reflect your agency's brand.
Eliminating "GoodBarber" from the domain name and replacing it with your own is also an option, so that when your
client goes to log into their backend
, the URL they see will appear something like this :
www.appname.agencyname.com
Package name
The package name, the unique identifier of your Android app, displays "GoodBarber" in the Play Store URL by default, but if you wish to change it you can do so from the reseller dashboard.
Managing your Team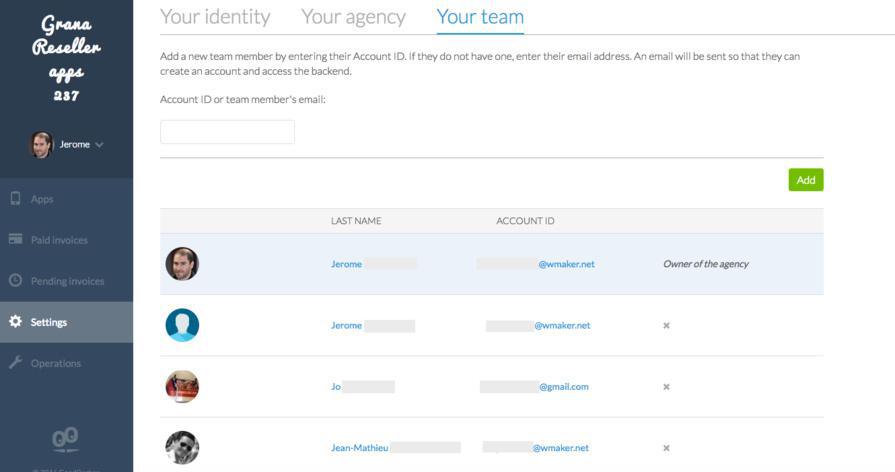 If you'd like to give colleagues access to your reseller dashboard, you can invite as many as you'd like to be collaborators. Please note that the reseller dashboard itself is not white label, so if you give them access to this interface, they will see GoodBarber references.
Duplicating Apps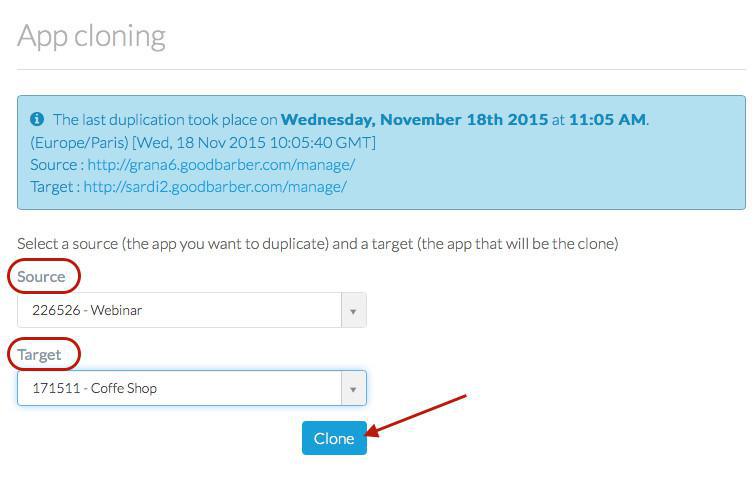 An app cloning feature can be activated upon request, which allows you to duplicate entire apps. This feature is an add-on to the reseller plan.
Those are the basics of the reseller dashboard. Don't hesitate to test it out for a complete understanding!