Reseller Tips: 5 Hacks to help you sell apps
Written by Christophe Spinetti on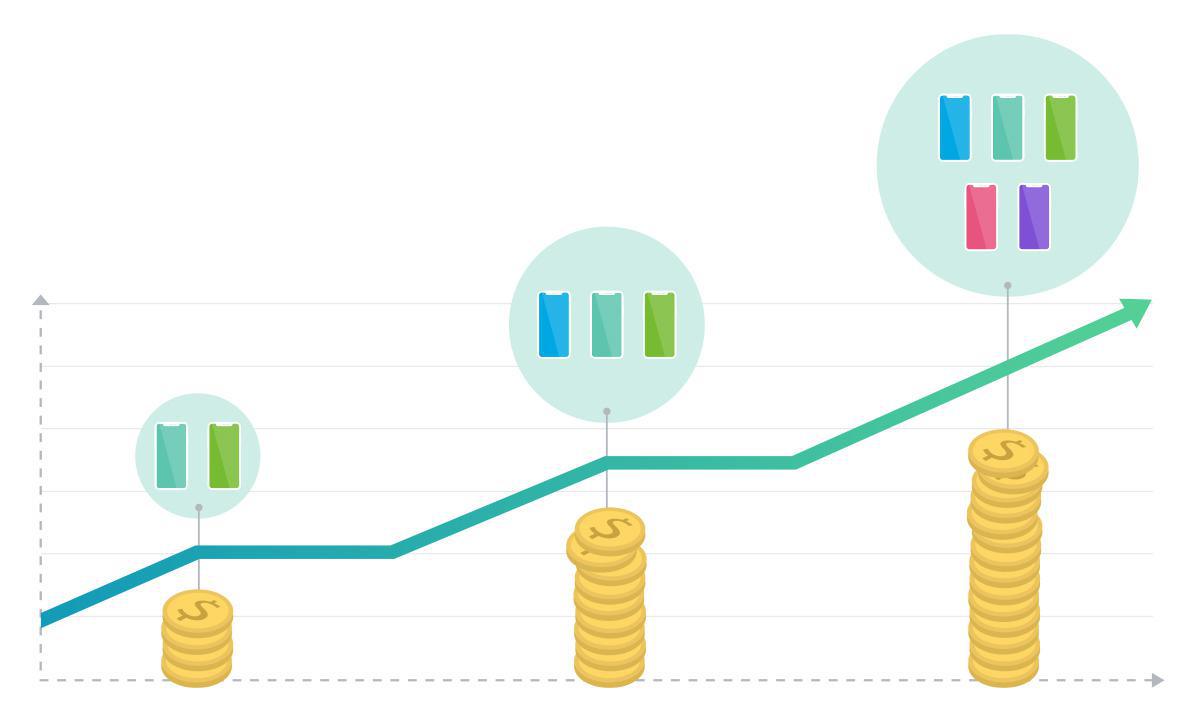 Once your Reseller account is launched, you need to focus on selling apps. We know that sometime you already have clients thanks to other activities, but at some points, you will have to start looking for new clients. Our marketing team is here to help you realize your projects and make you a successful reseller.
Here are some ideas to increase your sales:
1. Focus on a niche
If you already have special savoir-faire or clients in a particular industry, you can take the opportunity to specialize in a specific app theme. For example, if you're already
building websites for real estate agencies
, it would be interesting to start with this target first to sell them an app on top of a website. What are the advantages of this tactic?
1/ The more you create apps in a sector, the better you will know that sector. You will better respond to objections, you will know the constraints of your clients and the evolution of the sector.
2/ Your leads will recognize your expertise that your generalist competitors will not have. They'll find it easier to trust you rather than someone else.
3/ It will be easier for you to sell your apps and this will boost your confidence. You'll be able to diversify later on, but exploiting this niche will have had the advantage of helping you get into the business, and will allow you to build up a pool of loyal client base.
2. Leverage Social Networking and Content Marketing
More than 2.7 billion people are registered on Facebook, and more than 1 billion on Instagram. This is not just a fad, social networks are here to stay. By being active on
social networks,
by investing in
online advertising,
you'll be able to collect targeted 'leads'. Of course, you need to adapt your ads according to your budgets and target audience. The goal here is to give more leads to your sales rep or Customer Success Managers. They'll have a better chance of selling an app by receiving requests from people who have clicked on your ads and therefore expressed an interest in the apps.
For more efficiency, it's best to create content related to your activity. Keeping a blog is a first step (a good tip is to create a PWA for this, see below!). This sets you up as an expert in your field. It also allows you to promote your savoir-faire and to show your projects. The advantage of the blog compared to social networks is that the format is completely free. You have no limitation on the length of your articles and on their structure. You can therefore integrate videos or infographics. If you are a designer, having a blog is interesting to show your talents.
You can also write "White Papers" to send to your clients and leads. The advantage of a White Paper is to be able to present sales arguments in a didactic and useful way for your target audience.
You'll be able to further enhance your image as a "Mobile Expert".
3. Use White Label documents
Our Marketing team has created "white label" documents to help you sell your apps. We know that sometimes you don't have the time or resources to produce content. So we created a text document and a presentation (slides) without our branding to promote a mobile apps agency. You can simply download them and put your logo on them.
The text document is quite complete and presents detailed points about the apps' market stats, the available features, and the distribution platforms (iOS, Android, and Web).
The Presentation is more synthetic but shows in a more playful and imaginative way the possibilities offered by an app-building platform. It will be useful for client presentations.
Of course, you can also take the opportunity to modify these documents and adapt them to your business. The goal is to have clear and precise arguments to demonstrate the added value of a mobile app:
You can download them here:
Text Document
Presentation (Slides)
4. Create thematic Progressive Web Apps
As a Reseller, you can create as many apps as you want. Why not take the opportunity to create one or more for commercial purposes for your agency? If you don't have a website, one of the created PWAs can be used as a site. But even if you already have a website, you can use the PWAs as thematic websites by adding a specific domain name (be creative!). Or you can use these PWAs to promote one or more of your services. Or you can simply use it as a demo app to show your know-how.
As we use
Google's AMP technology
, your app will be better indexed on mobile searches. You're in a good position to know that the future of content is on the mobile, that it's essential to be well ranked there ;)
5. Taking advantage of the growing mobile trend
In 2020, there were 218 billion app downloads worldwide. The world's population spends more than 4 hours a day on their mobile. 2 million Apps are available on the App Store (iOS) and 3 million on the Play Store. The mobile is on a growing trend in the way we consume and inform ourselves. More than 50% of the time spent in front of a screen is spent on a mobile screen. Your clients need to be present on mobile to continue to exist. And those who take the leap, will stand out from their competition.

How do you do that? We chose 2 examples: content apps and Click And Collect apps.

Content apps
If your client's business is to create and distribute content, they will be very interested in having an app. First of all, the competition on the web is tough. Content creators (blogs, local newspapers, experts of all kinds...) have already had a website for a long time with a loyal audience and an already established SEO. If one of your clients starts creating content on the web, they'll have to make significant efforts to generate traffic on their site and stand out from the competition. In addition, the distribution of content consumption is more and more oriented towards mobile. In this case, why not start with the mobile ? Thanks to mobile, your client will find it easier to stand out , because if all content creators have a website, they are much less likely to own an app. On to of that, the audience is nowadays on mobile. Finally, the top weapon of the mobile, Push notification that will allow them to increase audience loyalty by sending them targeted content regularly on their smartphone screen.

Click & Collect Apps
The trend was already ascending, but the health crisis of 2020 has exploded the demand for all businesses offering Click and Collect. Thanks to GoodBarber, you can offer your clients to get on this delivery method. An app is the best way to launch a Click and Collect service: Easy tof use, perfectly adapted to the ergonomics of the smartphone, easy payment, possibility to re-order the same thing as for previous orders... Many features have been developed for this purpose. The click and collect trend is revolutionizing the local shop sector,users are in favor of ordering via smartphone. This is an interesting playfield for your sales reps because they'll find themselves in front of a receptive clientele. Retailers know that they will have to adapt to new consumption patterns. Having an app is the best way to achieve this. Some have missed the "Web" step, convince them not to miss the "Mobile" step.
You don't have a Reseller account yet?