Android - Send Google Play a document proving intellectual property
In which case do you need to prove intellectual property rights to Google Play?
If your app uses copyrighted content such as images of various famous movie posters and celebrities, famous brands' imagery, etc., Google has no way of knowing whether you have the right to use this content or if you are in breach of the laws concerning intellectual property.
What type of document to send to Google Play?
In this case, you should provide an official document (a letter, for instance) from the right owner of the copyrighted contents, stating that you are authorized to use them in the app.

For example:
If you create an app for a famous brand, the brand's officials must provide you a letter with the logo of their company, stating they hired you to create this app for them.
If you are the owner of that famous brand, you must provide a document proving your status of right owner of that brand.

The document must explicitly mention the owner of the Google Play account on which the app is published.

For example, if the developer name on the Google Play account where the app will be published is Mr X., the letter should mention "Mr X".
If the developer name on the Google Play account is the company XYZ, the letter should mention "the company XYZ".
How to send the document to Google Play?
Once you hold your written document, provide the advance notice to the Google Play App Review team .

Google will review the notice and will reply to the email address provided within 2 business days.

Please note, that if you choose to publish your app prior to hearing back from them, your app submission may be rejected.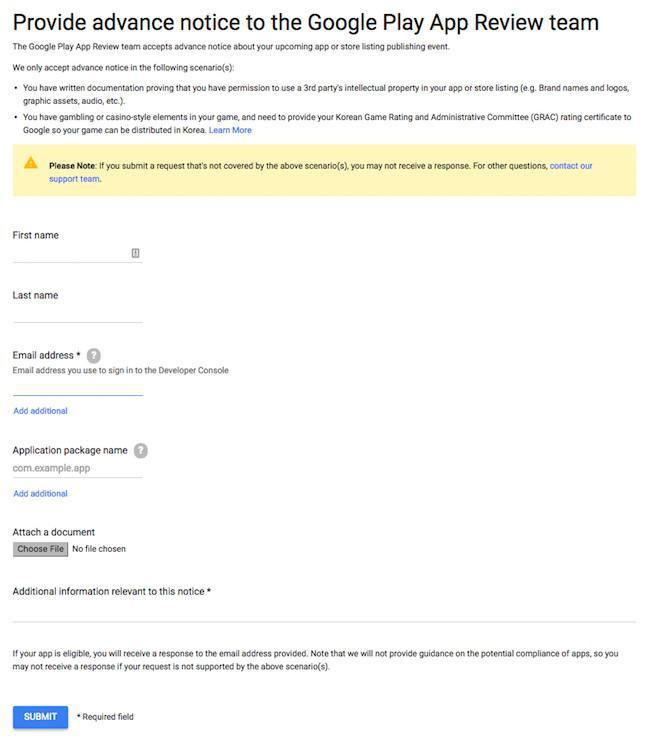 More articles