Gaining Access to the App Market - The Guide for Web and Media Agencies
Written by Christophe Spinetti on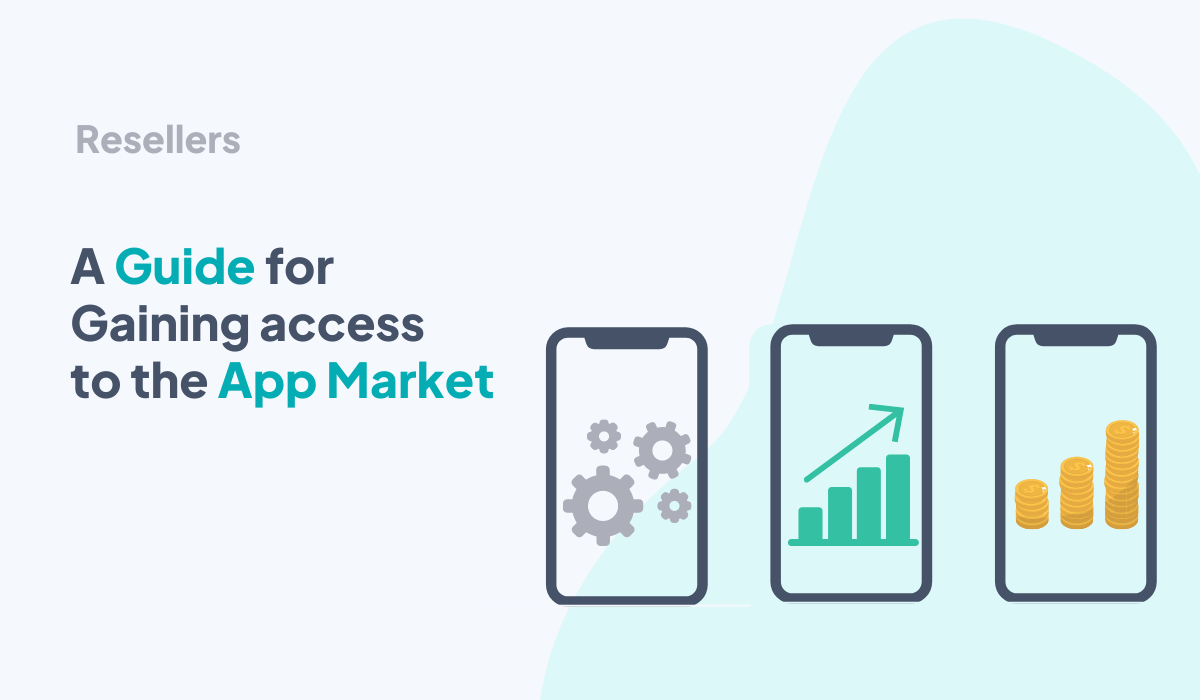 Several years ago, advertising and marketing agencies started adding website development as the new preferred tool to promote a company's business. If there's no arguing that having a digital identity is an absolute necessity, a virtual location is becoming almost more important than a physical office, now, on top of a desktop presence, a mobile app is the new requirement. In that respect, a native mobile app counts as one of the most versatile marketing assets a business can hope for. It's the ideal medium to address clients' expectations. At the same time, thanks to app builders, it's become quite easy to create an app.

Little reminder: there are more than 4 billion smartphone users in the world, and these users spend on average 4 hours in front of their smartphone screen.

More than half of the time spent in front of a screen is via a cell phone. 90% of the time spent on a smartphone is via a native app (the remaining 10% is spent browsing the mobile web). Why? Because a mobile app, a native one especially, offers a swift and direct access to content. Now's the time to bear in mind the fact that the difficulty of use can be a deal-breaker for clients accustomed to mobile.
A real asset for all companies that want to satisfy the needs of their users. A native app integrates perfectly into the functional environment of the smartphone, which allows it to work offline, to use the GPS or camera functions, and especially to receive push notifications
If you are thinking about providing this service, you're about to discover a well-kept secret ;)
How to deliver native apps without being a developer?
If you are looking to extend your area of expertise to mobile, here comes the trick which can help you enhance your offer or better yet, start your agency. Just like more and more agencies with a website creation offering are relying on WordPress (an open secret that one), for mobile app creation, app builders are the new (more confidential) aid. What accounts for their success? For a fraction of the price of custom development, they allow clients and agencies to gain access to the competitive app market in no time.

You are probably familiar with the fact that, to go native on mobile, you have to code the application in the native language of the device you want the app to run on, hence the exponential budget with iOS on the one hand and Android on the other. If you add specifics such as the different screen sizes and devices it's no wonder some developing budgets show a 5 figure budget...

A cost-effective solution without comprising design? That's where the GoodBarber Reseller Program comes in. This program crafted for agencies includes:


the possibility to publish an unlimited number of apps for a fixed price
the possibility to activate native features in a couple of clicks
the possibility to easily access to all the apps from one single dashboard
the possibility to enjoy custom development options
the possibility to rely on a reliable technology
the possibility to grant your clients backend access, with our White Label option

What's more, with our dedication to delivering an outstanding design experience and the possibility to customize your app through and through, every app built with our platform can be different from the next. You have all the keys in hand so that they can stand out in the stores. In short, it's impossible to unmask the use of an app builder because more than 500 features are at your disposal.

With GoodBarber you can publish an app on the App Store (iOS), the Play Store (Android), and on the web via a Progressive Web App. And all this, without having to recreate the app three times. The all-in-one solution generates an app specifically dedicated to each environment. You only have to worry about building the app via graphical interfaces and following up with your clients. We take care of all the technical aspects for you.

How to sell your mobile app creation services?
When it comes to selling mobile apps, you might need to educate your clients first about why a native app is the best for their business. At first sight, it's not easy for a client to understand why an app is better for their business.

Of course, you must first find the targets you want to reach in priority. Some sectors of activity like restaurants, but also tourism, local press or associations have interesting potential. The goal is to start with a sector that you know well. You should also study the sectors that need the most to be in contact with their audience on mobile, to manage communities, and to receive push notifications.

Then, once you get in touch with your prospects, here are some arguments to convince them:

A responsive website is good, but it's not everything. Above all, the mobile experience as we conceive it without knowing how to name it is often a native app. When you use an app on your smartphone while taking advantage of the features of your device, it's often thanks to a native app. This often goes hand in hand with a design adapted to small screens and a smooth user experience.
On the other hand, unity is strength. Building your presence on a single channel means losing potential users from your network. Websites allow you to reach a large audience. A native app can be used as a relay, to develop user engagement and loyalty for example. It can also be self-sufficient, while the opposite is less true. With GoodBarber, you don't have to ask yourself this question because we integrate in all our offers the possibility to publish the app on the web via a Progressive Web App (PWA). This advanced web technology is optimal for mobile web browsing. Indeed, in addition to being easily and quickly published on the web, the PWA allows in some cases, to operate offline and to send push notifications. Moreover, thanks to the AMP (Accelerated Mobile Pages) technology, PWAs are better referenced than mobile websites in searches made via mobile.

It is also up to you to adapt your pitch according to the needs of your interlocutor. With GoodBarber, flexibility is the keyword, it's up to you to take advantage of it. For the content, you can sell our numerous connectors, to bring the client's content into the app from external sources, just like our CMS. You can go from the most static to the most interactive: radio or video live streaming, map section for the tourism sector, or geolocalized alerts for events...

Moreover, thanks to the eCommerce apps, you can create apps with advanced online sales features. The catalog management options, of course, will be a major selling point for your clients. But you can also promise them to improve their sales with options like 1-click checkout, abandoned cart reminder, buy again button for recurring sales, etc... Add to that the Click&Collect options for all restaurants and convenience stores, and you will have a wide range of options and your clients will be convinced.

Thanks to all these features, you can take advantage to create thematic demo apps to show your savoir-faire to your clients. They will be able to see "Live" what you're able to create.

In terms of your pricing policy, you have 2 ways to sell your services:

Creation package: you charge a creation fee at the beginning according to the work spent on the app design and features. You can charge more or less depending on the distribution channels: iOS, Android, Web.
Subscription: You can charge a subscription for hosting and maintenance. It is also possible to set up a "service" or "support" contract to respond to your clients' requests throughout the app's life cycle.

You are totally free to establish your pricing policy, but according to our experience, we advise you to mix the 2: creation fees + subscription.

And finally, the argument of choice? Each project is automatically generated in native iOS, native Android, and web (PWA) versions. Future updates are included in the package.

Beyond creation, how to market your clients' apps?
As an agency, your job isn't necessarily done once the app is available in the stores. A more comprehensive service can encompass marketing the app and overseeing promotional aspects. You can consider making it part of a package or offer consultancy services, before transferring the app to the client if they prefer a more hands-on approach themselves.

At any rate, with our platform, you have the upper hand for the submission of the app to the stores. However, you must use the Developer account of your client to publish the app. It is essential to do so because these are prerequisites requested by Apple and Google. This process can be quite complex to understand for your client. That's why you have to position yourself as an expert and manage the procedure for them or at least assist them as best as possible. Of course, GoodBarber's teams are at your side to help you in the submission process. And especially with Apple, as in this case, our team submits the app on behalf of your client to make your life easier.
Since you're a marketing expert, you can help your clients to promote their apps et boost their downloads. For this, you can use several tactics:
ASO (App Store Optimization): when publishing your app on the Stores, you spent time working on the title, the app listing, the screenshots, and keywords. Everything that will convince the user to download the app.
Social media: Social networks are the top platforms to promote your app. On Facebook, for example, you can create a dedicated promotional page, one or several groups to create engagement around your app, and of course advertising. There's even a "download app" button available on Facebook.
On the web: if your client has a website, they should definitely add the download button for the app (GoodBarber has an integrated button generator). If they don't have a website, then they can use the PWA version of their app to promote it on the web.
Traditional media: If you use a more traditional communication, you could promote the app on local newspapers, tv, radio, or even in print with posters or flyers. This would be perfect for the events sector.
Now, let's talk about monetization. For this part too, you can highlight our many features:
push notifications, automatic or manual, as well as our scheduled push option

beacons & geofencing for a location-based notification strategy

advertising, with external networks or our internal ad server

a dedicated Business section with in-app loyalty card, club card, and couponing features.

eCommerce apps: online sales catalog, integrated payment system (credit cards, Paypal, Apple Pay, and off-line payment), Click&Collect
With our Reseller program "Unlimited Apps " you can finally offer a complete web (the Progressive Web App can point to a custom domain name) and mobile presence to your clients while keeping costs under control.

To get more information about our Reseller program, feel free to test it for free.