Getting Started? Checklist for New Agencies
Written by Christophe Spinetti on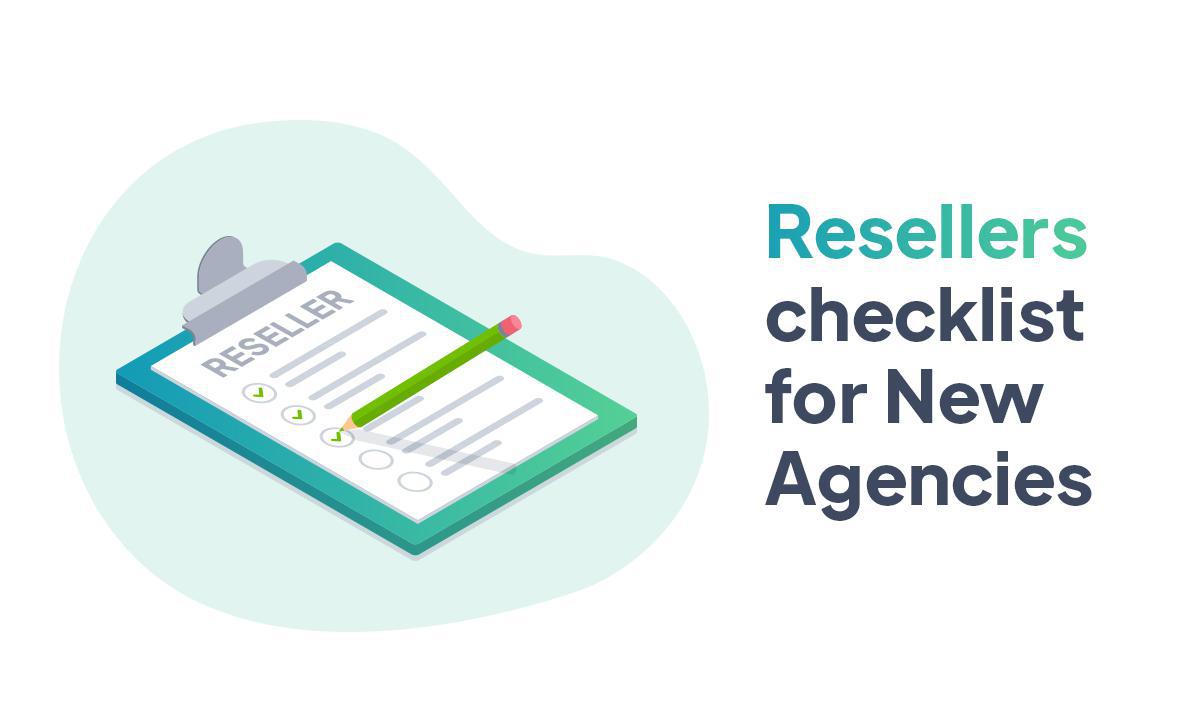 Whether you're
starting a new agency
entirely or expanding your range of offerings with apps, make sure you have the basics covered before launching into your new endeavor.
​1/ Your identity
First advice: Take your time when first establishing various aspects of your identity, and be sure to keep things distinguished and catchy—the identity you choose with be around for the duration of your agency's lifetime and is your primary source of representation.

How to catch the attention of your clients and leads
Your logo is what customers will see each time they visit your website and log in to the back office of their app, so something appealing with a design that depicts the value you intend to offer in your product makes the most sense.

Then your name and your slogan will be important to stand out from the competition and attract attention. To choose your name, you have 2 possibilities: Either you choose a name that clearly indicates your activity, but that could be confused with your competitors. Or you choose a name that has nothing to do with your activity, but that will attract attention and clearly distinguish you from your competition. At "GoodBarber" we have clearly chosen our side ;) But you don't have to do what we do... A slogan can help complete your agency's name by adding more precision to the positioning you have chosen.

Also, don't forget to buy a domain name for your agency, it will also be useful for the configuration of your reseller dashboard for a more professional customer experience. Thanks to the "White Label" option integrated into the Reseller offer, you can add a custom domain name to the URLs of the apps. So if you give access to the back-office of the apps you create to your customers, they will not see "goodbarber" in the access URL but your domain name.



2/ Your website
As an app reseller, you absolutely must have a web presence. And of course, don't forget to have a mobile version. Nowadays the internet traffic is on mobile so a mobile version of your site is essential, especially for a mobile app designer ;)

The site is your showcase, so it must take into account your identity, show your achievements, and especially have points of contact. We recommend you have your site indexed on Google to have better visibility.

And of course, if you don't have a website, you can simply create a project on GoodBarber and publish the web version of the app, which will act as a website. The advantage will be that your Progressive Web App will be better referenced in mobile searches than a classic website. And it will be a good way to show what you can achieve with a platform like GoodBarber.

3/ Your portfolio
Having a range of specific apps for different markets (restaurants, tourism, businesses, etc.) available in the stores and other distribution channels is obviously the best way to illustrate your work to your future clients and gain credibility. Nevertheless, we know that sometimes publishing apps on the stores can be long and tedious. The best alternative, in this case, is to make demo apps and publish them on the web only thanks to the PWA version.

To be even more convincing, you can also consider proposing a gallery of mockups to highlight your services in terms of design, features, etc., to be published on your site or on dedicated pages. If you have designers in your team (or if you are one yourself), they can prepare mockups quite easily. If not, you can use tools like Canva for design and Unsplash to find royalty-free photos.

As you can create as many apps as you want with our Reseller offer, don't limit yourself. Use as many different templates as possible, so if one of your clients wants an app that you present to them, you just have to integrate their content and offer them that app. It's a huge time-saving in the creation of the app.

Finally, to highlight your services, we recommend you use the white label documents we have created for you. They are customizable, you can add your logos, slogans, and mockups. This will give you a professional image when you send a presentation of your offer to clients.

* If you have created and published a Beautiful App and would like to share it with us, please contact us, we will be happy to consider it for a spotlight in our Success Stories section and bring you visibility!

4/ Your social networks
Nowadays, you can't launch your business by ignoring
social networks
. We're not going to tell you here that all you have to do is create a page on Facebook to get dozens of customers. It's not that easy. However, if you don't have a social media presence as a technology service company, it can do you a disservice.
First of all, the most important thing is to have a professional and updated presentation page. It seems obvious but don't forget to put all your possible contact points and your address. Indeed, people close to you geographically will be reassured to see that you are in their area. Don't forget to take care of your images and the photos you share. They must reflect the message and the identity that you have decided to create, so they must be carefully selected.
Then, to spread your message to as many people as possible, you have 2 methods: free campaigns and paid campaigns. We advise you to mix the 2. Indeed, the free campaigns can be set up throughout the year to keep a flow of news and regular publications. You can use your network to follow your pages, and also encourage them to share your publications. On the other hand, paid publications will help you expand your audience beyond your own. Thanks to the data that the platforms possess, they will be able to target your prospects precisely and make your campaigns more efficient.
When it comes to choosing platforms, as an agency, you can target Twitter, Facebook, Instagram, Linkedin and Youtube. These 5 networks will give you a pretty wide visibility.
5/ Your developer accounts
Familiarize yourself with how the Apple and Google Play interfaces work for app submission. Make sure you have active developer accounts to be as efficient as possible. If you offer enterprise apps for internal use, also consider investing in an Apple Enterprise account that will allow you to distribute outside the stores.

Please note that you cannot use your own Developer accounts to publish your clients' apps. This is not allowed by the platforms, which consider that the owner of the app is your client and not you. That's why you need to create (or have created) accounts for each of your clients. It is sometimes tedious but it is mandatory to go through this process for your clients' apps to be accepted on the Stores.

Nevertheless, it's always nice to have accounts in your name. First, to practice publishing apps, so you can see how it works before you do it for your clients. And second, as we saw above, it's also good if you have apps on the stores to do your own advertising. You can even take the opportunity to have your clients download them and send them push messages with your latest news ;)

6/ Your CRM plan
This is the heart of your sales strategy: how to obtain and maintain your contacts? How do you build a relevant mailing list? Do you plan to manually search for these contacts or do you plan to invest in more visibility to let them come to you?
Once you have surrounded yourself with contacts or even clients, what steps will you take to maintain this bond, make sure they are happy with your services and make your contract last over time? There are many tools dedicated to the optimization of your client relationship management, among our favorites we could name
Hubspot,
MailChimp
or
Zoho CRM.
A CRM can help you organize the follow-up of tasks, and eventually keep your schedule up to date. Moreover, if you are several in the agency, the CRM will help you share information between you. But CRM is not just an organizational software. It is above all a great tool to increase your sales. Indeed, you will be able to measure your lead/client conversion rate and thus realize which type of client is more likely to buy your services. You can also follow your most loyal clients and offer them promotions and/or coupons. Finally, you can also contact clients who have not contacted you for many months, to make sure that everything is going well in their business. As we have already seen, a regular and serious client follow-up is the key to
loyalty
and long-term success for your agency.
7/ Your special offers
Without an established reputation, gaining new clients can be a lot of work. To get started, there's nothing like a promotional strategy fueled by a
special offer on your rates
to create a little buzz. Whether it's a discount or a free first month, an incentive can help build the client relationship. Then, it's up to you to repeat this gesture over time, to reward your clients' loyalty and maintain the relationship.
As we have seen above, you can use mailing tools to keep in touch with your clients and make them regular offers. Take advantage of the events of the year to offer coupons or free services: Holiday season, Black Friday, Back to school, beginning of summer... Many opportunities are available to you to talk about your agency and contact your clients.
8/ Your training plan
Whether you're on your own or leading a team, you'll always need to update your app creation skills. GoodBarber offers over 500 features and you may not master all of them at once.
Of course, our support team is here to help you on a daily basis and save you time. But if you and your team want to improve your skills, we suggest you set aside some time to watch our tutorials. They are short and answer a specific functional problem.
Finally, you will be able to test your knowledge in the world of apps and mobile with the
GoodBarber Academy
. These courses will help you to improve your skills on the GoodBarber platform but also to be a better connoisseur of the mobile world in general and thus, to progress in app selling.
In the end,
becoming a reseller,
like any other activity, is a financial investment of course, but also a human one. To make sure you will last the distance, it is better to establish clear outlines from the start. A well-structured action plan means more security and efficiency. And now, it's up to you!
Do you have a few more questions before you get started? Or maybe you want to deepen your knowledge of the market before you start? Here is a complete page dedicated to Resellers: Resources page