5 tips for building clients' loyalty
Written by Christophe Spinetti on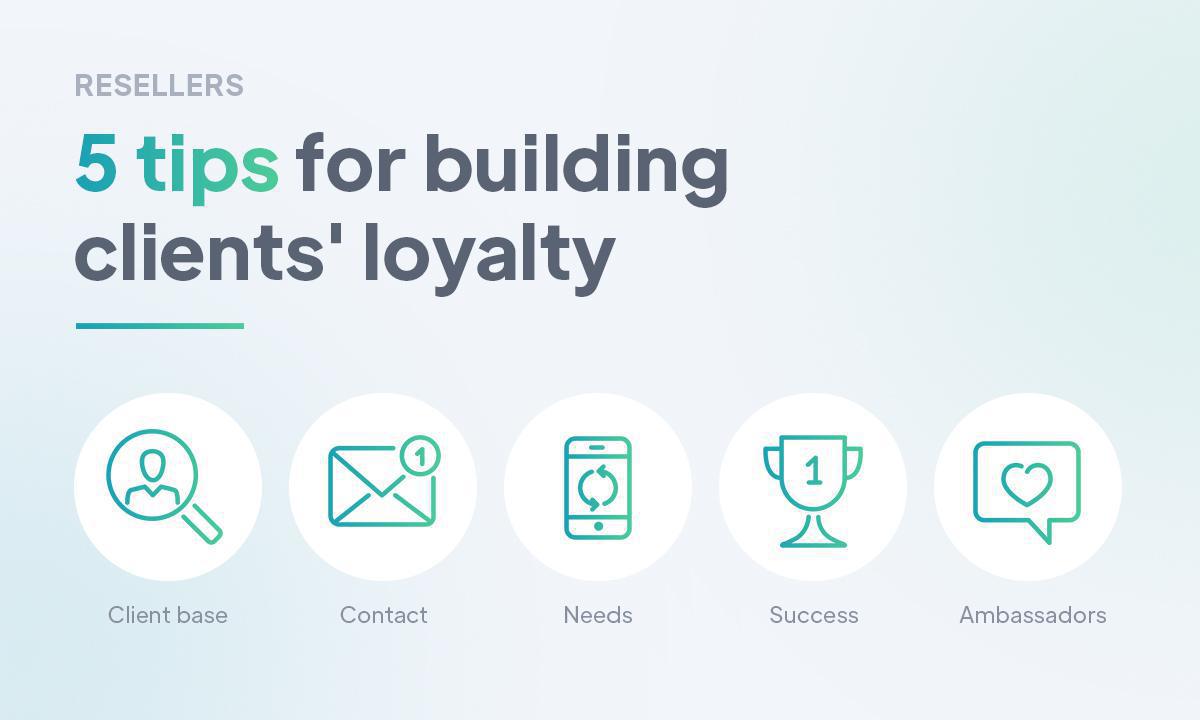 1/ Analyze your client base
It seems obvious, but before implementing strategies to retain your clients, you need to know your base perfectly. Indeed, most of the time, when you're busy with the day-to-day project follow-up, you don't necessarily take the time to sit down and analyze your clients' performance. However, this is essential.
By looking at your sales figures, you can find out in detail which clients are the most profitable and which ones have room for improvement. You can of course look at the turnover generated directly, but also at the average amount they spend with you and finally at the duration of the contract (if you charge subscriptions or recurring fees). You can also
analyze the number of options
or services they buy. We can't give a standard profitability scheme because each of you has their own way of billing. But you should keep in mind that not all your services have the same profitability. Ideally, you should determine KPIs (Key Performance Indicators) and keep up-to-date dashboards.
Once you've determined your KPIs, you can segment your client base. Obviously, the goal is not to leave out the least profitable clients. However, by following the KPIs, you can adjust your strategy and improve your performance. You can only improve what you can measure. And of course, segmenting will allow you to better organize your sales efforts according to the type of client.
If you're just starting out in app sales, you can manage your client portfolio in an Excel document or in Google Sheets. But if you're starting to grow, these tools may be limited. We, therefore, advise you to invest in a CRM (Customer Relationship Management) tool. A CRM allows you to host your entire client base, but also to segment it and to carry out marketing actions. Indeed, thanks to the CRM, you'll be able to set up alerts according to certain criteria, create follow-up tasks, do mailings and manage sales teams. There are affordable and easy-to-set up CRM on the market. The investment will quickly pay off.
2/ Keep in touch with your clients
It seems obvious that in order to keep clients loyal, regular contact is necessary. Nevertheless, it's not enough to send an invoice or an email from time to time. Your clients are surely
being courted by your competitors
, so it's imperative to be close to them all the time. First of all, keep in mind that your client isn't thinking about you all the time. They manage their business on a daily basis, and they aren't aware of your latest news and developments. it's up to you to keep in touch, even if it means repeating your message several times.
Nowadays, there are many ways to communicate with clients. Here are some examples:
Social media: It's a fun, modern, and effective way to get your message across. Your audience consists of fans, clients, and leads. You need to be precise when you talk to your clients (avoid typos). You need to have a strategy and remain professional, even if it remains less formal than a traditional mode of communication. The disadvantage of social media is its ephemeral nature. If you have a heavy or technical message to convey, prefer a blog post. You can however promote this article on social media. And repurposing a post on social media takes little time, so you can communicate much more regularly.
Blog: We use our blog to help our clients build their apps and showcase our products. We also showcase the work of our team . You can do the same. The advantage of a blog is that you're in control of both the content and the form of what you publish. You can put forward your ideas in detail and show your clients that you can help them in their overall digital communication strategy. Your blog should act as a toolbox for your clients. They need to know that they're going to find ideas and inspiration to carry out their mobile project.
Newsletter: The newsletter was one of the first tools used to communicate in the web age. But it isn't obsolete. Indeed, many clients like to read about your latest news regularly. Here too you control the content and the form. The tone adopted must correspond to the image of your company so that your "subscribers" find the same spirit. Another advantage of the newsletter is that it can be stored. Some of your clients will keep it in a folder in their mailbox, and go back and read it to find tips for managing their app.
Phone: The "phone" tool is used less and less in our digitalized world. Nevertheless, as a mobile app creator, you need to keep close contact with your clients. Some of them will appreciate receiving a call regularly. Once again, by going against the current trend (emails, social networks...), you'll stand out from your clients' other suppliers. And it's good news for you. Of course, if you start to grow too much, spending time on the phone with all your clients can be very time-consuming. That's why you should have a CRM and segment your clients, as mentioned above. You ll be able to categorize your clients according to their preference: phone, email, video (Zoom, Skype, Google Meet...)...
Videoconferencing: With the Covid pandemic, videoconferencing has become the norm. Unlike the phone, a "videoconference" is planned. So you have to motivate your clients to schedule a meeting. But you can take more time to get into the details of things than by phone. And the big advantage of video conferencing is that you can share your screen. You can therefore use it to help a client who s stuck on a subject or to give them tips and tricks.
Physical meetings: Even if video conferencing has become more and more popular, some of your clients will appreciate meeting you in person. By going to a physical meeting, you value them and show them that they're important to you. A physical meeting also gives you "informal" elements on the way the client works, you see them evolve in their world. Even if it may seem "old-school" to hold a client meeting, it's still interesting because you can do business there. Especially if you target a clientele that is geographically close to you.
And of course, an app ;) With your Reseller account, you can create as many apps as you want. So make the most of this opportunity to create an app and share it with your clients . You can simply insert your blog posts into this app. But the advantage here is to send pushes to your audience. In addition, you can use the Authentication add-on to give your clients access to restricted sections to strengthen their sense of belonging.
Don't be afraid to reach out to your clients on a regular basis, even if they take the opportunity to give you feedback. This is an opportunity for you to solve their problems and build their loyalty further. The purpose of all these actions is also to show that you are easily reachable in case of need. Your client will use whichever means they prefer. But if you communicate regularly, they will never have to search long to find your contact information, and that's important.
3/ Anticipate their expectations.
As we've seen before, it is essential to keep a client base up to date and to communicate regularly on this base. But by going further and analyzing the data provided by the clients you'll realize that you can anticipate certain issues.
Indeed, sometimes when a client informs you of a problem it's too late to act. That's why you need to set up monitoring processes in order to anticipate certain problems as much as possible. Of course, you know your target better than we do, so you'll know what the warning signs of a possible complication are.
Nevertheless, here are some examples of parameters to watch out for:
Native app updates: Our developer teams advise you to update a native app at least twice a year on the stores, even if you haven't changed anything on it. With your tracking tools (CRM or Spreadsheet), you'll see at a glance which apps need to be re-published. Your clients will be grateful to have a bug-free and always a functional app.
Push Notifications: If your clients send their own push notifications, you can look at their backend from time to time and check the push history. If you see that they've stopped all of a sudden, you can contact them. Tracking push notifications can also help you to anticipate another issue: the expiration of push certificates. If the certificates are out of date, your client's pushes won't go out. By anticipating this parameter you will save yourself a lot of trouble.
Traffic statistics: As an app expert, you should be able to advise your clients to increase their downloads. If you see that the app is stalling or losing users you should come forward and try to find a solution. Because if you leave the situation as it is, your client may not renew their contract with you arguing that the app isn't performing as expected.
Add-ons: Add-ons provided by GoodBarber allow clients to increase the capabilities of their app. At the beginning of the project, your client may be reluctant to use all the options offered by the platform. But as time goes by, and as they get used to the tool, their needs may have evolved. It's therefore up to you to propose options.
It's essential to constantly listen to the clients. When someone makes a remark or reports a malfunction, you must anticipate and tell yourself that others may have had the same problem. You need to act accordingly and communicate. If you've implemented what we advised above, it will be easy to communicate and get a message across. The goal is to be responsive and your clients will be grateful.
4/ Set your clients up for success
Another very important aspect for your client is the Return On Investment (ROI). Indeed, even if the app you sold is perfectly functional and with a nice design, this doesn't guarantee its success. Of course, you can argue that the success of the app doesn't always depend on you but mostly on the client. This is true. But if your client can't reach their goals and have the expected return on investment, they'll probably stop working with you. That's why, even if it's not part of your service, at some point you'll have to look at the effectiveness of the apps you sell.
The best thing to do here is to get to the bottom of your client's objectives. They can change drastically depending on the type of client. Obviously, for an eCommerce app, the expected ROI is quite easy and quick to calculate, it's the number generated by the app. For a content app, it's essential to have a
maximum of downloads
or to generate traffic via
social media
. You can also help them create and manage
advertising campaigns.
What can you do to help your client be successful with their app?
Human resources: If you have the possibility, it is ideal to have a dedicated person or persons in your team. If you can't assign human resources to Client Success, you can assign this mission to a project manager, to your salespeople, or to yourself. The objective here is to have someone help the client at their request, or in anticipation, to grow their app stats. Your clients aren't necessarily specialists in communication and even less in mobile apps. But that's your job ;) By reviewing a client's app, marketing strategy, and social media, you can easily find ways of improvement and advise them in the best possible way. Just the fact that an expert spends some time on their app and gives them personalized advice will show their efficiency. Your main objective is to continuously educate your clients.
Resource materials: To save time, you can create generic resource materials to help your clients do well with their apps. The goal here is to provide a list of resources that can be applied to multiple cases. With these resources, your clients will be able to come and pick and choose what they need and what is relevant to their business. If you keep an up-to-date blog, it can serve as a resource base. By talking to your clients on a regular basis, you'll get a lot of feedback from them. This will allow you to build relevant resources. These resources can also be used to support the people who are in charge of Customer Success in your company.
If your clients are successful with their app, it's a double win. First, financially, because if they stay loyal you'll increase your revenues. Secondly, in terms of image, because you can use it to communicate and build a strong community. Don't hesitate to read and re-read our blog articles. We offer valuable tips to increase the
performance of your apps.
5/ Turn your clients into fans
The ultimate outcome for a company that builds and sells apps is to turn its clients into fans. Indeed, in addition to flattering your ego, building a community around your business is a beneficial strategy for your own success. A strong community is obviously loyal. But it will also help you retain other clients or new ones. Your long-time clients will act as referrers and welcome new ones into their community.
How to turn your clients into fans?
Treat them as partners: Even if they don't always say it, your clients are proud of their suppliers and partners. The better the products they buy, the better the product they sell. That's why you need to treat them as partners. You can do this by regularly asking them for their opinion on your products and services. This is a difficult process as you may have to question some of the things you've learned. But it's for the best because in the mid-term these steps pay off. Moreover, if the client feels listened to, they will be more loyal. And you can continue to involve them in the evolution of your products to show that you value their opinion.
Loyalty program: Loyalty programs are always effective when it comes to client relationships. Of course, the clients who buy apps from you don't necessarily need a redesign or a new feature every day, so you need to think your program around that. On the other hand, you can offer them a free service after a certain amount of time. A free redesign after 2 years of contract for example. If you charge for push services, you can offer the 10th push for free. Or finally, you can simply offer goodies (T-Shirts, stickers, smartphone cases). The gesture will always be appreciated. Be creative, I'm sure that you'll find something to please your fans ;)
Showcase your clients: You can treat your clients as partners and involve them in the development of your products and services. But you can also put them forward in your communication. In this case, it's a win-win situation. On your side, you show clients satisfaction with your services, proof that you do a good job. On your client's side, they'll view it as thank you. Moreover, they can use it to advertise around the publication. As we've seen above, with the modern means of communication you can advertise your client quickly and efficiently. The best way is to write a blog post and repurpose it on social media.
If you apply these techniques, you'll develop a strong sense of belonging and increase the loyalty of your existing clients, who in turn, will help you to retain the new ones.
Conclusion
To sum up, no matter what techniques you use or your marketing strategy, the most important thing is to never neglect the relationship with your clients. Give your best for them, all the time. If your company is "client" oriented, you'll manage to keep them loyal. If you make mistakes and take responsibility for them, your clients will understand. But on the other hand, they won't forgive you for being neglected.
Still not a Reseller?