GoodBarber top marketing advice for every stage of your app journey
Written by Marie Pireddu on
Top marketing advice for each stage of your app development: pre-launch, publication, post-launch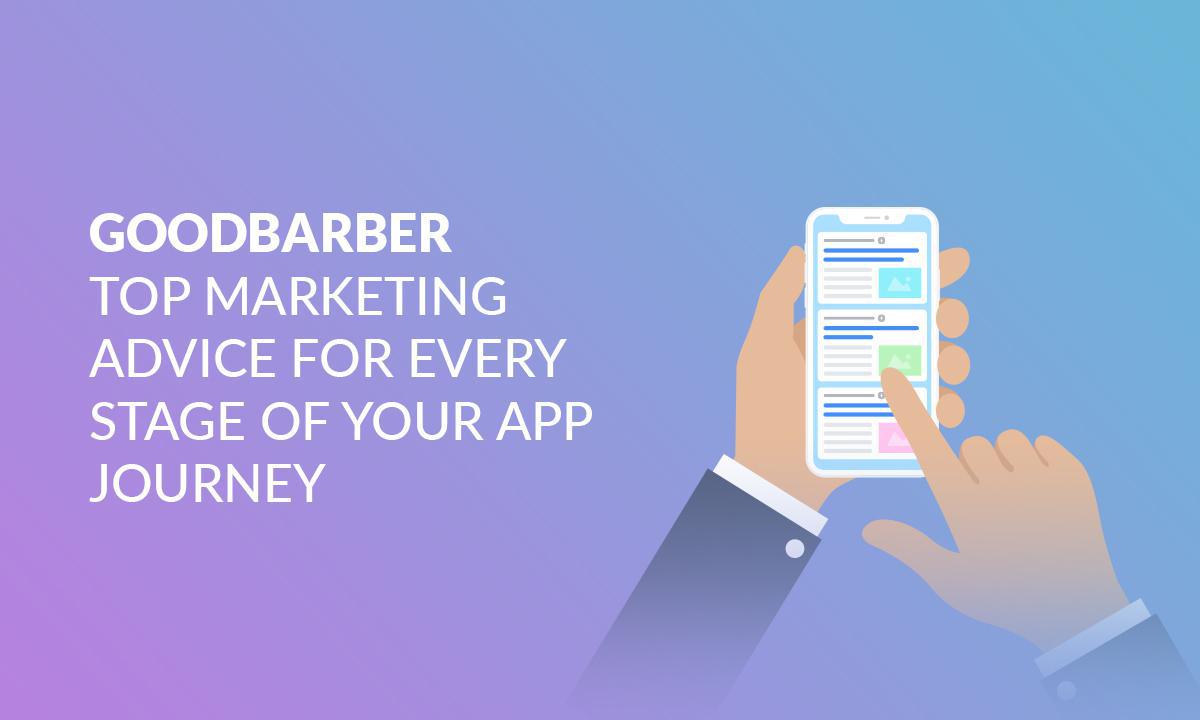 You've taken the right step by deciding to create an app. And you already know that promoting your app and setting a marketing strategy will be important for its success.

But sometimes it can be difficult to know where to start. Or what to focus on depending on if you're just starting creating your business, if you're about to launch it, or are now looking to take your business to the next level.

We gathered for you all our best articles to guide you along your journey.

If you're just starting out
Whether you are creating an app to complement your website, to reach a new audience for your business or simply have a great idea for a new app, you need to take the time to analyze your idea and understand the different steps necessary to build a successful app.

In this article, we break down in 7 easy steps on how to create an app from your first idea to the publication and you can find out more here on the cost of creating an app
If you're in the process of creating a Shopping App, it is always a good practice to go through a quick checklist to make sure you're not missing anything. Discover here how to create a successful online shop .


You have a great idea for an app, but amongst the millions of apps published on the Stores, a great idea might not be enough. Your app needs to stand out. That's why it is increasingly important to pick the perfect name. A name that will follow your brand forever. So, how to pick the best name possible? We share our best practices here .

You're ready to publish you app
You've created your beautiful app and are now at the publication stage.
While GoodBarber guides you all the way to the publication of your app on the App Store and supports you if you need with the publication process on Google Play, a little refresher on the publication process for both Stores is always handy. This article is perfect for that.

But before gearing up for the publication process, make sure you take the time to finalize all the details of your app. Especially in regards to ASO (App Store Optimization) and SEO (search engine optimization) for the PWA.

While it can seem sometimes a bit difficult to understand and with so many different opinions out there, app owners may overlook this stage.
Taking the time to understand the fundamentals and preparing your shop and store listing will help you make your PWA more visible on Google and your app rank higher on Stores searches.

With your PWA, while GoodBarber takes care of the technical stuff for (speed, Server Side Rendering, schema markup, etc), we give you the tools to do more on your side. In this article, you will learn how to customize key elements for your SEO.

With a shopping app, the way you present your product is crucial. If it's not appealing your potential clients will click away. And your marketing efforts will be wasted. Discover how to optimize your product page and drive targeted traffic to your shop and boost conversion.

Each product on your shopping app is indexable.

With the iOS and Android versions of your app, it is very important to start off right by optimizing your app from the beginning. The higher your app ranks in a search, the more people will see it. The App Store and Google Play have different ranking factors and you need to be familiar with each of them. Find out more on our best practices on App Store Optimization here


At this stage, you should also have your content strategy in place. What is content marketing?
It's a strategy of producing and publishing information for your clients that build trust and authority amongst your target audience, it builds relationships and community around your brand, therefore increasing engagements and helping boost sales.

No matter the Content Marketing Platform chosen, the process remains the same: produce content that people want and effectively distribute it to be found via organic search or social media.

Our How-to article on Content Marketing will help you find the right strategy for your business.

Increasing traffic and sales
You have now launched your app and might already be gaining traffic. However, it is not time to stop working. In order for your app to be successful, you must now focus your marketing strategy to boost your app downloads.

In the article "How to boost your app downloads ", you will find a comprehensive guide to maximize your marketing plans while promoting on the Stores or outside the Stores.

Part of your strategy should include promoting your app on Facebook. Thanks to its larger and more varied audience (nearly 2.5 billion users), it has proven to be a highly effective platform when looking into increasing app installs. Take the time to analyze the data collected and improve your ads as needed. This is an ongoing process. You can find all the details on Facebook installs works and how to create ads here .

With your Shopping app, your focus should be axed around 3 main principles:

Create excitement
Build a community
Optimize your app
This article
is a must-read for any retailers wishing to drive traffic and boost sales.
However, all your efforts would be pointless if you do not analyze the results of your marketing actions. Set up Google Analytics for Firebase in advance and keep a close eye on traffic as you implement your marketing plan.