Resellers: How to make the most of slow periods?
Written by Christophe Spinetti on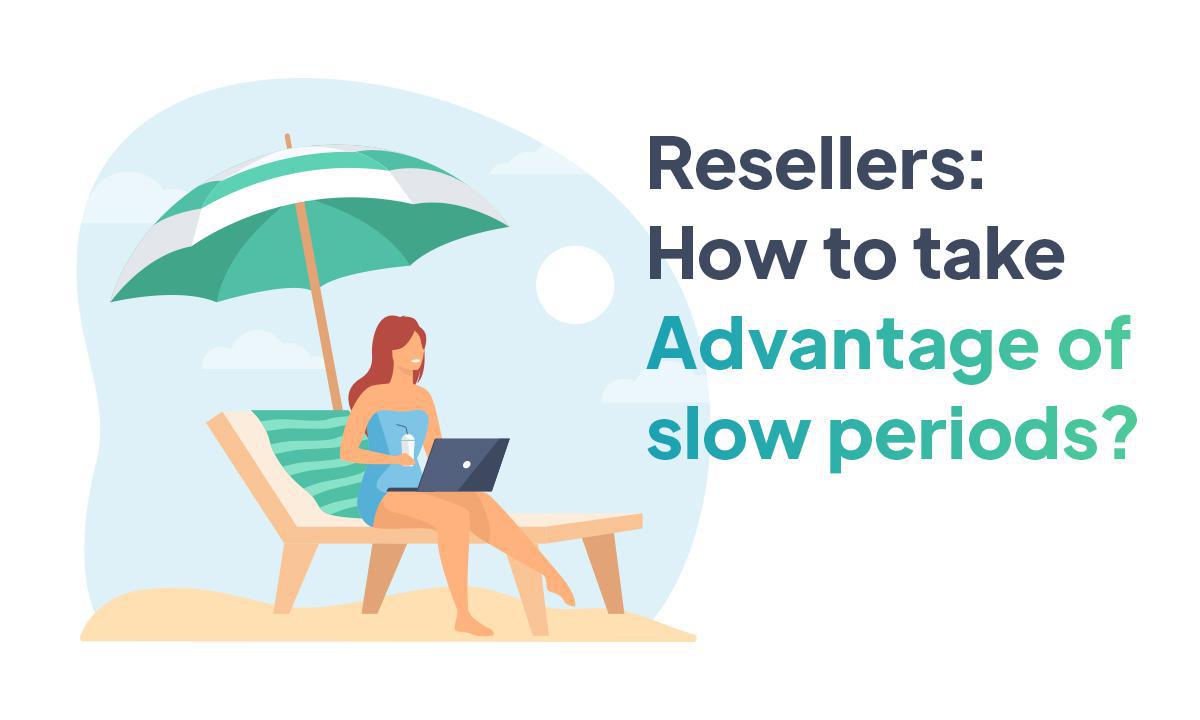 During the summer months, agencies (and clients!) take a well-deserved vacation. So, unless your clientele is tourism-oriented, you might have quite some downtime during the summer. In our case, we don't shut down during the summer. And we give you some tips to take advantage of this quiet time to brush up on your knowledge and refine your app sales strategies.
1. Improve your organization
2. Be inspired by your environment
3. Communicate with your audience
4. Educate yourself
1. Improve your organization
Eliminate time-consuming tasks
I am sure that throughout the year you are bound to perform time-consuming and repetitive tasks. These kinds of tasks take up your time and deliver little or no added value. Nowadays, with tools like
Zapier
or
Make
( formerly Integromat), it's possible to automate a lot of tasks. Zapier and Make are no-code API aggregators. They allow you to create or automate tasks and actions between different tools. If for example, every time a customer pays an invoice you see in
QuickBooks
and you have to manually update a status in your CRM. This takes time but it is a task that can easily be delegated to a robot. In this case, you can create a task with these tools that will update the CRM software without your intervention. If you have never tested this kind of platform, we invite you to do so this summer. It could make you gain a lot of productivity. For your information, Zapier and Make can be connected to GoodBarber. Don't hesitate to use them.
Visit the Extension Store
Take advantage of this quiet period to review and test the extensions available in GoodBarber. We have recently reviewed our "Extension Store" (Ex Add-Ons) by adding new extensions:
TawkTo
, Appointment Booking (Beta), and
In-app purchases
(in-app subscriptions). In the shopping apps, you still have access to Quick Buy, delivery slots, and Click and Collect. Our team has recently worked hard to offer you new extensions, some of which are still in the Beta version. Feel free to test all of these extensions and apply for Beta testing.
Create demo apps
As we advised you, it's a good idea to
create demo apps
to show to your customers. This vacation season offers you the opportunity to get started. If you already have demo apps, take the opportunity to update them. As we saw above,
several extensions
have been launched recently and you can install and test them. Demo apps are your showcase. It is recommended to create several of them in order to show all your skills. As GoodBarber offers you more than 500 features it will be difficult to fit them all in one app. This is also useful if you are involved in several sectors of activity. Having an app dedicated to the sector in question will make it easier for your potential customer to see what you can do for them, and make them want to buy an app.
2. Be inspired by your environment
Competitive environment

Have you looked at your competitors' offerings recently? When you're working year-round to solve emergencies or to find new clients, you don't often take the time to look at competitors' offerings. You can get inspiration from indirect competitors, i.e. agencies that sell apps but not in the same geographical area as you. This lull in your schedule can allow you to take a closer look at your competitors' latest news. It is very important to know what they are offering for several reasons. First, to be able to prepare answers to your customers' and leads' objections, when you are pitted against them. Secondly, some competitors may have good ideas and you can adapt them to your business. The goal is not to copy but rather to be inspired by their ideas or concepts that seem relevant to you.
3. Communicate with your audience
Anticipate
We know that many of you will be taking some time off as well. Before you leave, we recommend that you plan your tasks well and anticipate all the demands. Think of Murphy's Law: If you hope a problem doesn't happen, it will. The first step is, in a last-ditch effort, to make as much progress as possible on all your current files. If you put this off, you may be overwhelmed when you return. Plan to update your various calendars and schedule the "famous" automatic email response. For those who are looking to reach you, the best thing to do is to set up an updated appointment calendar so that requests are not left waiting. This way, you are less likely to frustrate them.
Of course, we know that your customers are important to you and that you need to be reachable in case of an emergency. In this case, don't leave your smartphone very far away so those emergencies can be handled. But the goal is to really disconnect so, non-urgent emails or calls should be left aside. If you need to take a vacation or close your agency, don't hide from it. Don't expect your clients not to notice if you don't say anything, think of Murphy's Law. On the contrary, you are entitled to it like everyone else. That's why it's easier to communicate your dates. And especially, to communicate with them in advance. In this case, no one will feel cheated. As we will see below, you can use social networks to add a touch of humor to your message. It is also best to add clearly how to reach you but only in case of emergency. And to be clearer, you can make an exhaustive list of what you consider to be an emergency. Indeed, some people surely have a different categorization of emergencies than yours ;)
Blog
If you don't have a blog, this is a good opportunity to get started. If you have one, it's time to update it. Use this blog to communicate globally and to educate your audience. The goal is to show your expertise in building apps. The topics are very broad. You can show examples of apps you have built. This will put your customers in the spotlight. Of course, you can also talk about the mobile market. Finding data on the internet is quite easy, so you can give your opinion and make your analysis of the market. The goal is to always put forward your business in a nice and positive way. Another article idea is to give good practices to get noticed by leads and to help your current customers. Indeed, when you give them explanations about apps by email, for example, it is a good idea to support your words with a blog post. The customer will have a written document that they can keep aside and use later. This is also a good way to save time when dealing with your support requests. Finally, you can use the time to talk about a lighter or offbeat topic. Even your readers need to let off some steam and they will enjoy reading a humorous post or one with pictures of your vacation spot.
Social networks
We often repeat it but social networks remain a very important communication channel for mobile app resellers. Firstly because it allows you to stay in touch with your "fans" and secondly because you can acquire new customers. Social media is even more suitable for the light-hearted tone of the vacation than the blog. In the blog, you deal with in-depth topics in general. On social media, messages are shorter and/or more graphic (videos, photos, animations, emoticons...). Take advantage of this to broadcast an image that is a little more human and fun than the rest of the year. If you show pictures of a company that lives well, your customers will think that all your employees are motivated in their work. This conveys a good image.
Then, if you want to be a little more studious, dive into the data and study new ways to monetize your networks. You can also take more risks with message or ad testing. Normally the audience is lower in the summer, so you can experiment. We have recently released
a new extension
to measure with more precision the reach of app ads on Meta (Facebook, Instagram). If some of your clients want to do some testing, now is a good time.
4. Educate yourself
Online training (MOOC)
Nowadays, we need a lot of general skills in the digital environment. We have the chance to learn easily about a lot of subjects via MOOC (Massive Open Online Course) on the internet. Some courses are paid and some are free. Platforms like
Coursera
and
edX
allow you to access quality courses from the world's leading universities. You can even get a certificate or degree (for a fee in this case). So if you know that you have gaps in a particular field, or if you want to go deeper into a subject that you have only partially mastered, MOOCs will be a good way to improve your skills. Moreover, it is easy to access the courses via the Internet, so even from your vacation place; the pace is adaptable. You won't necessarily have the pressure to finish in a hurry.
On our side, we launched the
GoodBarber Academy
last year. If you want to test your knowledge of GoodBarber and learn more about our platform, sign up. There are lots of courses available across our entire functional spectrum. And it's always fun to take quizzes during the summer...
Books
One of the most popular activities during the vacations is reading. It's true that we have more time to immerse ourselves in a book at this time. The goal for you is to find inspiration and ideas that can be adapted to your business. The advantage of a book is that it deals with a subject in much more depth. Of course, the selection is difficult to make because the market is full of eMarketing or business books. Try to find a subject that will make you learn new things but that will entertain you at the same time. It's summer after all ;) One of the tips we can give you is to read a book in its entirety to get a general idea and then take the different chapters of the book and summarize them on a card. The idea is that you can refer to this card again in the future without having to reread everything. During busy periods, you won't regret taking the time to make an index card at that time.
Here are some examples of books that might interest you:
Finally, as a Reseller at GoodBarber, don't forget that you have access to a number of
resources.
These resources are there to help you better use your favorite platform but also to find good practices to sell more apps as soon as the new school year starts ;)