Why update Google Play's Data safety section for your app?
Written by Marie Pireddu on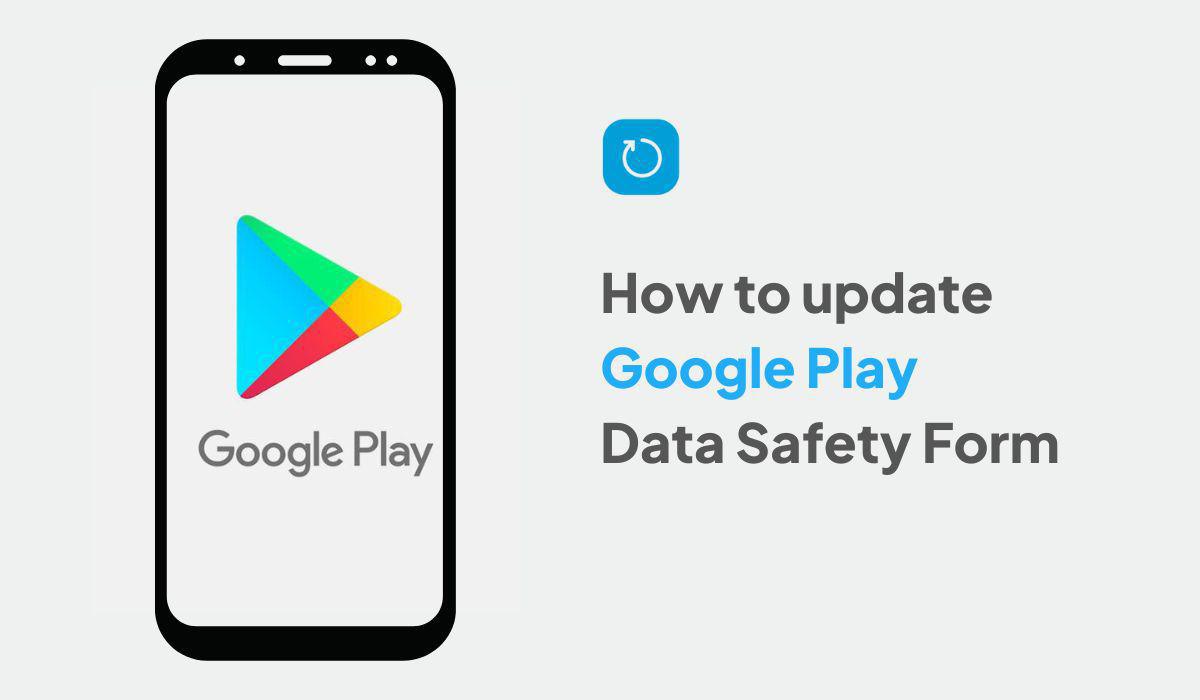 In 2021, Google announced additional details for the Data safety section on Google Play. Developers are now required to tell Google about their apps' privacy and security practices by completing a form in Play Console. This information will be shown on your app's Store Listing to help Google Play users understand how your app collects and shares user data before they download.
By 20 July 2022, all developers must declare how they collect and handle user data for the apps that they publish on Google Play and provide details about how they protect this data through security practices.

By not following these guidelines, you will find yourself at risk of having your app removed from the Play Store.

Note: if you have subscribed to the GoodBarber Takes Care service, no worries. If you receive this type of email, simply open a ticket with our support team who will handle this for you
The most common reasons for removal we see our clients facing are:
The form is not filled up
The form has not been filled out correctly
The privacy policy has been submitted under the wrong format
The app hasn't been updated for too long.
For this last reason, you can find more info on this post :
3 reasons you should regularly update your app on the Stores.
In this post, we'll cover the reasons related to the data safety form.
1. Filling out the Data safety statement.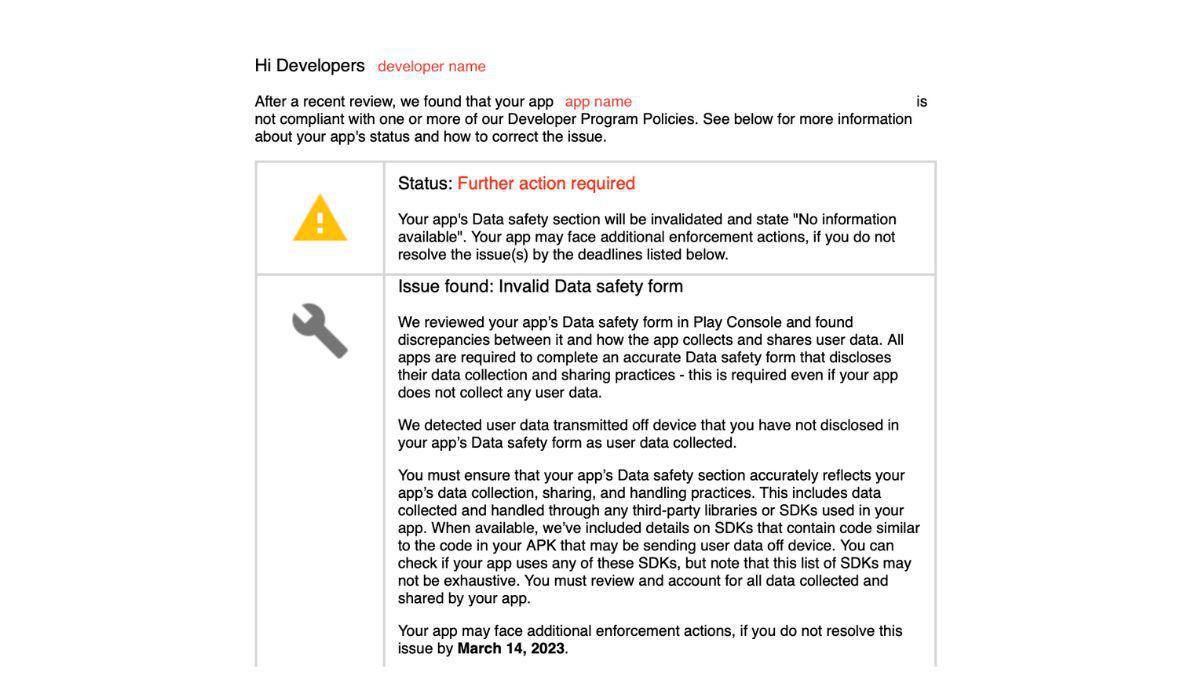 If you do not want to be the recipient of one of these emails, you need to update the data safety form asap. Google is setting tight deadlines to make the necessary changes.
We provide detailed online help to guide you step by step on how to fill out the form. As the information required differs depending if you have a content app or an eCommerce app, there are 2 separate online help:
Before we go over the overview of the process, please note that GoodBarber has no way to verify how you use any additional data you may collect from your users (for example, via a form, the user's profile information, a plugin, an external website URL, or any other means).
You are responsible for sending Google accurate information about the use you make of your users' data.

Go to your Google console, under the menu your app > App Content > Data Safety, and get ready the process is a bit long and you need to pay close attention to the info you're providing.
You will first have to answer the first list of questions:
Does your app collect or share any of the required user data types?
Is all of the user data collected by your app encrypted in transit?
Do you provide a way for users to request that their data be deleted?
Refer to the online help for the answers to provide.
On the next page, you will be asked to list
the data types used in your app.
Then, on the following page, you will be asked to
specify the use of the data types selected.
To help with the process, we have gathered in each online help (content and eCommerce) all the required information by data type.
After you are done filling out the forms, review your information and save your changes at the bottom of the page.
You don't need to send a new build of your app,
you only need to send your Data Safety form changes to Google directly from the Google Play console.
If this looks like a hassle to fill out, don't hesitate to reach out to the
GoodBarber Takes Care
team. They will do all the work for you. To do so, open a ticket with our support to request the GBTC service.
2. Add your privacy policy in the correct format
Another reason to receive a warning email from Google is the privacy policy.
Indeed according to
Google guidelines
, "all apps must post a privacy policy link in the designated field within Play Console, and a privacy policy link or text within the app itself. The privacy policy must, together with any in-app disclosures, comprehensively disclose how your app accesses, collects, uses and shares user data, not limited by the data disclosed in the Data Safety section".
Important: Your privacy policy must be available on an active URL (no PDFs) and must be non-editable. No other format will be accepted.
If you don't have a privacy policy yet,
you can create one using GoodBarber's template. These are only templates and not legal advice and it is up to you to update them according to your country's / area's relevant legislation and to your app.
To create your privacy policy from your app back office, go to the menu
Settings > terms and conditions.
Give a title to your policy and write the policy in the dedicated field or
click "Use template" under the policy text field
. You can find more details in this
online help
If you already have a privacy policy,
you can use its existing URL. Follow the steps in this
online help
to set it in your app. If you do not wish to display the privacy policy in your app, you can use a click-to section instead to link its URL in your app.
Once your privacy policy is set in your app, go to your Google console to add it there too.
Log in to your Google Play
account and select your app. In the left-hand menu, go to
Policy > App Conten
t. Under Privacy Policy, click "Start" and paste your URL in the Privacy Policy field. Click "Save" then send your changes to review from the Publishing overview menu and voila!
You don't need to send a new build of your app.
Google is really cracking down on developers who don't follow these guidelines. By not complying, you're taking the risk to see your app removed from the Play Store.

If you receive one of these emails, make sure to follow our online help to provide the info requested. And remember, our GoodBarber Takes Care team is here to help. Contact them directly via the support to subscribe to the service. They also take care of the publication process of your app :)