Terms and conditions of service / Privacy Policy of your app
A valid privacy policy URL is mandatory to publish your app to the stores (App Store and Google Play).
Google Play also requires your privacy policy to be accessible from your app.
Create your Terms and conditions of service / Privacy Policy for your app
1. Go to the menu Settings > Terms and Conditions
2. Give a title to your policies
3. Write your policies in the dedicated fields.
Attention: these policies are very important. We suggest to take your time and write them carefully.

Use of GoodBarber templates:
GoodBarber provides some policy templates, it is up to you to update them according to your country's / area's relevant legislation and to your app.*
1. Click "Use template" under the policy text field.
2. Mandatory: edit all text in blue
3. Click "Save"

*Those materials are templates only and can be used by GoodBarber's clients free of charges to insert from their "back office" at their own risks. GoodBarber asks you to modify and edit them to fit your own situation or business activity.
These templates are not, in any cases, a legal advice, and you must seek a legal advice in any cases.
Design and set your Terms and conditions of service / Privacy Policy sections
After creating your policies and saving them as described above:

1. Go to the menu Design & Structure > Structure > Sections
2. From the right panel, you'll find 2 new sections*
3. Click the 3 dots for those sections to set their design, settings and content.

*If your app was published before setting your policies in your back office, you will need to update the settings of your app to see the new sections in your back office and submit an update of your app to the stores.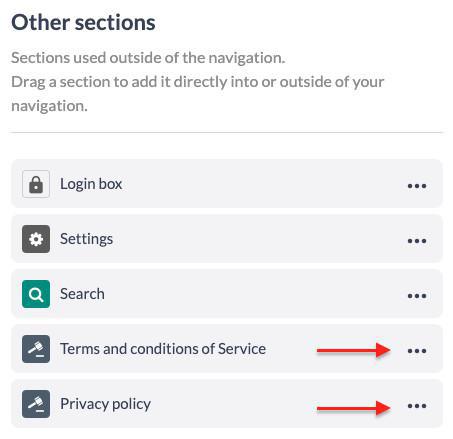 Display your Terms and conditions of service / Privacy Policy sections in your app
Home page:
Add a link widget to your home page and select your section to open your policies sections directly from the home page.

and/or

Main navigation menu:
1. Move up your section to the main navigation menu of your app.
or
2. Add a link to your section in the footer of your menu if your template is allowing it (see example below):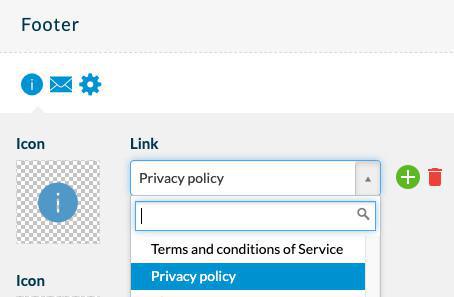 Declare your privacy policy to the stores
More articles