View more extensions
RSS feed: Podcasts
Distribute your podcasts on platforms external to your app and increase your audience
Built by GoodBarber
This feature is developed and maintained by the GoodBarber team
|
For Content and eCommerce apps
|
Free
Your podcasts available outside your app
Attract a wide audience and secure your listeners' loyalty with RSS feeds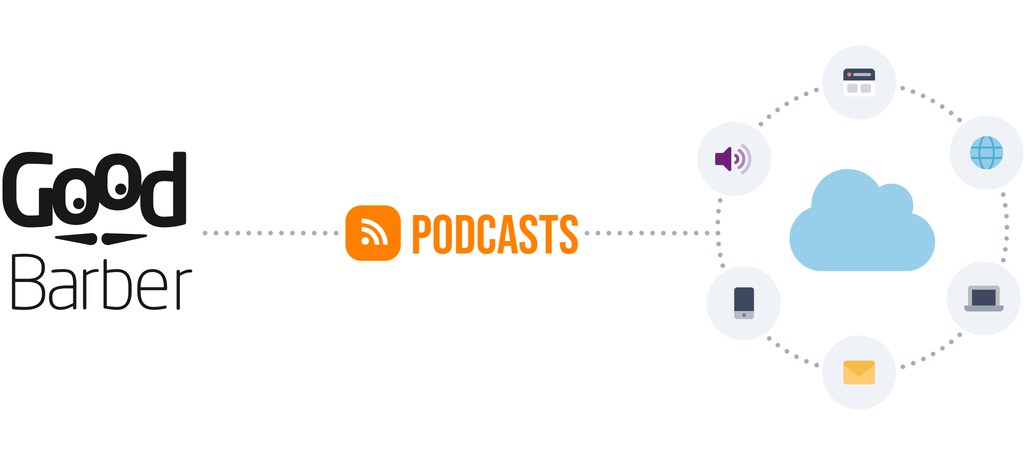 One of the best ways to distribute your episodes and reach your audience is to create an RSS Feed for your podcast. By publishing your audio content via an RSS Feed, you make it easy for your listeners to subscribe and be automatically informed of each new episode. This greatly facilitates their listening experience, as they no longer need to manually search for your updates. What's more, by using RSS Feeds, you extend the reach of your podcast by making it available on different podcast platforms and apps. Give your podcast the reach it deserves using this simple but powerful technology.
The advantages of using RSS feeds for your podcasts
Increase your visibility and distribute your content outside your app simply and instantly.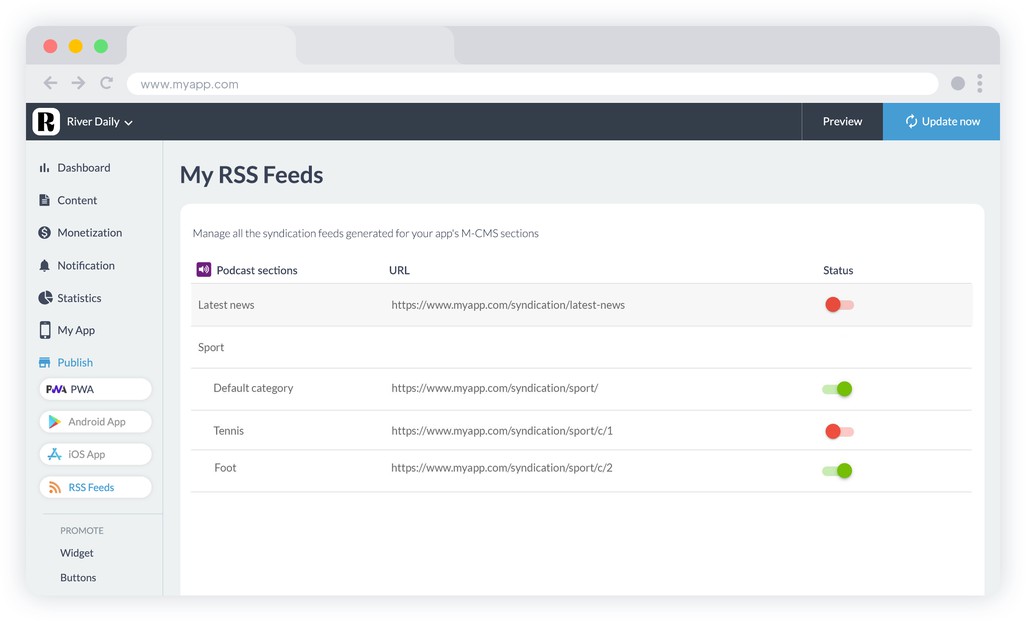 Take advantage of this time-saving feature, which also makes it easier to distribute your content. Using this option, you'll be able to distribute your podcasts on external platforms and sites, to reach a wider audience. Your content feed will be automatically generated and updated, requiring only that you select the distribution platforms and insert the link in your GoodBarber back office.

RSS feeds open up new opportunities for distributing your podcasts. You can integrate them into your own external sites, increasing visibility among your loyal listeners. What's more, you can negotiate a presence on blogs or sites relevant to your field, helping you to grow your audience. Explore the many advantages RSS Feeds offer for optimizing the distribution of your content.

Simplicity: just one click to generate them, and another to insert them wherever you like.
Speed: feeds ensure instant publication of your events on all platforms.
Autonomy: feeds are automatically generated and updated. No maintenance required.
All the options you need to broadcast your podcasts at their best
A settings page dedicated to RSS feeds of your podcasts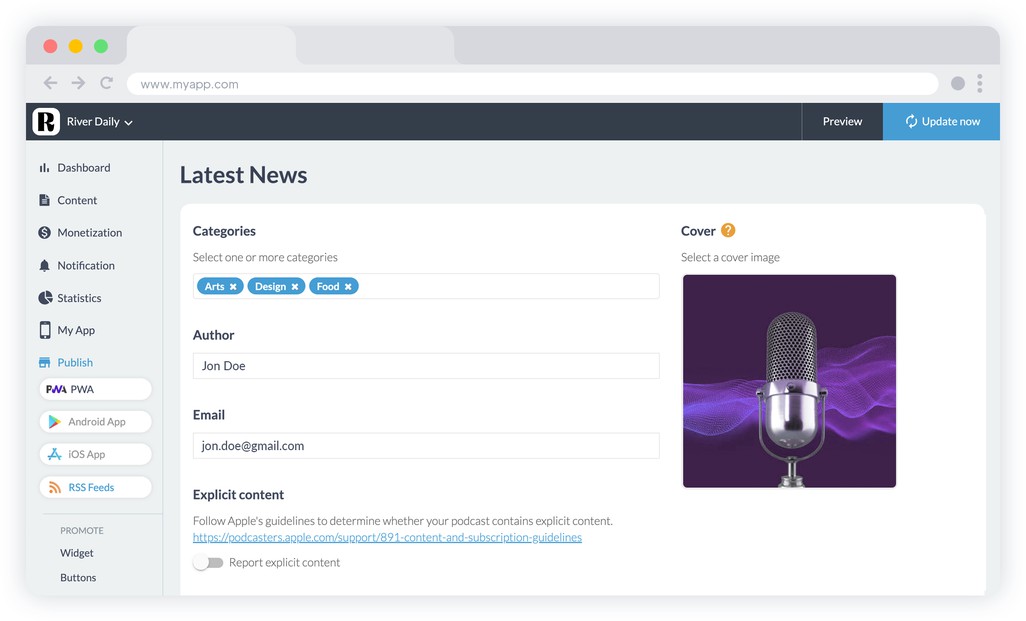 Optimizing the RSS Feeds of your podcasts is essential to ensure successful distribution on various podcast platforms, such as iTunes. A well-optimized RSS Feed improves the visibility and discoverability of your content, enabling a wider audience to find you easily. RSS feed optimization is a crucial step in maximizing your podcast's reach and impact on podcast platforms. In addition to classic metadata such as title, description or tags, which are automatically integrated into your feed, you can add additional metadata to your feed, directly from your back office:

The category to which your podcast belongs
A cover photo to illustrate your podcast episodes
Whether or not your podcast is "explicitly" classified