View more extensions
Yotpo - product reviews
Turn your customers' comments into a selling point
LAB
The Lab features are not yet available in GoodBarber. If you are interested, please register to be notified when they become available.
Collect reviews of your products
with Yotpo and its range of dedicated tools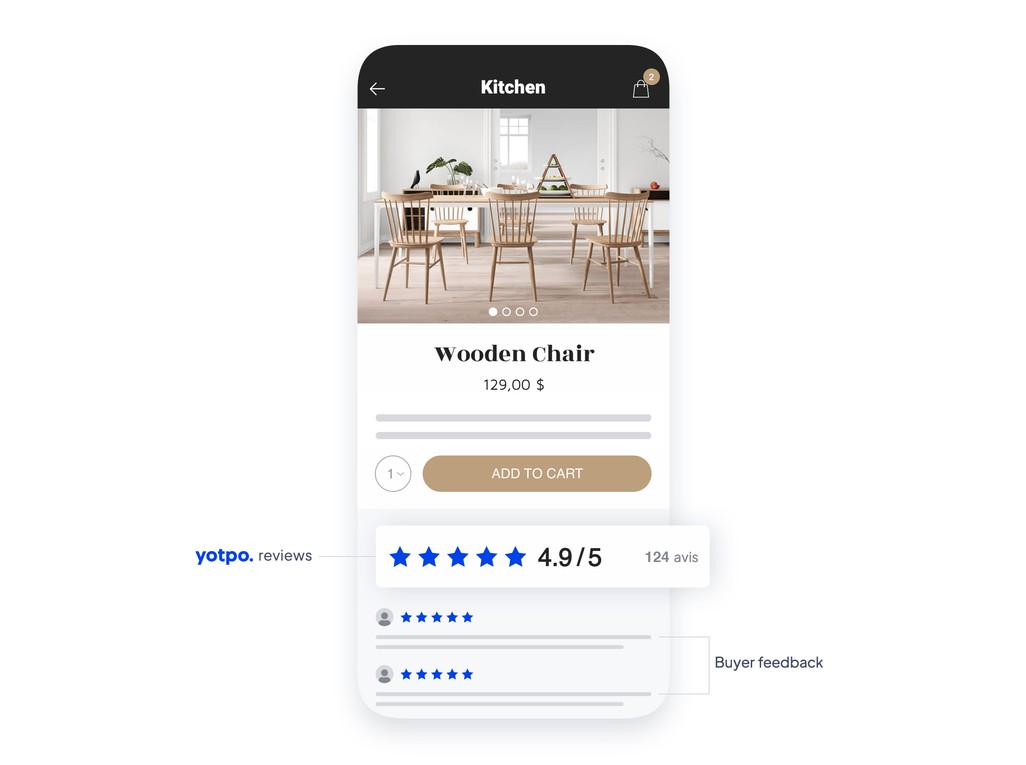 The Yotpo extension allows your customers to leave reviews on your products directly from your mobile app. With Yotpo integrated into your app, you can easily collect product reviews and improve the shopping experience for your customers. Yotpo uses advanced algorithms to sort and display the most relevant reviews based on date published, average rating and impact on sales.
Boost trust and engagement
with authentic reviews
Build trust with your buyers by displaying authentic reviews and ratings to complement your product descriptions.

Authentic customer reviews allow buyers to get a more accurate picture of the product. They can read the experiences and opinions of other people. This gives them a better understanding of the pros and cons of the product before making a purchase decision.

Reviews show that the product is popular. If a large number of customers have left positive reviews, it gives buyers confidence that the product has been approved by others.

Authentic reviews are considered unbiased and reliable testimonials. By posting these reviews, you show that you are transparent and confident in the quality of your products.
Easy integration with Yotpo
turnkey activation
Adding Yotpo to your eCommerce app is quick and easy. You just need to enter your Yotpo account credentials in your app's backoffice.

Once the connection is established, you will have the ability to customize the display of reviews, so that the design remains consistent with the design of your app.

Depending on your subscription to Yotpo (free or paid), you will be able to activate more or less features for the collection and display of reviews.
Yotpo - product reviews
This feature is not yet available in GoodBarber. If you are interested, please register to be notified when it becomes available.
You have been registered to be notified.