Update an existing app created out of GoodBarber
You have created an application with another service, and published it in the stores.
You now want to update this application with the one you've created with GoodBarber, so that your existing users can download it as an update of the same application (and not like a different, new application from the store).
Update an existing iOS application
To update an existing iOS application, you must find out the following information:
- The version number
- Bundle ID (or App ID)
Please check this Online Help for a step by step instructions.

This information is available in your account App Store Connect > My apps > Your application.
In the App Information tab, the Bundle ID can be found and the application version number is in the left menu.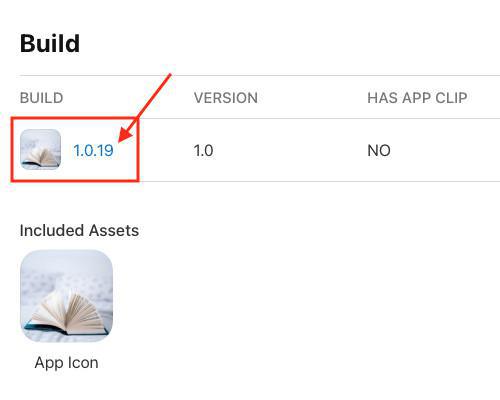 To update an existing iOS application, please refer to this Online Help.
Update an existing Android application
To update an existing Android application, you must find out the following information :

- Thekeystore of the application. This is a file that includes your application's private key.
If you have made your application with another app builder competitor of GoodBarber, you must ask them to give you the keystore. Without this file, it is impossible to update an existing app.
- The package name
- The version code of the published application

Find the package name:
1. Open the Play Console .
2. Select the published app you want to update with your new GB app.
3. The package name is shown next to your app icon, under your App name.
In the example below, the package name is com.goodbarber.goodbarbernews

Find the version code of the published application:
1. Open the Play Console .
2. Select the published app you want to update with your new GB app.
3. Select Release > Production :: Tab "Releases"
4. Click "View release details" on the latest release available on Google Play.
In the example below, the version number is 23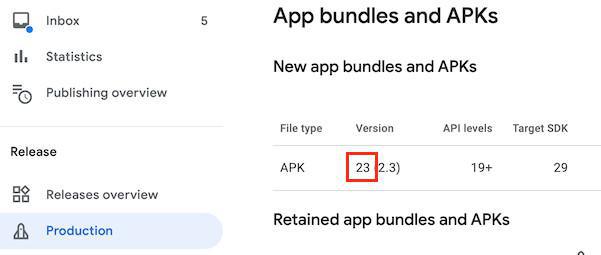 In your back office GoodBarber, once you begin the submission process for your Android app, proceed in the following way :

Step 0 : First time? =>Check the "Update" option
Step 1 : Keystore => Send the Keystore file and fill in the associated passwords

Step 2 : Package name => Fill in the package name, and the APK version code of your app.
Then carry our the rest of the steps normally by following the instructions given on the screen.
See example below: