How to choose your App Reseller platform
Written by Christophe Spinetti on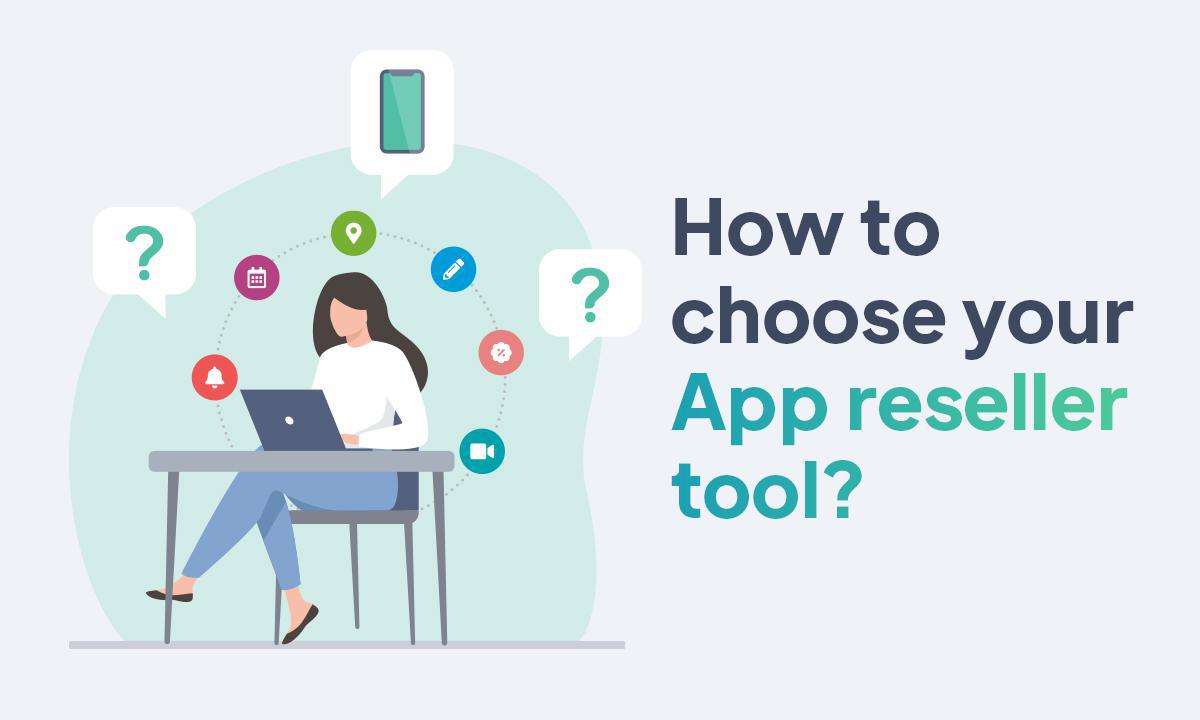 If you decide to start creating and reselling mobile apps, you'll need to choose the tool to create them. Nowadays, with
No-Code app building platforms
, you don't have to code your apps from scratch. This is a very interesting opportunity for entrepreneurs or agencies that don't have the capabilities to code mobile apps. And even for developers, going through a no-code tool will save precious time for the creation of apps.
Here is some criteria to help you evaluate your future
Reseller app builder:
1. First impressions and onboarding
If you decide to start selling applications, even if you are a developer, the platform's ease of use will be an important choice criteria. Does the platform allow for a free trial? Is it easy to create an account? Do they ask for your credit card to test? If you are going to evaluate several tools, it is more interesting to create a test account easily and if possible without entering your credit card information. If you forget to stop your test account, you risk being charged a subscription fee.
Then you should check if the tool you choose offers a dashboard. Indeed, managing several apps on a daily basis requires rigorous management. Having a dashboard facilitates this management, and prevents you from having different access with passwords that you keep forgetting. Moreover, a dashboard gives you a quick overview of active apps. This is useful if you bill your customers for subscriptions
(which we recommend
), you can see at a glance which app you should bill and which app you should disable in case of non-payment. A dashboard sometimes allows you to manage more advanced options such as white label, adding a generic domain name to all your apps, or adding your logo in the back office of the apps. You can also give access to this admin tool to your collaborators, so they will have access to all the apps of the account in one click. No need to create a specific access for each app.
Also, when you start using the platform, make sure that it is quick and easy to learn. Normally the steps should be well described, ideally with a video tutorial that explains in a few minutes how to start and the first good reflexes to adopt.
Finally, you will have to choose between an "open source" tool or a "SaaS" (Software-as-a-Service) tool. In fact, if you have some IT knowledge, you can opt for an open-source service. You will have to think about hosting the solution on a server. Either you have one yourself, or you rent space from a hosting company. And think also that you will have to take care of the maintenance in case of failure and the update in case of technical evolutions. The SaaS solution (All-in-one) is easier on a daily basis. Everything is included, the hosting, the administration tool, the maintenance and the update. New features or evolutions of the tool are updated automatically.
At GoodBarber, the platform is all-in-one. And we propose to future Resellers to create
a free 30 days tria
l version with only an e-mail. No payment is required in advance to access the management
dashboard
and to start creating apps. Moreover, a tutorial is available directly in the interface to allow a quick and easy start-up.
On the technical level, we have chosen to code our apps in "native". This means that the programming languages used are adapted to the platform on which the app is used: Swift for iOS and Java/Kotlin for Android. This guarantees a perfect integration of the apps with the functional environment of the smartphone. Some platforms use a common language for all types of apps and use a framework to publish the app on each store. This solution is faster in terms of development but less technically adapted to each mobile.
2. The app builder tool
The dashboard is an essential asset but the choice must also take into account the App-builder itself. Indeed, the dashboard allows you to manage a Reseller account, but it does not allow you to create apps as such. When you get into the construction of the app itself, the options available on the market are endless. If you already have customers or an identified target industry, you should test the possibility of building your apps with the tool. But if you don't have an app project yet, we advise you to choose a tool that offers a wide range of features.

Before going into detail, you should also test the "feeling" you have with the tool. How easy it is to use, how easy it is to access options, help (tooltips) or online tutorials and help.

To see if the platform suits you, the 2 most important things to evaluate are the navigation settings in the app and the design customization possibilities. The navigation menu is the backbone of your app. It must be flexible enough to allow you to implement your project (whether it has little or a lot of content) and at the same time offer an optimal User Experience. Remember that when you build an app, it is not meant to be viewed on a large screen or on a horizontal screen. It is mainly viewed vertically and on small screens. The tool you choose must therefore allow you to provide menu templates adapted to this format.

Regarding the design, especially if you are not an expert in the field, the tool you choose has to avoid the need to hire a designer to make a good quality app. That's why you need to evaluate both the quality and the diversity of the templates provided. And of course also the possibilities of customizing this design outside the templates, if you want to go further.
Note: an important aspect is to have a "preview" of the app directly in the back office in order to see live the changes you make. This allows you to progress more quickly as you learn the Builder and avoid making mistakes in the settings.

With GoodBarber, you have access to a complete, easy-to-use, and powerful back office. You can view your changes live in the center of your screen in real-time. The design templates are of impeccable quality. We even offer you free and unlimited access to the Pexels image library. So if you don't have any pictures to put in your app, we provide them. These images are optimized for mobile. In addition to the customizable navigation menu, GoodBarber also allows you to create a real homepage, which makes navigation even more intuitive and organized to your liking.
3. Features
As far as features are concerned, we can classify them into 2 main categories: Content apps and shopping apps (e-commerce).
Content apps:
For content apps, you can target a whole bunch of business sectors: Bars/Restaurants, shops, schools, associations, administrations, media, tourist guides... The possibilities are endless.
The most important element for these apps is the CMS (Content Management System). This is what allows you to add and manage any kind of content: text, photo, video, sounds, map, events... The goal is for your customers to see value in the presentation of their content. A plumbing company, for example, will have to put forward its contact information of course, but also the products or services it sells. And even more, put forward its expertise with videos or tutorials. You have to be able to offer all this media environment so that your customers see an added value in the app you sell them.
In addition to that, there are a lot of features you can offer to your customers like user management, loyalty functions (loyalty card, coupons...), specific content tools like Live integration (videos or audio), etc...
Note: One of the most requested and effective features in the use of an app is the notifications. These notifications are doubly interesting for your customers. First, they send notifications only to people who have agreed to receive them. So they don't tarnish their image by spamming users. Moreover, notifications have much better open rates than SMS or emails. This is a very effective point to sell apps. That's why you should definitely evaluate the possibilities of sending pushes (notifications) in the tool you choose.
Finally, for you to be successful in selling apps, you also need to show that there is a direct return on investment. For content apps, there are 2 main methods: ads or in-app sales.
Some tools (like GoodBarber) allow you to integrate external (Admob, Facebook..) or internal ad networks. In internal advertising, the client sells space on their app and creates visuals. These ads are perfectly adapted to mobile screens and respect the rules of the stores, for maximum efficiency.
In-app sales are the sale of content from the app. The billing is managed by the stores, which take between 15 and 30% of commissions on sales. But in this case, your customer has no payment system to add. They sell their content or part of their content directly from the app. A particularly profitable method is to sell "in-app" subscriptions. If you have sports coaches as customers, for example, they can sell a subscription to get premium access to coaching videos.
eCommerce Apps:
For eCommerce Apps, you will have to make sure that the tool provides you with both the ability to create a catalog and quality product sheets, with photos. But you'll also want to check that it has conversion optimization options. We know that mobile eCommerce apps convert on average 3x more than mobile sites. But we must not forget that many shopping carts remain on standby in the app. Your eCommerce customer will be fond of cart reminder features, both in the app and via pushes. You will also need to provide them with various payment methods. Beware, some platforms only offer payment via PayPal for eCommerce apps. GoodBarber, in addition to Paypal, offers payment via credit card and Apple Pay.
Finally, since the Covid crisis, merchants are doing more and more Click&Collect. That's why this functional brick is essential. With GoodBarber, you can set up a local delivery system, an off-line payment (cash or check) and propose a
simplified shopping cart
for Click&Collect purchases.
This kind of functionality must be taken into account when choosing a tool because many customers will ask you for ways to make their app profitable. GoodBarber offers more than 500 features, which allows our App Resellers to offer a wide range of options to their customers.
4. Customization and developer tools
Of course, a no-code app creation tool allows you to create all kinds of apps and many features are offered in the basic package. Nevertheless, sometimes you need to go further. Whether you are a developer or very tech-savvy, you can enhance the app with advanced customization. So you'll need to consider these factors when choosing your tool.

On which of the following parameters can you switch to advanced customization with your App-Builder?

- Connectors and Feeds
These are simply connectors that get an external data stream and display it in your app. You can have connectors of all types: Articles, images, sounds, and videos. There are also connectors directly adapted to very well-known web tools like WordPress, Squarespace, or Youtube for example. And a very simple solution is also to add RSS feeds to your app. The advantage of feeds is to avoid the double work of entering in the app content you have already produced elsewhere.

- HTML containers
Even if apps have different functional and ergonomic specificities than websites, it will sometimes be possible to add bricks with HTML code. This will be useful to give your users access to a specific part of your website. If you have some knowledge of codes, you can optimize the code for mobile and add interesting features to your app. This kind of container can be very useful, take it into account when choosing your tool.

- Plugins
Some app creation tools offer to create plugins. These plugins are a bit more advanced than HTML containers because you can use HTML but also CSS and Javascript. Moreover, plugins allow you to access native features of the app thanks to the API of the tool you choose.

- APIs
Some app builders offer public APIs. They offer the possibility to connect data from an external database to the app you are building. Of course, this requires some technical knowledge to perform these operations but it is still possible. It is therefore possible to send data to an external source or to receive data from an external source to update the app. For example, for an eCommerce app an external stock management tool updates the stock displayed in the app.

No-Code connectors (Zapier, Make)
If you are not a developer, you can still create workflows with external tools without coding. The best-known tools to do this are Zapier and Make (ex-Integromat). These platforms are natively integrated with thousands of existing tools on the market and can allow you to push information into the app, or retrieve it from the app. Thanks to this, even without knowing how to code, you can update external databases or trigger actions automatically performed outside the app as soon as a parameter changes in the app.
5. White label apps
When you resell apps you need to have a marketing strategy in place. One of the things to keep in mind is whether you name the platform you are using. In general, Apps-Builders offer "White Label" options. There is of course the "front-end" white label, which is what the end-user sees. But there is also the white label in the "back-office", i.e. in the administration tool. If you
give your customers access to manage their app
, they may see what software you use. And maybe they will decide to go direct with the provider and not go through you anymore. So, if the back office can be white-labeled, it can be an advantage for you.
With GoodBarber, you are totally white label. The apps are white-labeled all the time and so are the back offices. You can even put your logos on the login pages or in the back office.
6. Support and assistance
Of course, even if you're tech-savvy, some things can't be guessed. All no-code app-building tools have their own peculiarities. That's why having quality support is important. How can your vendor help you on a daily basis?

- Online help and tutorials
You need to make sure they offer comprehensive and detailed online help. A good documentation base is an invaluable resource for advancing and perfecting your knowledge of a tool. In addition, video tutorials are useful and fun because they show you how the platform behaves "live". These resources will also be useful when you hire new employees to help them learn the platform.

- Support
Even if the tutorials and online help are well done, you will not find all the answers sometimes. That's why it's interesting to have a support team that can be reached quickly. The support chat is becoming one of the most effective and fast ways to get help. There are also emails and ticket systems, which can allow longer and more complex problems, with screenshots and videos.

- Support publications on the stores
A native app is not a website. It is not a simple formality to publish it on the Stores (App Store and Play Store). You'll need to get your customers to buy developer accounts or do it on their behalf. Then you need to start the publishing process to get your client's app approved. Sometimes it is rejected because it doesn't exactly follow the store rules and you will have to make changes accordingly. Some platforms (like GoodBarber), have a service that handles the publishing of apps. This can be very useful because the process is tedious but these teams are used to publishing apps and know what to answer when the review teams have specific comments or questions. This type of support can make the app release process smoother and faster. This will help you satisfy your customers more easily.
7. Marketing tools
A No-Code app creation platform is not only a technological support. It is also a team that can help you, with its expertise in the mobile field, to be successful in your business. Indeed, all the app builders know the market well and can therefore provide you with marketing resources to help you sell apps.

The blogs of these platforms are very useful. They offer both best practices on selling apps and also talk about market trends and product news. When you make your choice, you will see quite quickly if it is possible to benefit from a lot of useful resources or not.

In addition to the blog, it is interesting to get white papers. White papers are usually more comprehensive than blog posts. They can cover a topic in great depth. If the platform you've chosen offers several white papers or studies, you know you're going to benefit from them on a daily basis to make your agency a success.

Next, you need to look at whether the team offers opportunities to promote your business. For example, can you create a site, or even an app to promote your agency? With GoodBarber, you have the possibility to do so. First, the creation of apps is unlimited. You can create as many apps as you want to promote your services. Second, all GoodBarber apps can be turned into Web Apps. And so, it is possible to publish them on the net by attaching your domain name. This will avoid you to create a website if you don't have one. And even if you have a website, you can keep it and dedicate the web only to mobile navigation. GoodBarber's Progressive Web Apps are optimized for mobile browsing and come up more easily in searches in a mobile browser.

There are also platforms that offer marketing support. For example GoodBarber has provided Text documents or Slides, with a sales pitch and stats to help you sell apps. These documents are white-label and editable. You can add selling points specific to your company. You can also add your own logos and designs if you have them. This saves a lot of time because you don't have to write your sales pitch. You can then start prospecting and deliver these presentations to your leads as quickly as possible.

Finally, a platform can offer you remote training, webinars, and best practices to help you get started or progress. At GoodBarber, we are very attentive to the performance of our Resellers and we put all our marketing expertise at their disposal. The goal is not to waste time coding apps or fixing bugs. We take care of that. All you have to do is focus on your marketing strategy. And for that, you have all our tools at your disposal.
Conclusions
As seen above, you need some criteria in order to choose your app reseller platform. Some are technical features, others are marketing tools that will help you to promote your business and your customers mobile apps.
Furthermore, be aware and knowledgeable about :
This will strengthen your ability and skills to choose your app reseller platform and ensure the viability of your business in the future