Loyalty Card: how to boost customer retention with gifts and rewards
Written by Isabella Leland on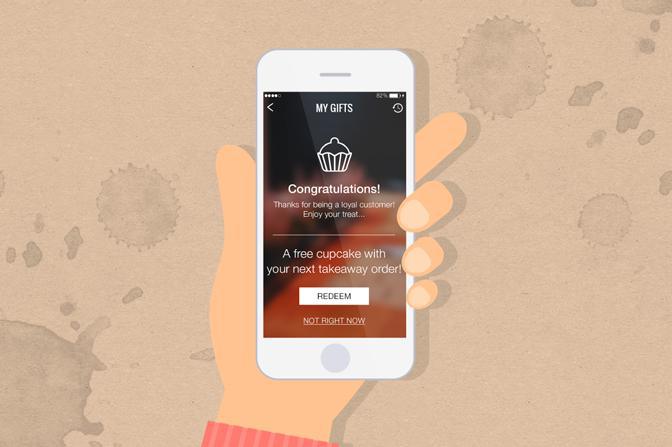 The set of loyalty features we offer is a great toolbox to
nurture your clients
and monetize your app. With a well tailored
loyalty program
, you can, not only make customers fall in love with your business, but also keep them coming back, with gifts and rewards.
How our Loyalty Card Add-On operates
The loyalty card you can install with our app builder relies on a point system. Namely, points convert into gifts.
Pick a validation process
, and your clients can earn a loyalty point on their card each time they visit your establishment, make a purchase or share your brand on social media. Once the card is completed, they earn a gift.
Gifts earned through a loyalty program are a great incentive to secure regular clients, but, because it's important to shake things up a bit and maintain the element of surprise, we wanted to give you more room for flexibility, with a rewards system, to further engage app users and drive even more business results.
Today, we want to help you make the most of both. But f
irst, make sure you've answered these two basic questions:
- What are my program goals?
- What is my intended customer base?
For instance, if a loyalty program's number #1 goal is to introduce a new offering, such as a new spa area for a local gym, the gift can be a free spa entry after 10 sessions, while a "welcome" reward for app users can be : 50% off massage for all users logging into the app for the first time.
As you can see, gifts and rewards, when working hand in hand, are great to
show most loyal clients gratitude
while getting a new line of business off the ground. In terms of ROI, if visibility and getting the word out about your establishment are you main concerns, make loyal rhyme with social, and give our social media sharing validation process a try.
A loyalty program can also support a sector of your activity that might need a little push, creating more profitability. In terms of consumer behavior, gifts make for a stronger emotional memory. Gifts are usually received upon special occasions and are therefore associated with pleasant memories. In that sense, gifts help build a connection with your customers.
Law of attraction
Digital loyalty cards are booming. But they have one thing in common with good old physical cards, when it comes to retaining customers, the prize is what ultimately matters: choosing gifts that are enticing enough while remaining cost efficient. Gifts value will of course vary from one business to the next.

If you sell low-value items, drinks for example, your goal is to sell more volume, and ensure a recurring revenue. With that scenario, it is easy to simply define a target number of orders after which customers qualify for a free drink. If you sell a range of items, it might be more complicated to identify a gift to please your entire customer base. In that case, the gift can very well take the form of a discount. Besides, in terms of consumer behavior, people actually tend to reach for higher priced items when using a discount, consider it if you want to generate more sales.
Timing is everything
In the Business section in your back office, your rewards menu will show 4 automatic rewards, such as the "welcome reward" we've mentioned above, or the Happy Hour reward. Maybe you're wondering what to make of manual rewards with these suggestions already at hand? It's all about timing.
Once the novelty effect of your loyalty program wears off, that's where manual rewards can kick in. Use them to surprise users, around an
upcoming event
for example. Sales are starting soon? Target Gold club card holders and offer them access to a special pre sale event, after closing hours. A simple yet efficient customer appreciation idea and the perfect reminder of your existence!