How to create an app for museums
Written by GoodBarber Team on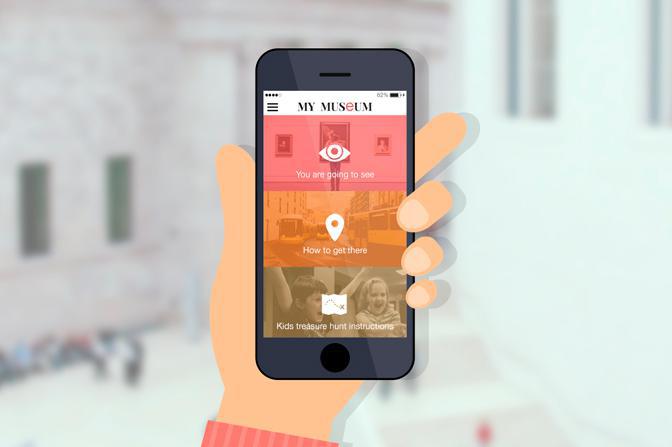 Apps are an extremely useful, but unfortunately underutilized tool for the museum industry. Everything a costly, tree-killing brochure provided by every museum does, an app can do more quickly, cheaply, efficiently, and overall better!
First...who will actually download a museum app?
You were thinking it, so let's address it. Every new app owner knows that
achieving downloads
can be a battle—that is, if your app does not offer a) something unique and unavailable elsewhere, or b) an incentive to the user (think reward, gift, etc.). The customer life cycle of a museum is a little bit unique. Unlike a bar or salon, normally visitors do not return on a regular basis, and for the ones that do, the intervals of their visits are likely much more elongated. So : why would someone download an app that has a one-time (or a few times at best) purpose?
It's true that by default, this is a little bit of a tough sale, but with the incorporation of a few key elements, we've seen several museum apps have great success in attracting users, and even have a positive impact on the short lifecycle mentioned above.
First, you must create some visibility for the app, which is best done through advertising. The optimal place to advertise a museum app is probably in other applications related to
local tourism
, culture, or directories (using an
internal ad server
in an app is the perfect way to create a targeted ad appearing exactly where you want it). In order to bring the viewer to click the ad leading to download it from the stores, an incentive displayed, such as an entry discount or exclusive exposition admittance is an effective way to achieve that CTA.
Once the user is where you want them to be, the screenshots in the stores are where you have the most room for showcasing exactly how this app will enhance their museum visit, with beautiful images of some of your key features. In need of some inspiration? Here are just a few of the possibilities for
museum apps
:
Free, personalized tour
With a little bit of work in advance on your part, you can set up a really spectacular experience for your visitor. First,
using a Map section
, create a logical itinerary for the user on how they should go about making their way through the exhibits. You can create multiple itineraries—based on interests, how much time they have to explore, most popular displays, etc. To take the tour to the next level, consider incorporating
beacon technology
, which will allow the visitor to receive notifications with relevant information for each exhibit they approach. This is a great alternative for those who want the details offered in a group tour, but who want to go at their own pace and learn only about the items of their interest.
Group discussions
The professional, informational explanation offered for each exhibit is necessary, but hearing the opinion and interpretation other visitors have had is an eye-opening bonus that makes the experience all the more interesting. By including a "Submission" section, users can send in a photo of exactly what they are looking at along with text to describe their take on it, or any questions they have. This content can then be published to
create a community
discussion where reactions, points of view, and theories can be shared.
Assistance for visitors with other needs
An app can help to increase the accessibility of a museum to those with certain restrictions. Space limits the number of languages an exhibit can offer a physical textual explanation in—the large amount of virtual space in a mobile application solves this problem. For each piece of content, you have a lot of freedom with regards to the details you can display, allowing you to provide information in
multiple languages
so all visitors have the same opportunity to understand.
For those with other restrictions, for example visual impairment, features appealing to other senses are available. Including sound clips that one can listen to while exploring the museum is a great for transmitting the same information in another format.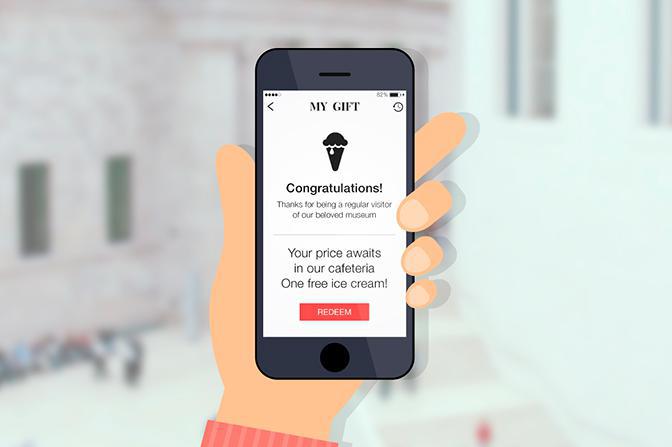 Exclusive rewards
To show users your appreciation for their attention and participation, take advantage of great, native features such as Rewards and the
Loyalty Card
to give them attractive offers. An example of using
the Rewards feature
could be offering them a half price ice cream when they approach the snack zone. Loyalty Card participants can earn free visits, or other exclusive privileges from regularly returning to the museum—this is one way in which an app can play a role in lengthening the typically short client lifecycle.
If you are a museum without an app, hopefully some of the benefits are more apparent—start gradually eliminating those brochures and offer your visitors a more up to date, enhanced experience.
If you are an agency
on the lookout for new opportunities, consider taking on this industry as an often overlooked source of leads. The demand is there!
If you are ready to make the launch, our Agency Guide will help you identify the key points to consider when approaching your future clients. Use it, it's yours, for free: