App Store Description: 5 Mistakes to Avoid
Written by Muriel Santoni on Monday, August 24th 2015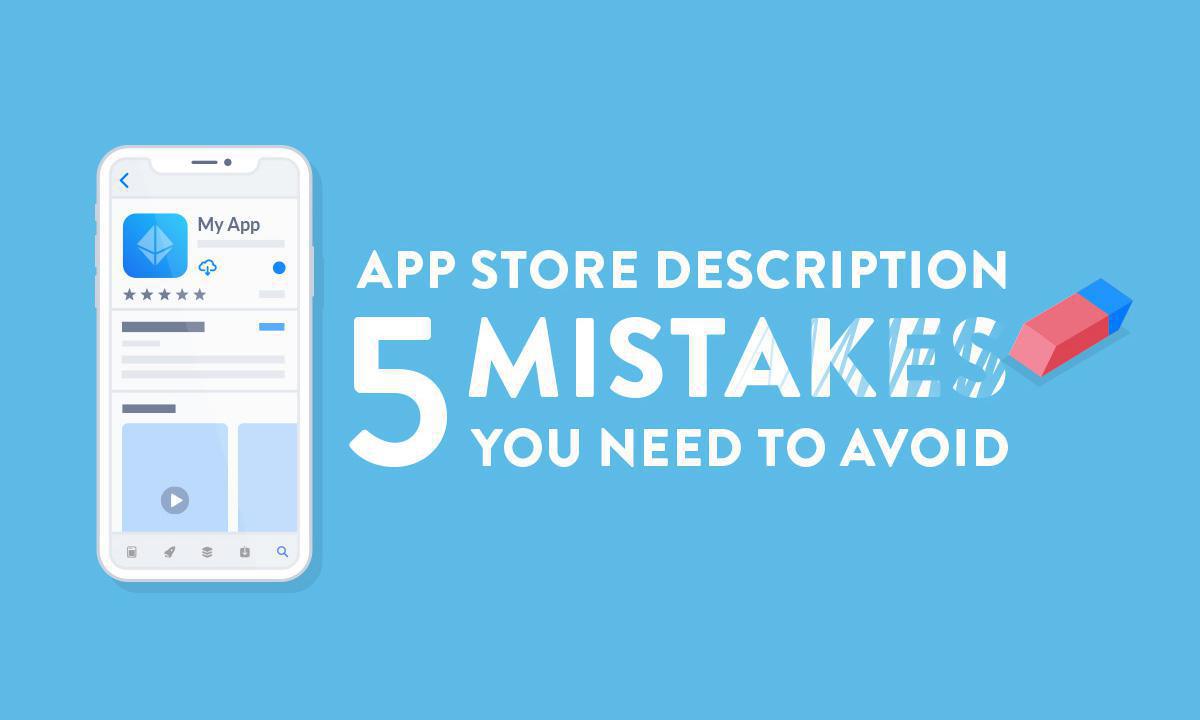 After working on your Beautiful App, perfecting every last detail, and testing it through and through, the time has finally come to publish it in the stores and show it off to the world. But, your job isn't finished just yet... We've already discussed
App Store Optimization,
to improve the ranking of your app in the stores, so today, I would like to focus more specifically on your app description. Because it's the first impression your app makes, make sure it's a good one, with our 5 mistakes to avoid :
1. Being hasty
I, too often, come across app descriptions sounding like they've been submitted without particular attention. Maybe you've seen them too, and if it's the case, did you download the app? No. So, when it comes to your app, consider its description a deciding factor for the user to download the app or not. As a result, the description should not only provide good reason to download the app but also demonstrate professionalism, with attention to spelling, grammar, etc. Don't risk losing potential users over typos or a poor choice of words: have people proofread your app description and give you feedback.
Ask your friends and family to read the description, especially those who are not familiar with your project or with apps in general. They'll be all the more genuine. Use these reactions to adjust your copy if necessary.
2. Not getting to the point
Did you know that by default, an iOS user will only see the first 3 lines (225 characters) of your description? To see the rest, they have to click on the "More" button. An effort they will only make if what they have already read has interested them. So, it's obviously better getting straight to the point. Essential information about your app should not only be clear but easily identifiable, within the first few words of your description. A good app description should answer the questions a user asks himself, such as what is the goal of the app? What kind of need does it meet? What is its added value vs the competition? With a clear response, the use might want to keep on reading or better download your app at once.
3. Thinking that people know your business as well as you
If you are ready to publish your app, you've obviously spent a lot of time reflecting on your project,
defining your concept
, its feasibility, creating
an outstanding mobile design
, etc. You know every aspect of your app by heart and you have a clear vision of the experience you want to deliver to users. But sometimes, you have to take a step back and remember that the general public will not have the same point of view. They will not share your expertise, they will never be be as well informed about your product as you. To efficiently introduce your app to the public put yourself in the shoes of the audience, use accessible terms. Unless your app only targets a niche, don't be too technical. Being too serious won't get you very far; users might feel left behind and classify your app as too complicated for them.
4. Neglecting the visuals
Google Play
and the
App Store
request multiple screenshots to illustrate your description. Pictures are worth a thousand words, so take advantage of this opportunity and pay a little extra attention when submitting them, by choosing relevant views of the app that demonstrate its main features and usability. Screenshots, if used wisely can really play a significant part in the user's decision process. Want to play it even smarter?
Use the science of colors
, a marketing trick of the trade, and choose the best colors for your app to begin with.
5. Forgetting the call to action
Almost there! If you've avoided the pitfalls mentioned above, chances are your potential user has read through your entire description, glanced at the magnificent screenshots you provided, so what's the missing element you say? A call to action. Why? Think of it as a reminder, a gentle extra push towards your goal: getting the visitor that landed on your app store description to download your Beautiful App. A call to action towards the end of your description doesn't cost a thing, but can prove more powerful than you think...
Last but not least, remember that honesty is key. So one more piece advice: don't lie about your app and never make users promises you can't keep. The reasons for this are pretty obvious, to name a few: unhappy users, bad reviews,
negative comments
... Just don't go there and
sell your app
for what it really is, we assure you it will pay off in the long run.
Update
: As of September 7, 2016, to limit spam-title length, Apple introduced a 50 characters limit for the title of new iOS apps and
iOS app updates
. To learn more about new quality control policies by Apple, check out our
App Store improvements
update blog post.