Apps & The Music Industry
Written by Muriel Santoni on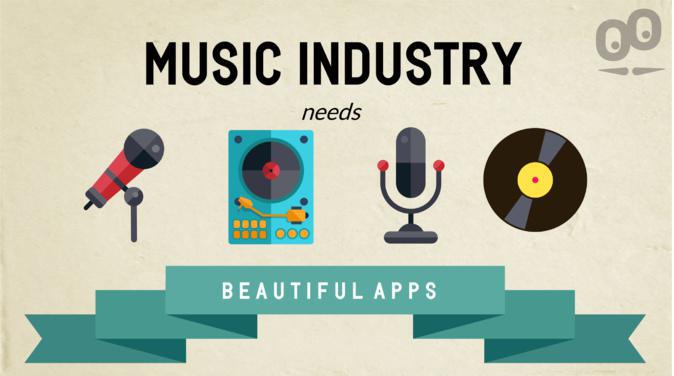 With the ongoing development of new technology such as streaming, the music industry has undergone many changes over the past several years. Although it wasn't given much of a chance in the early 2000's, we realize today that it has demonstrated flexibility and creativity to adapt to the new standards, particularly in terms of digitalization and gradual disappearance of physical music media.
The music market consists of participants that differ greatly from one another, with both varying and common needs. Today, I decided to show you how
apps are an indispensable part of the music industry's digital evolution
. Skeptical? Put yourself in the place of four types of music industry players for a more complete perspective: artists, radio stations, those in charge of events/festivals, and producers.
It's a known fact that musicians live through and for their fans. To stand out from the rest, an artist must have a true, unique identity, and be capable of showing this to their audience—this challenge can be achieved through an app.
- Share your world:
One word...content! Whether this is done by linking their existing website to the app or by integrating the CMS, a beautiful app is the solution for conveying the value of the artist. An app can only be called
beautiful with a design worthy of this claim
—with GoodBarber, this is a given.
- Create a community:
To become and continue to be popular, it's important to know how to create and maintain a community. This can obviously
done by using social networks
, but there are other ways to do this as well. Some examples include using a submission sections that allows fans to share content with the artist, or even a
form section that can be used to create contests, for instance
.
- Inform:
This may seem obvious, but it's very important to keep fans updated with the latest news. A Calendar or a Map are easy ways to keep fans up to date on concert dates, tour stops, etc.
-Promote your music:
The best part for your users: offer your music in your app! Add a Podcast section, or a
Mini-Player (coming soon) and a My Album/Songs section
that will allow your users to listen to songs and make purchases directly in the app.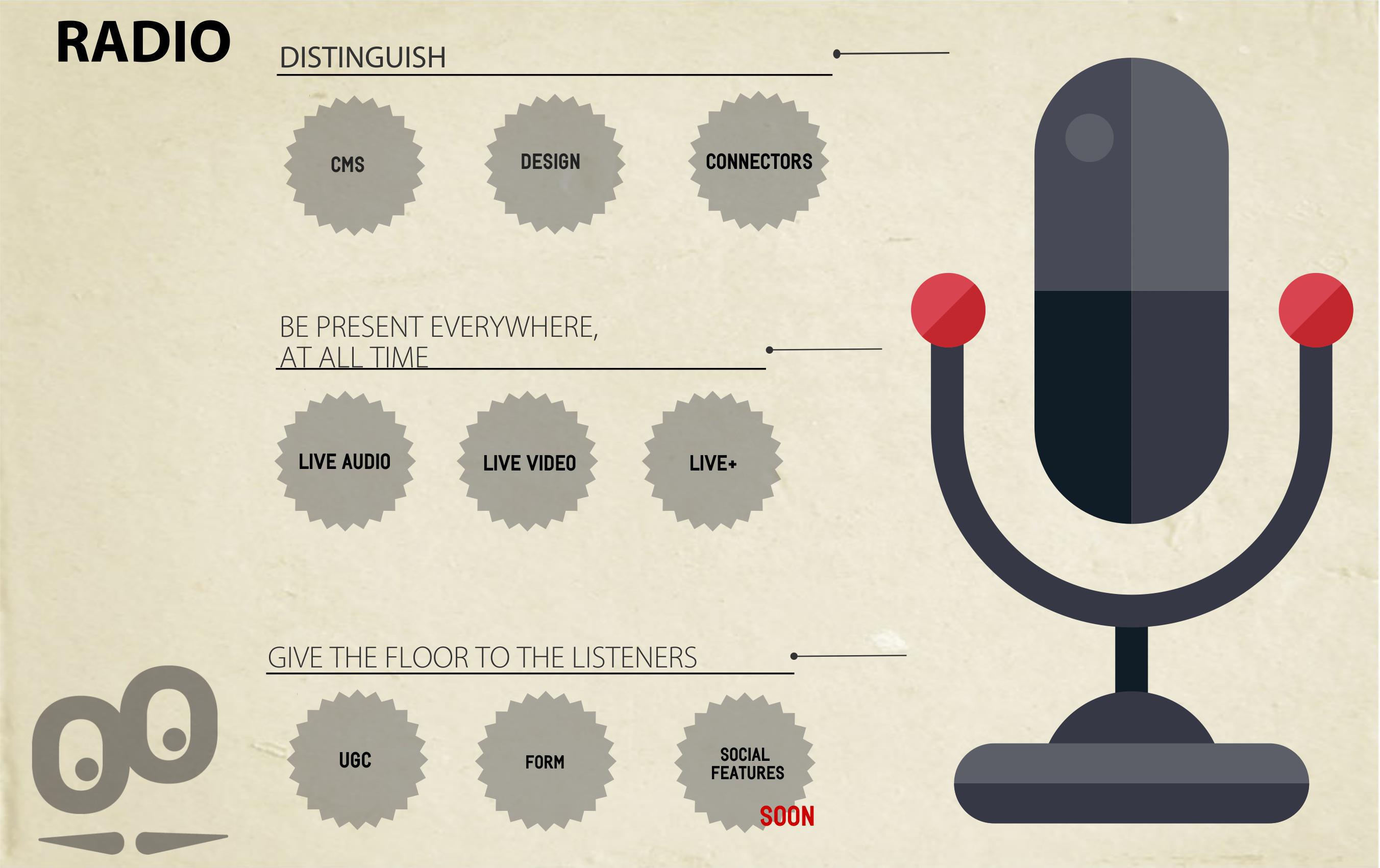 There are thousands upon thousands of radio stations, which means differentiation is key. Here is how to do this with an app:
- Distinguish:
Here, all emphasis is on content— the identifiers that characterize you in the radio world should always be apparent. The opportunities to show these special attributes are everywhere: in articles, photos, videos, and of course in the design and visual aspects of your app.
- Long-lasting content:
The key to success? Make yourself accessible to your users from anywhere, at any time. Including Live Audio and Video is a must, and providing a
Live+
option is something to consider as well, as it allows your users to buy and share your music.
- Give the floor to the listeners:
Engaging listeners is crucial for a radio station. To show them that you value them, include submission and
form
sections for contests or polls to gain feedback.
User authentication and all related functionalities that are coming very soon
will also help you to add a social aspect to the radio and create a real community around it.
Apps created for events have great promotional and organizational improvement potential. Whether used before, during, or after the event, they can be of unmatched assistance!
- Promote the event:
When used in advance, the app can be a great way to publicize and popularize the event, its mood, its goals, etc. Editorial tools and connecters to existing sites are great for this.
- Provide practical info:
This is key—attendees must know exactly what is happening, where and when. Map, Calendar, and
Contact
sections should be integrated to help everything run smoothly.
- Interact with participants:
You have a lot of options here! Continuously publishing content through social networks and
push notifications
is what we had in mind particularly.
- Make the memories live on:
In order to keep the event alive in the minds of the attendees and to make them want to return, try requesting feedback through form and submission sections and sharing moments captured during the event with them.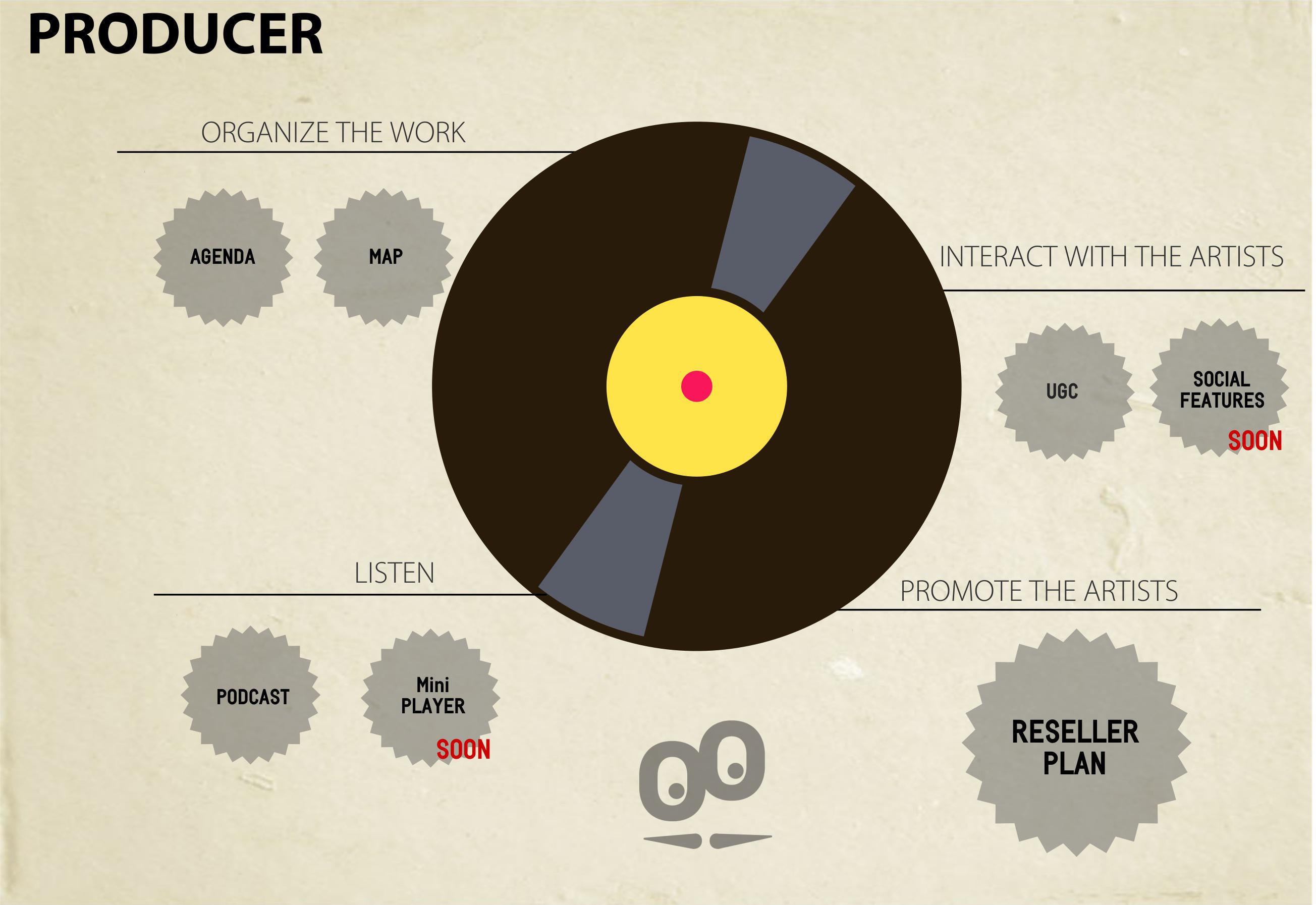 Producers are the core of the music industry. They are multi-tasking machines—between managing artists, promoting them, and coordinating all services involved with making music, they could use a useful tool to help them handle all of this.
- Organizing their work:
We are envisioning an internal app that uses Map and Calendar sections to keep track of all schedules/appointments with the various artists and companies involved.
- Interact with artists:
Continuing with the internal app concept, an app that can serve as a powerful communication tool between artists and producers could bring great results. This can be done with a submission section, but there are many features to come in the near future that will increase the possibilities.
-Access to listening:
The producer must always have audio access to their artists. A Podcast section or Mini Player are perfect for this.
-Promote the artists:
Last but not least, promoting the artists is a huge part of a producer's job. The
Reseller Plan
is the perfect solution, as it allows for the creation of unlimited apps—one for each artist!

Members of the Music Industry, don't wait any longer! You now have more than enough good reasons to create your Beautiful App.



Translated by: Ali Soroka