Create an App for Your E-commerce Business
Written by GoodBarber Team on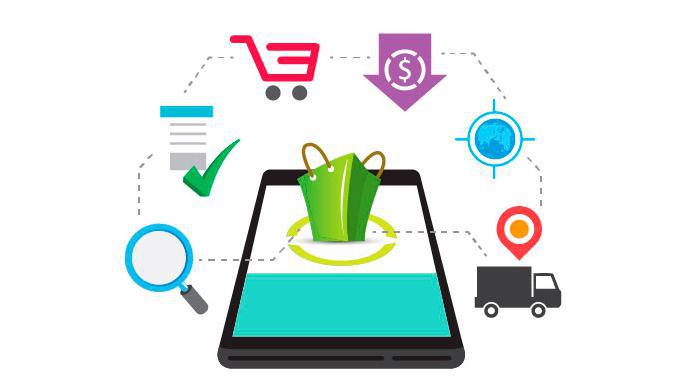 Why are brands creating apps
? Because a mobile app brings together all the essential components of your brand: useful information, advertising, social networks, products, special offers, loyalty solutions... If well structured, it is the perfect container for your
content marketing strategy
.
With an app, clients can find all the information they need to buy a product, all in one place. Simple and direct. And now, w
ith our E-commerce section, you can easily connect existing
Amazon, Shopify and Etsy boutiques.
Integrate your E-commerce website
Connecting your E-commerce website has never been easier. Just by adding the URL of your online shop inside our E-commerce section, you can start selling directly from your Beautiful App. The connector is designed for Amazon, Shopify and Etsy boutiques. For other outlets, you can use our HTML section, just make sure to check the display on all devices for an optimized user experience.

Yes, these sections need a network connection in order to function, but, with WiFi, 4G and 3G being readily available, it won't stop your business from reaching new heights. Especially with our extensive catalogue of native features to boost engagement, loyalize and nurture your clients.

If our connector introduces more flexibility, of course, you can still use our CMS (Content Management System) and create a native directory of products, directly from your GoodBarber back office. Attention: checkout must occur in a browser.
The benefits of our native features
Regardless of the solution you choose, to support your E-commerce business, with GoodBarber, you can rely on powerful native features. Here are some examples:
- Push notifications: use them to notify users of new collections and special promotions.
- Internal ad-network: use our internal ad network to circulate your own campaigns and advertise promotional campaigns.
- Statistics: use the editorial stats to find out which categories and products your clients prefer. Use this information to create targeted campaigns.
- Speaking of targeting,
with our User Groups Add-On you can manage your user base and monitor your audience activity in order to make your campaigns more effective and your notifications more relevant.
- Loyalty program:
nurture you clients with our Loyalty Card Add-On
, reward most loyal customers with
a Club Card
and exclusive privileges and,
boost your sales with Couponing
!
If mobile is the new way to buy, now's the time to adapt and make the switch to
M-commerce
, with an app builder ;)