Resellers: how to sell a News app?
Written by Ghjuvan Simeoni on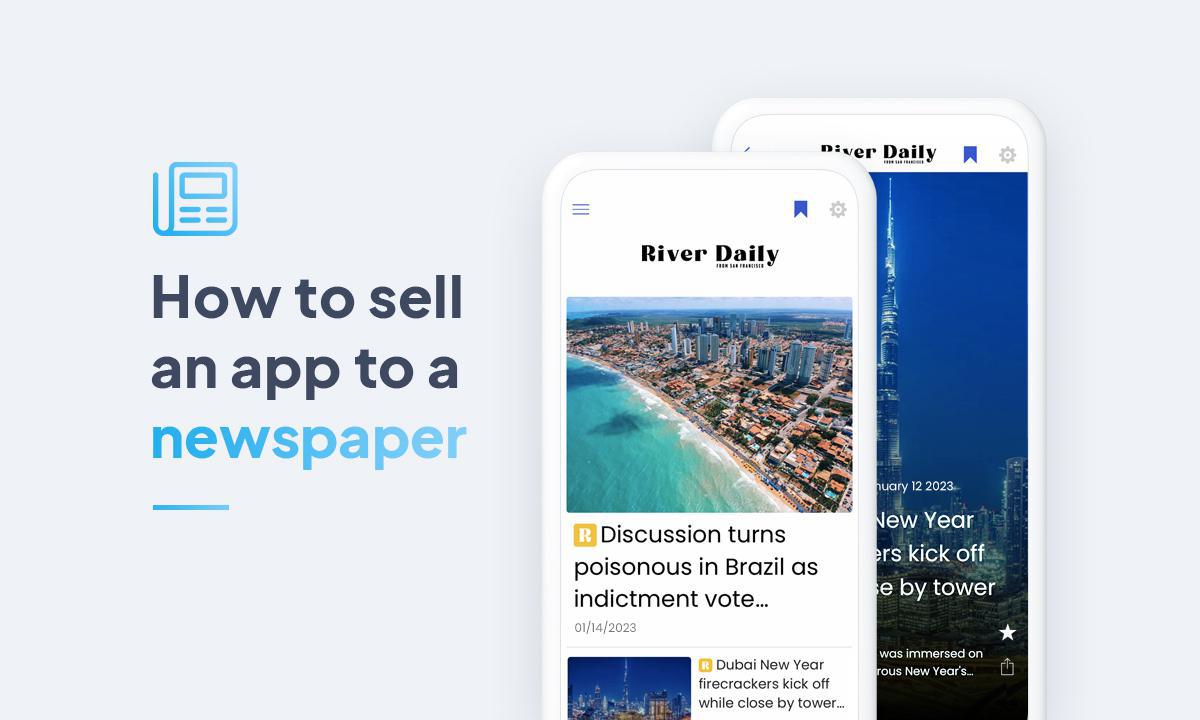 Using GoodBarber, a no-code mobile app creation platform, resellers can
target
many types of customers. Today, we'll see how you can sell a "News" app to a newspaper or online media, for example.
While users spend on average 4 hours a day on their smartphones (sometimes more), having an app, for a newspaper or an online media, is almost a must. An app is an essential tool to continue to inform and maintain a connection with its readers. As such, a mobile app is an essential extension of existing print or web formats to continue to inform and be read.
Today we will see how GoodBarber can help you meet the demand of newspapers, media, and content publishers who want to offer a unique experience to their users with a mobile news app.
1/ Identify the targets
GoodBarber allows you to create content management apps, that allow you to manage any kind of content: articles, videos, podcasts, events, etc.
You might as well say that content management apps are the category to focus on when it comes to creating "News" apps.
As far as "News" apps are concerned, the targets are numerous. Here are the main potential customers that could be interested:
Nowadays, which major newspaper doesn't have its own mobile app? None, you may say All major national or international newspapers have invested money to develop or have developed their mobile app.
As a reseller, do the same, and propose an app to newspapers in your region or in your community. One of the advantages of using GoodBarber to create and sell apps is that thanks to our platform, you save time and money. Use these advantages to offer interesting rates to your potential customers. You will be able to convince them to use your services to create an app, instead of having the app developed by a developer. This option is much more expensive and can cost close to 10 000 or 15 000€.
Many contemporary media have developed a strategy exclusively based on the web. What could be more natural for them than to have a mobile app available on the Stores? This app will allow them to share content with users, so why not propose in this app exclusive content only for people who downloaded the app?
Content editors or bloggers
On the web, there are more and more content editors, bloggers, and influencers. There is a real market to invest in offering mobile apps to this type of customer. The app can appear as a way to earn money, through monetization. But it is also a tool to create and manage a community.
2/ The key features
To convince the customers we mentioned before, you need to know and master the key features to use for "News" apps. Here are the main features to use:
Monetization
The features that allow you to
monetize
the app are essential because they allow your customer to earn money with their app.
In-app purchases (subscriptions)
With in-app purchases, you can give your client the possibility to sell subscriptions in their app. The app can be free to download. In the app, some content can be viewed by all users. Others are restricted and associated with a subscription. The user who subscribes to the app will be able to access exclusive content. The advantage of this feature is that your client can offer users a free trial period to access all the content of the app. After a 7-day trial, for example, the user must subscribe to continue accessing all the app's content. Subscriptions can be monthly, yearly, or any other length (6 months for example) and range from 0,49€ to 349,99€ on the App Store. The prices on the Play Store are freely fixed by your customer. They can choose to create several subscriptions with different durations, and of course, a price adapted to each duration. The revenues generated by the subscriptions are paid directly to your customer's account by the Stores. This is an excellent feature to earn money with your app.
Allow your customer to display advertising in their app to generate revenue. We have two extensions for that: the external ad network and the internal ad network, allowing you to create your own advertising campaigns.
By using the external ad network extension, you can connect the app to external services that display advertising in your customer's app. The services we offer are Google AdMob, Google Ad Manager, Facebook Native Ads, and Google Ads. With these tools, your client will be able to generate regular revenues with their app, especially if the number of users of the app is high. The bigger the audience, the bigger the revenues.
With the internal advertising network, your client can create their own advertising campaigns and display ads that they will have added directly in their back-office. They select their own criteria: Dates, clicks, etc. They can also choose one or several platforms to broadcast their campaigns: iOS and/or Android. Once the campaigns are online, they have access to statistics.
Content synchronization
Your customer may already have a website or existing content on the web to import into the app created with GoodBarber. We have several tools that allow synchronization between the GoodBarber app and content available elsewhere. It is very easy to implement ;)
Your client already has an existing website or blog created with WordPress? Don't worry, with our
WordPress plugin
, you can import all of your client's articles into the GoodBarber app with a few clicks. But that's not all. The content is synchronized. This means that if your client adds an article to their WordPress blog, it will automatically be added to the GoodBarber app. This saves time for your client and ensures that the content is harmonized between the different platforms: the web with the WordPress site and the native apps with GoodBarber.
It is estimated that 80% to 90% of blogs are created with WordPress. The ability to synchronize a blog with a GoodBarber app is a frequent request for "News" apps.
Like WordPress, your client is a content editor or blogger and has a Youtube channel? With GoodBarber's
Youtube connector
, sync the videos of their Youtube channel directly into the GoodBarber app! It's very convenient ;)
Thanks to our
RSS Feed
section, your customer will be able to synchronize all the external online content to their GoodBarber app. This will allow your client to optimize access to its online content and its visibility.
If you have the skills, or if a developer is on your team, you can even create custom feeds. To implement custom feeds, you can rely on our
online documentation.
Daily management of the app
An easy-to-use back office and fast execution
Give your customer access to the
back office
of their app, in white label, so that they can manage their content themselves and send push notifications to their users, for example. The back office is simple, intuitive, and saves your customers time. The actions are performed with an incredible speed of execution! Your customer will benefit from an outstanding user experience.
Easy content creation (CMS)
By giving your client access to the back office of their app, they will be able to manage their content independently thanks to our
CMS
(content management system). Our CMS is robust and intuitive and allows your client to create any type of content: Articles, Videos, Sounds, Photos, Cards, Forms, and Events... The client can manage their content as they wish, create categories, set up deferred publishing and so much more to discover here.
A memorable design
As you know, we attach great importance to the
design
of our apps. Using GoodBarber to create and sell apps, you can be sure that your customer will have an app with an impeccable design. We invite you to create demo apps to show them to your customers: they will be amazed by the result!
By the way, we have made some updates to the design. In particular, a new template for the CMS
Map section
and a new template for the navigation menu of the app: the "
Floating tabBar
". And it's not over yet, we are already working on new templates to allow you to satisfy more and more customers ;)
3/ Your sales points
First of all, a mobile app allows users to easily access media content from anywhere at any time, simply by using their smartphone or tablet. This greatly improves the user experience and can increase user engagement with the content.
In addition, a mobile app can offer additional features that are not available on the media's website, such as personalized push notifications, a smoother and more intuitive user experience, geolocation and personalization features, and integrated payment options.
Finally, having your own mobile app can strengthen the media's brand and improve its visibility among users. Mobile apps are often more accessible and easily identifiable on app stores, which can increase the brand's reach and attract new users.
Overall, a mobile app can offer many benefits for a media outlet, from improving the user experience to increasing brand reach to providing additional functionality.
Not a reseller yet? Create a test version here:
https://www.goodbarber.com/create/reseller/