Resellers: 10 industries to target with your mobile app reseller agency
Written by Christophe Spinettiii on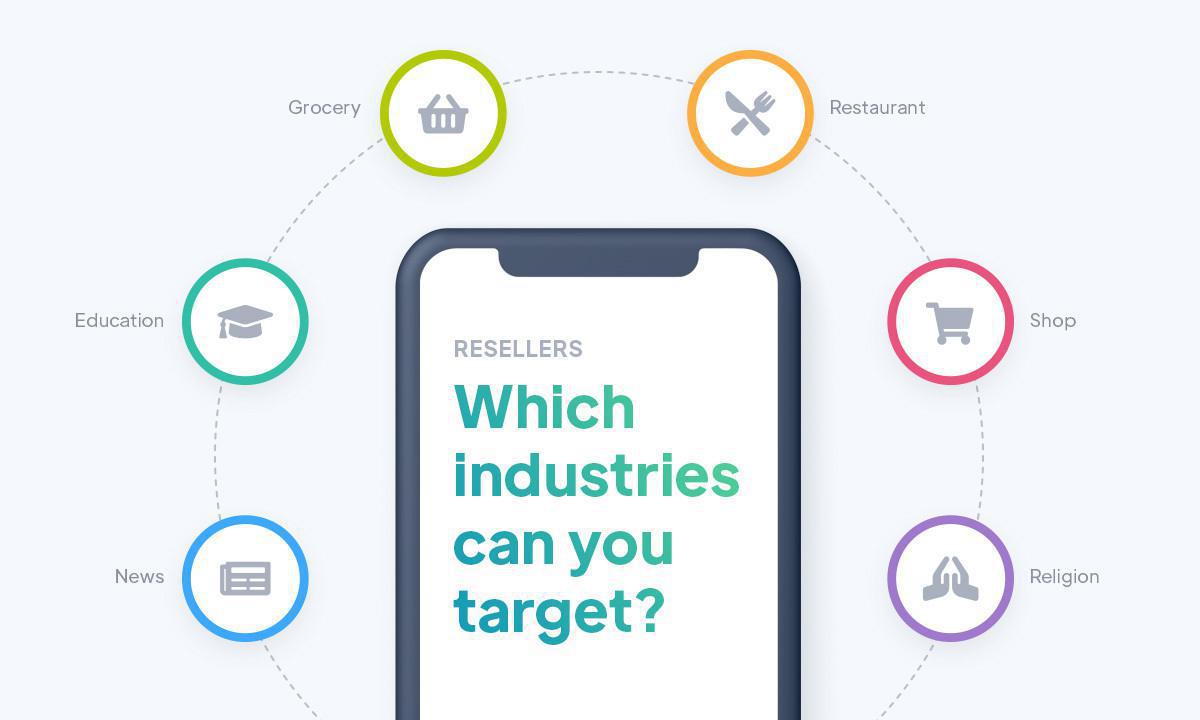 The GoodBarber app creation platform offers a lot of different features, so you can target a whole bunch of prospects. Moreover, thanks to the extension store, you will have the possibility to add interesting options to your apps. All in all, there are more than 500 features that cover the needs of your customers. If you don't know which sector to target first, we give you a list of sectors to consider first.
1/ Catering/ Restaurants
The restaurant industry has always been a dynamic sector on the web and on social media. A few months ago, restaurant apps were only intended for large groups with a lot of money. Independent or local restaurants thought that this type of tool wasn't accessible to them financially and technically. But the different lockdowns around the world have considerably changed this assumption. Indeed, restaurateurs have had to force themselves to adapt, and this is an opportunity for you to reach this new clientele. You've never worked in this sector and you think you're too late? Think again. The demand is huge because users are used to it, they won't stop
ordering with their phones
. And
restaurant owners
are now convinced of the importance of it. There was a time when they could consider an app as not that necessary. But the situation has changed and the case for having an app is already made. It's up to you to convince them to
work with you.
With the options developed by Goodbarber, you'll have all the tools to showcase your expertise in creating restaurant apps. You can show "Click and Collect" options so that clients can book and pick up their orders. If the restaurant uses its own delivery drivers, you can offer the "
Local Delivery
" option, which will allow to choose the delivery areas in the city or the neighborhoods served. A new option even offers to choose a radius on a map to delimit the delivery areas. Finally, the most requested option by restaurants and fast food outlets:
delivery slots
. With this feature, the Wow effect is guaranteed. Indeed, the restaurant owner will be able to define their delivery times, but also their opening hours (so as not to receive requests when the restaurant is closed) and they'll be able to limit the number of orders for a given time, so as not to saturate their kitchen and disappoint their clients. You can now also offer (at an additional cost), a connection with ticket printers like
Expedy or Square
. These printers are designed to print a customer's order on a ticket so that it can be processed more quickly in the kitchen. Finally, as in all business sectors, sending
push notifications
is an incredible advantage for your client. They can easily communicate about new dishes, rare ingredients, or specific promotions.
2/ Shops
As with restaurants, physical stores now see value in launching an app. And this is for several reasons. First, an app (like a website of course) allows you to continue selling even when the store is closed. The app remains
accessible 24/7.
Your clients may tell you that they already have a website or social media for that. But an app has better advantages. Purchases via apps are
growing worldwide
. And when it comes to retention, an app performs better. When the user downloads an app, their engagement with the company is much stronger.
Moreover, once they have the app on their phone, they won't go and do a search on their mobile browser and therefore, won't be exposed to the competition. And yes, on the web, your clients are in an open world and therefore exposed to competition. Secondly, the user experience of the app is better than on social media and on the mobile web. No more the need to enter passwords at each connection, direct access to your account, "offline" operation, storage of payment methods, speed, and finally, push notifications. All these parameters make using an app much more fluid than a website or a page on social networks.
New integrations with external platforms will open more possibilities to convince merchants to buy an app. For example, if they already have an online store with Shopify or WooCommerce, we offer a connector so that the app is updated at the same time as their site. Moreover, with the Facebook MarketPlace extension, the new Stripe payment systems or the Paypal installments, everything is in place to allow you to make as many sales as possible.
3/ Grocery stores
Grocery stores
are real local businesses. They contribute to the dynamism of city centers and to the dynamism of rural areas that are not well connected to shopping centers. But commercially, a grocery store is there to help its clients, with quality products and sometimes with extended opening hours. As with restaurants and physical stores, the internet has allowed shopkeepers to keep in touch with their clients during the lockdown. So a grocery store needs an app just as much as any other type of business. For this specific business, an eCommerce app is ideal. Indeed, regulars will be able to continue shopping in a fun way from home or during closing hours. If the grocery store implements a delivery service, GoodBarber's integrated features can help. The grocery store's clients will also be happy to be able to shop online and avoid queues at peak times or during the high season. In addition, regulars will be able to save time when ordering thanks to the
"buy again
" option. The best way to keep a strong connection with your clients is to be in their pocket, through their smartphone. Grocery stores are modernizing but don't necessarily have the resources of large retailers. With GoodBarber, you can show them that they too can set up a "Drive" quickly and easily. They will be able to compete with supermarkets in the area.
4/ Journalism / Blogs
One of the basic features of GoodBarber is the CMS (Content Management System). This advanced content management system allows you to create, organize and distribute a flow of news of all types. You will tell me that all newspapers or blogs already have a website and surely a mobile site. You are right, they have been on the internet for a long time. And in addition to their website, journalists are very present on
social media
. We should not tell them to stop all that, on the contrary. On the other hand, as far as apps are concerned, many newspapers and bloggers are still without them. Especially local newspapers, there are surely some in your catchment area. We are convinced that an app must be integrated into a global communication strategy. And so, thanks to the app's own functionalities, journalists, copywriters, or bloggers can increase their audience. What are the main arguments to make? First of all,
82% of online news
consumption is exclusively on mobile. We hardly consume any news on our computers anymore. So news apps are in the front line and are dramatically increasing their audience loyalty. Moreover, one of the best weapons to stay in touch with their users is push notification. Users have given their consent to receive pushes, and are therefore waiting for information. If your client sends them pushes on a regular basis, they will have a more and more loyal audience.
Thanks to GoodBarber, your customers can retrieve external content streams. This can be article feeds but also videos or sounds. This way, they won't reject you claiming that they will have to do double entry work by launching an app. It is even possible for them to do live audio or video directly and exclusively in the app.
Finally, you should not forget that news sites and newspapers are mainly financed by advertising. And so, GoodBarber's integrated advertising options give you a strong argument to motivate this target to create an app. The global trend in terms of
ad spending
in apps has never been higher. Your clients or leads may not be aware of this data. As a mobile expert, it's up to you to make them aware of it. If you've never thought about prospecting in this industry, you need to think about it because app sales opportunities exist.
5/ Tourism
During the Covid period, the
tourism
sector was heavily impacted. Nevertheless, this sector is full of opportunities for an application reseller. Indeed, the demand for travel guides, in particular, will always be there. In all regions of the world, there are museums, natural parks or monuments to visit. The consumption of content on mobile is growing. And the way people travel has changed. Tourists know that they will always have their mobile in their pocket when they visit or with them at the hotel. So they know they'll find useful information at any time. Tourist attractions of all types need to be present on mobile not to miss any audience.
Even if your target area is only local, you'll have a lot of opportunities to sell apps. Museums will be fond of photos, video, or beacon features. Beacons are small tools that send a notification every time you approach a particular work. Businesses around tourism will also need an app to communicate about their services, their rates, their schedules and send pushes to make promotions in off-peak periods for example. Finally, you'll have people interested in promoting their region through
tourist guides
. This target includes companies specialized in communication or administrations like tourist offices.
6/ Education / Training
Training or education is growing in the app business. You definitely have these types of institutions in your area. The fun aspect and also, the fact that millennials are literally "glued" to their mobile, offers the possibility to target all types of training organizations. First of all, schools and colleges can use it to communicate about their services. They can highlight their educational qualities, post photos, and videos, and list their associative activities. An app also allows, thanks to the management of user groups, to keep in touch with students, but also with parents and teachers. Push notifications can be used to communicate important events in the life of the school.

Specialized or professional training organizations may also be interested in an app. First of all, as for colleges and high schools, to communicate and keep in touch. But also to distribute course materials or complete courses. GoodBarber's content management system allows to organize courses in different themes, and to distribute written material but also videos and PDF documents. An essential tool to continue to communicate with students and send them course materials in an interactive and fun way. Students will be delighted to find their courses on their favorite tool: their smartphone.
7/ Religion
You might not think about it, but religious communities are very interested in apps. For the same reasons mentioned above, they need to keep in touch with the congregation and so the best way to do that is via an app.

People who are part of a religious community are usually quite connected. They have common interests and a relatively similar lifestyle. So the app can have 2 focuses. First, content management. Most religions have rich literature. Many texts are used for preaching and praying. There is also more and more multimedia content: podcasts, videos, music. So inevitably, the integration and classification of this content in an app can be useful for the members of the community. Some will prefer to keep a physical link with a book, but nevertheless having an app with all the content can be useful and fun too.

Then, the user management options, especially the chat, can be interesting for this target. Members will be able to interact easily, meet each other and organize meetings or events more easily. The managers of these communities will be happy to offer a new place of exchange to all. All the options of GoodBarber Classic can be used to convince religious communities in your area to create an app.

Finally, one of the main sources of funding for religious institutions or communities is donations. Thanks to our integration option with Donately, you will have an unbeatable argument to convince this kind of clientele to create an app. The point here is to have a real return on investment because the congregation will seamlessly be able to donate thanks to t the quick and easy solution in their pocket.
8/ Employee Communication
Some companies want to use an app but for internal organization purposes only. In this case, the most important thing for you is to find the right approach. What is the purpose of this app? Only for internal communication or rather with specific functionalities?
Sometimes, outside of their corporate communication, they want to organize their daily tasks, convey useful information to employees in an easy and convenient way. The content management tool is perfect for this. Articles, photos, videos, everything is provided in GoodBarber to answer perfectly to this need.
If your client has operational needs, you can set up
forms
to collect information from users. You can also set up a team management so that your client can send messages to certain teams on site for example. It is also possible to export this data so that it can be processed outside the app by other tools. The fact that it is accessible offline may be of interest to some companies that work off-site.
Whether for functional or communication needs, the main advantage of your solution is that you don't need to involve the company's technical teams or an existing partner. Everything can be managed by the logistics or marketing departments. This is a strong factor in some cases because the speed of implementation and the possibility of updating the app autonomously will appeal to this type of client. Don't forget that in companies, unions can become an interesting target. They communicate a lot with their members, do their advertising, and can be tempted by an app.
Another part not to be neglected in the framework of internal apps is the "
out of store"
publication. Indeed, some companies will not want their communication to be public and may not feel comfortable publishing their app on public Stores. You know that our solution offers the possibility to publish and distribute the app "outside the store".
Finally, if some of your customers want to integrate existing internal processes into the app, you can set up APIs. But if you don't have the resources, you can use aggregators like Make or Zapier, which allow you to interconnect different tools without typing a line of code. This can be a key selling point to companies that usually have a lot of different tools to manage all their daily tasks.
9/ Sports clubs
Sport is an area where a lot of content is created. Many journalists and bloggers cover the subject. Nevertheless, you shouldn't forget that many sports clubs may need an app. There are
sports clubs
in your area, it will be easy to get in touch with them to suggest an app.
Keep in mind that sponsorship is critical for sports clubs (whether professional or associative). That's why to attract sponsors, clubs must provide digital tools to show that they are at the cutting edge of technology. As we have seen above, an app can be an important advertising vector. Thanks to GoodBarber's advertising network, you can target sports clubs in your area and show them that they can increase their sponsorship revenues. In terms of image, a sponsor will be more impressed by an interstitial ad in an app than by an insert in the club's paper newsletter.
Secondly, a sports club, even the smallest one, addresses a fan base. An app will be able to manage 100% interactive communication. Posting behind-the-scenes videos for example or sending push notifications with invitations to private events will keep the enthusiasm for the club alive. For sports clubs that welcome children, for example, an app is interesting to generate interest among parents. They'll be happy to follow the exploits of their offspring on their mobile. To convince your clients, you can remind them that parents are part of their target group because they participate in the financing of the association through their membership fees.
In the sports sector, more and more coaches are setting up their own businesses to make a living from their know-how. There is a growing niche market that you can easily reach. Sports coaches need to advertise and communicate about their programs. An app can be a good complement to social networks, to spread content. But that's not all. An app can be an important source of revenue for these types of entrepreneurs. Coaches can create online fitness programs via articles, photos, and especially videos. And thanks to GoodBarber's " In-app purchases " option, they will sell " in-app " subscriptions. They will have the opportunity to sell to a wider clientele since they will not have to be physically present to give a class, they will only have to record content in the app.
10/ Events
The event industry has experienced a slowdown due to the Covid-19 pandemic. Nevertheless, even though unfortunately some companies had to close, those that survived are experiencing a definite resurgence in growth. The world's population is in demand for events and outings. These companies have realized that the world has changed and they are forced to digitalize.

So, you are there to help them in this transition. And what better way to take the digital shift than with an app. As we have already seen several times above, the use of the smartphone in everyday life is predominant. Offering an app to your customers with push notifications is already a major step forward.

And you have a wide range of features to convince them. First of all, thanks to simple content management. An event organizer needs to produce as much interactive content as possible in advance to attract a maximum audience. GoodBarber's content management is an asset here. Your customers will be able to broadcast videos, sounds, podcasts, photos, and even articles. They will be able to broadcast in advance a precise schedule, show the location on a map, and show useful places around the event. The goal will be to provide as much information as possible to future participants. At the time of the event, GoodBarber will allow your client to send targeted pushes, and broadcast live or the latest news. The organizer can even make money by selling content or sponsored pushes. Finally, the app is interesting in the post-event phase. Indeed, the goal of the organizer will be to keep in touch with the participants so that they come back the year after or promote the event. If it's a concert, for example, the public will appreciate seeing pictures or videos. And to make the app even more interesting, the organizer can broadcast exclusive content or backstage videos. Life around the event is important in communication, and an app will help a lot.

Conclusion
Of course, this list is not exhaustive. As we said at the beginning of the article, the goal is to give you ideas to explore or expand your business. Many other sectors can be targeted for app sales. Don't hesitate to share your favorite sectors in the comments ;)
Still don't have a Reseller account?