Get your food truck's digital presence rolling
Written by Isabella Leland on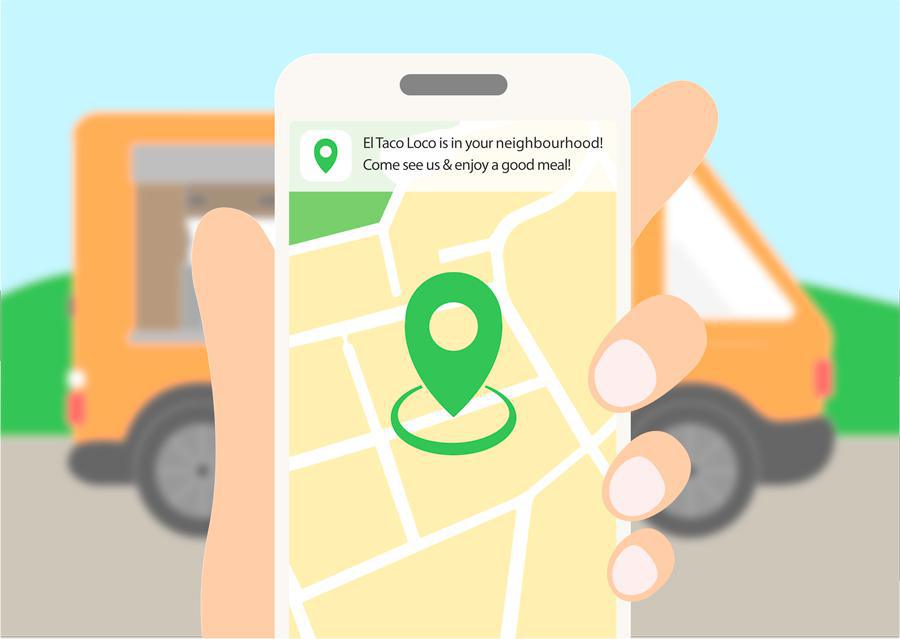 We've already addressed the fact that an app can help send one's business to new heights. Nowadays, with
mobile navigation surpassing the desktop web
, users are quick to turn to their "on the go" devices to search for information, itineraries, and reviews–especially so when it comes to eating out!
If this is the case for
restaurants
, being present on mobile sounds even more natural when it comes to a food truck business, which is, by nature, "on the go" as well. And if a mobile app and a food truck are a great match, with the possibilities introduced by
GoodBarber 4.0
—offering anyone the possibility to oversee one's digital presence across devices— it sounds like an app should definitely be on your menu.
Creating an app for a food truck is all the more beneficial, being that it's a "product" which can have a very long life cycle. The lifecycle of the app might even start before the business is launched, as part of a
pre-launch strategy
and beyond of course, to support and help grow a business and its visibility.
Key advantages of a food truck app : before the launch
As part of a pre-launch strategy, an app can be a cost-efficient way to assess the public's interest for what you have to offer.
For instance, if you build your app with our platform, for a fraction of the price of custom development, you can start an online presence with a native app and / or just a
Progressive Web App
and start teasing your potential audience about your food truck business, while exploring their appetite for your idea. Plus, considering the fact that with a PWA (the cutting edge web app format we offer) is compatible across screens and devices, you no longer need to worry about creating a website and an app. The project delivered through GoodBarber is enough to manage your digital presence,
from mobile to desktop
.
This will not only save you money, time and energy, but it can also allow you to conduct market research, through a Form section for example.
You can ask users about their food preferences, what they might like most on the menu between two options and so on. This can start spreading the word about your business while teaching you the ropes of "engaging" your app audience and possibly improving the user experience (as a kind of beta testing phase) before you launch the final version of the app with a bang, on the day that you open your food truck for the first time. It goes without saying that you have more chances of getting traffic on your first day when you have a community that already exists!
Crowdfunding is also very popular when it comes to launching a small business these days.
So, why not test the waters and see if your local community would be willing to support the launch of your business? An app can serve as great publicity for your crowdfunding efforts, as well as a means to facilitate donations, with a Click-to section or HTML section. All in all, it's another great way to spread the word about your budding project.
Last but not least, an app is a great way to
start a community
and generate loyalty.
Remember those who supported you from day one and make sure you reward them with gifts or special discounts. Our
Loyalty Card
,
Club Card
and
Couponing
Add-Ons can help manage this special relationship with your supporters and future clients. As for push notifications, use them to keep these users in the know about the latest updates regarding the launch of your food truck. Just so you know, with the possibility to create User Groups, before and after the launch, you'll be able to target your different users in the most appropriate fashion.
As you can see, far from being remote from the physical world, an app can become a great digital tool precisely to bridge the gap between those two worlds, the physical and the digital.
Key advantages of a food truck app : beyond the launch
Once your food truck is ready to hit the road and serve customers all around town, that's where your app comes in again.
In a digital day and age characterized by the hyper solicitation of mobile users we can only recommend engaging them when, and only when, relevant.
How can you achieve this magic trick? Simply by
making your notifications smarter
, through geo alerts. Once you start getting a fair amount of users in your user base, you can indeed ensure that you only notify users in the area closest to where your food truck's at (if your food truck changes location that is), through
Geofencing
, an Add-On which allows you to define a specific geographical area and set up rules to dispatch notifications according to the users' behavior within the area (whether they dwell in the area, enter it or leave it).
Now, of course, good old
push notifications
also have their pros as long as you use them wisely.
Instead of using them for daily notifications (use a geofence instead), consider delivering push notifications to announce special events or new items on the menu...basically, information which is relevant to all your clients, whether they can "visit" your food truck on that day or not.
Besides, since the web app format of your app can serve as a website, why not take your project up a notch and share pictures of events you've catered, recipes, you name it! The more "alive" your content the better and it also feeds you information which you can use for branding and in turn, share with your audience, so that they remember your food truck, even if they aren't regulars.
Budget concerns don't have to take away your appetite
Opening a food truck is often done by choice of course, but sometimes, it can also be a solution to launch a food business on a tight budget.
In the meantime, you obviously don't want anything weighing you down, and the cost of making an app shouldn't be one of those concerns. Luckily, with an app builder, not only are logistics and development made easier, but it also allows for major reduction costs, all the while giving you access to advanced features (such as geo alerts) and customization options (in terms of development and design).
If you measure the ROI of creating an app in terms of promotion, it's definitely cheaper than most
advertising solutions
for instance, chances are
making an app
might be within your budget after all. What's more, few solutions can beat the multi-purpose quality of an app, from creating publicity, to delivering a service (taking orders) and engaging your clients.
Just as a reminder, here are a few of the features you can have access to with a GoodBarber subscription:

- Our CMS to publish content right from the back office of your app (no need to create an account with a third party to actually create and deliver your content)
- Push notifications (up to 500 000/month)
- Geofencing
- A Map section
- A Form section
- A Contact section
- An About section
- User Generated Content (through our Submission section, for users to share content through the app, text, photos and videos).
- And more!

Take advantage of our free 30-day trial now!