With the Offline Payment extension, your customers can pay for an order outside of the app.
For instance, this extension is very useful if you want clients to pay cash on delivery.

Go to the catalog and add the Offline payment extension to your app.
Activate offline payments
Once the extension is added, a new payment option appears in the payment providers page.

Click on "Activate test mode" to activate the test mode.
Click on "Active live mode" to activate the live mode.

To know more about the difference between the test mode and the live mode, read this online help .

New payment option for customers
During checkout, customers can choose "Offline payment"
The "Pay now" button will transform into a "Confirm my order" button when they choose this option.

If you want to customize the wording of the payment option, change the default text. To do so, check this online help .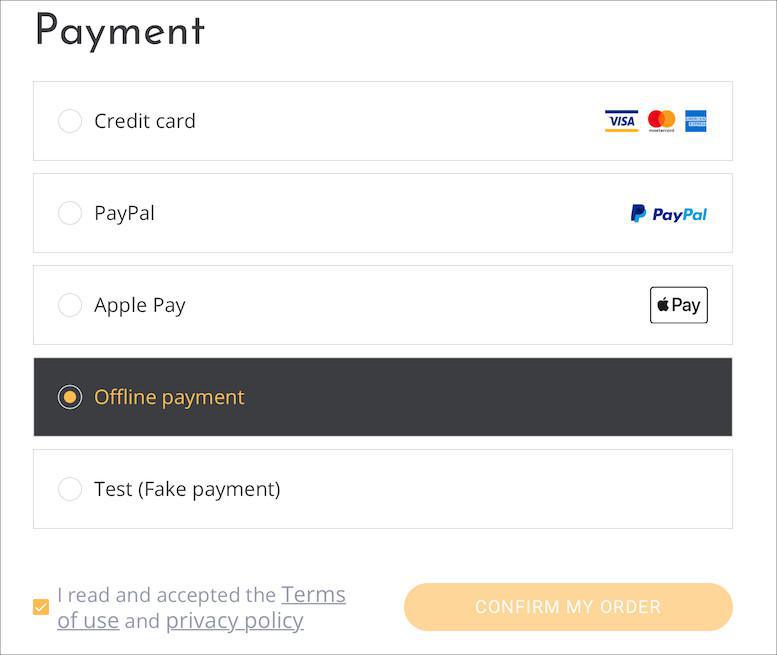 Identifying payment option in orders
In the order summary, you see the payment option chosen by the customer.
When it's an offline payment, it's up to you to recover the money, since the transaction is done outside of the app.

The regulations concerning the generation of invoices are very strict.
When all sales made in your shopping app are paid electronically directly in the app (via one of the electronic payment gateways associated with your app), GoodBarber is able to generate invoices for the sales made.

Where it is possible to pay outside of the app (offline payment), GoodBarber is no longer able to issue invoices for all sales made in the app.

When you enable offline payment in live mode, your shopping app will no longer produce any invoices but only order summaries. This choice is not reversible.
If you disable offline payment at a later date, your shopping app will continue to produce only order summaries.
More articles