5 things our Resellers learned in 2022
Written by Christophe Spinettiii on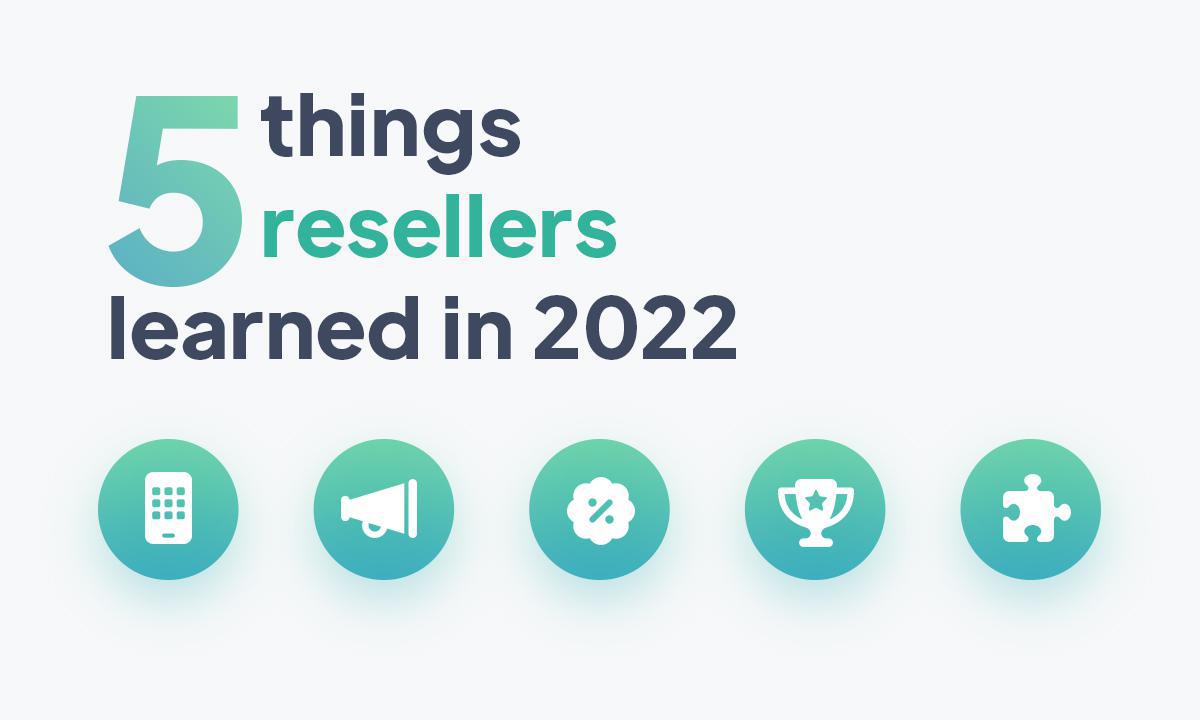 It's time to review the year-end results for mobile app resellers. The activity of app sales is very strong and the demand is there. That's why we take advantage of this busy year to summarize the lessons learned by resellers. Of course, don't hesitate to use these best practices as inspiration for your 2023 strategy.
1. Have a diversified portfolio
As a Reseller, a good portion of your time is spent evangelizing mobile apps and selling your services. You will often find yourself presenting your work to potential clients and having to show examples of apps. These apps can of course be apps from existing clients but can also be
demo apps
.
Why is it important to have demo apps?
First of all, when you start out you have no or few customer references. It is therefore useful to create demo apps to show your expertise and prove that you use a reliable tool. Customers will then be able to see themselves in their future app. Of course, everyone will have their own vision, tastes, and desiderata. But keep in mind that your leads or customers do not necessarily have a precise vision of what they want and demo apps offer a reassuring framework to convince them.
Secondly, having demo apps can lead you to prospect new business sectors without having to wait for a reference. This will allow you to expand your customer base more quickly.
Demo apps have the advantage of being totally in your image. When you build an app for a client, you are not entirely in charge and therefore you will not be 100% responsible for the result. And worse than that, the client is usually responsible for updating the content of the app. If he is not rigorous in this task, you risk showing in your references an app that is not up to date anymore. With your demo apps, you decide on the content and graphics. And so, you can also take advantage of it to add all the latest features freshly developed by GoodBarber. So you will be sure to display apps with all the features you are able to sell. It's the same principle as in a car dealer's showroom. Demo vehicles should show as many options as possible to make the customer want to have the same.
Finally, we advise you to publish the demo apps. At least on the web. This can be done in a few clicks with GoodBarber. You will have the possibility to share the link of the Web Apps with your customers and leads, so they can keep this after your visit as a virtual flyer. And if you want to go further you can even publish your apps on the stores. We know that publishing an app on the stores can take time, but we advise you to publish at least one. It could be your agency's app. It would serve as a test app but also allow you to keep in touch with your clients. Indeed, if this app is often updated with interesting content and if you take the opportunity to send pushes to your audience. You will be able to implement and apply a strategy that you advise your customers. This will give you even more credibility.
2. How to pitch an app?
As we have seen above, you will often have to be the person who explains that it is possible to create an app quickly at a moderate cost, and at the same time, you will have to convince that it is your agency that has to make this app.
A pitch must be short, by definition. This anglicism comes from the expression "Elevator Pitch", which means that the speech presenting your services should not be longer than an elevator ride. In general, a good pitch is no longer than 1mn - 1mn30. The goal is to keep it short and to make your audience want to know more and contact you later.
Just because the
pitch is short
doesn't mean that you have to rush it. On the contrary, the shorter it is, the more difficult it is to prepare. You have to clearly describe what you offer, make the person in front of you want to know more and reflect your company's values. It's a complicated exercise. You have to mix the rational and the emotional. Do not try to sell an app in 1mn30: it is impossible! The objective must be clear: to pique the curiosity of your interlocutor so that they agree to go further with you.
Here are some ideas to enhance your pitch:
What problem are we solving
? We spend an average of 4 hours/day on our cell phone. Any company or association must have a presence on mobile.
What is the advantage of using an app creation platform like GoodBarber?
Thanks to its advanced technology, our tool offers you the possibility to create an app competing with the biggest brands at a cost divided by 20. Our platform is mutualized, and our development costs are shared among all our customers. This is why we offer a reliable, easy-to-use technology that is constantly evolving thanks to the economies of scale we achieve. So you get a powerful app at a reasonable cost.
What is a native app?
An app developed in the programming language of the smartphone operating system (iOS or Android). Apps can be downloaded from the App Store and Play Store. They offer the most optimal user experience on mobile devices.
Why have a native app
? The user experience of a native app is the best on mobile. Moreover, once the app is downloaded on the smartphone it is used much more than a mobile website. Finally, the native app allows sending personalized push notifications.
Why make demo apps?
We talked about it in the previous chapter. In a pitch, the message must have an impact quickly. So you can use a demo app to enhance your speech, to join the image to the word.
And of course, you must test your pitch relentlessly. There is nothing like rehearsing your pitch to know it perfectly. You should then test the reactions of your audience. Practice with your family and friends...
3. How to respond to the "It's too expensive" objection
If you receive an objection of this type with a lead, it means that you were able to convince him to present your services, congratulations!
But if your lead says "it's too expensive!!!" at the beginning of a meeting, you did a poor job upfront. In fact, we need to backtrack a bit here.
When you are in an interview or presentation with a lead, you need to start by understanding what their need is and setting the framework for the discussion. That's why the goal is to ask as many questions as possible to make sure you stay within the framework of your interlocutor's needs.
Once you are on a transparent discussion basis, once you have understood your lead's challenges, you will have more weapons to negotiate.
One of the first strategies is to answer " Compared to what? Be careful, it is difficult to answer this without being arrogant. It is a gamble but it will immediately challenge the customer. That of weighing the price against another service, or worse, against the possible loss generated by a non-presence on mobile.
Here are some arguments that will help you argue and justify your price:
Weighing the price will help you show that building an app with you is a reasonable investment. Indeed, thanks to GoodBarber, you have the chance to charge measured rates. Creating a custom app costs much more. Why? First, app technologies are more complex and less widespread than web technologies. For the moment, native developers are more sought after than web developers. Moreover, for a single app, it is necessary to code in 2 different languages. One language is for Android and another for iOS. This means that development times are doubled. Finally, in addition to coding an app, you have to submit it to the stores. This takes more time than putting a website online and requires specific skills. With GoodBarber these constraints are eliminated.
So you are able to offer lower rates than for a custom-coded app. On top of that, your customer will not have any hidden costs for hosting or platform updates. Everything is included. Even the upgrades. You can guarantee them that you provide them with a tool that can evolve in terms of functionality and ergonomics.
Finally, in a negotiation and because you have a smoothed cost (the GoodBarber subscription offers an unlimited number of apps), you can adapt your rates according to the duration of the contract proposed to your customer for example. You can also imagine making drawer offers that induce a variable cost according to the options used by the customer. It will also be possible to charge per use of the number of pushes for example or according to the assistance that you offer. Be creative in the elaboration of your rates, it will facilitate the negotiation.
An app offers an interesting return on investment because it allows you to reach a targeted and qualitative audience. Nevertheless, this does not prevent you from proposing options to your customers to make them generate income directly in the app.
Advertising: GoodBarber proposes to integrate an internal or external advertising network. External advertising is an integration with Google or Facebook advertising systems. Your customer creates an account with these companies and they display ads on the app. The owner of the app is paid in the form of commissions based on the clicks generated. In-app advertising allows your client to create their own ads and sell them at the price they want.
Loyalty card and coupons: This feature offers the possibility to create coupon campaigns or integrate a loyalty card into the app. These 2 options have a direct impact on the loyalty of a physical business. And statistics allow for quantifying the performance of the app.
eCommerce: an eCommerce app converts 3x more than a mobile website. This is a good argument. By creating an eCommerce app for a client you offer him the possibility to integrate a growing market and to directly quantify the return on investment of his app.
4. Set your customers up for success
Part of your job is to promote your agency and your services. Marketing and customer relations are part of your know-how. Take advantage of your skills to share them with your clients.
As we saw above, you can add services in addition to the app itself. And if you have good skills in the field you can even become a marketing consultant.
First of all to help your customers in the customer relationship:
Keeping an eye on the market: It sounds obvious but sometimes we get so caught up in managing the day-to-day that we forget the basics. Listen to the market and trends. If you have a regional base or a particular specialization you can act as an expert for your client. You can provide them with web benchmarking, social media research, and competitive analysis... The goal is to help them make decisions based on what is happening in their market. You can even provide white papers or industry studies with stats. Take a look at our resources page for inspiration.
Challenge your customers: Sometimes customers get complacent. These days, all types of businesses need to be digitalized. Even local shops have an interest in having an app. But an app must be animated otherwise it will not have any results. It is therefore interesting to shake up your customers in their habits by encouraging them to post news on the app and on social networks. By educating them on digital communication you will increase their chances of success.
Educate them on good practices: The communication with your customers must be regular. It must also be relevant and adapted to their target. That's why by giving them tips on how to manage their app and their customer data, you will have more chances for them to be successful.
Then, you have to do everything on your side to bring an audience to your customers:
AppStore Optimization: To get an app to appear at the top of search results on the Stores, unlike the web, the technical part doesn't come into play. It's just a matter of having a good sales pitch, optimal descriptions, and good reviews. So you need to work on the app's online presence. Screenshots and presentation photos should look great. In the descriptions, use as many as possible the fields at your disposal. Keywords and tags are very important. Put yourself in the end user's shoes. Your customer does not know all the specifics of publishing on the stores. It is up to you as an expert to optimize the publication as much as possible. Tip: to get ratings and downloads, put your network to good use. You can even set up a win-win strategy for all your customers. Motivate them to leave each other positive comments, in order to generate a virtuous effect.
Take advantage of iOS 15's Custom Product Pages: With this new feature introduced with iOS 15, your customers will have more chances to tailor their pitch to their target audience. You will be able to create up to 35 different pages for them.
Updates on the stores: This aspect does not bring new users but it is essential to think about it as your customers will be dissatisfied if their app starts to bug. Moreover, the stores sometimes clean up apps that have not been updated for a long time. Finally, if the app is often updated, it will be better ranked in the search results. We, therefore, advise you to make sure that your customers' apps are regularly updated.
Marketing campaigns: Your status as a marketing and technology expert for your customers puts you in a good position to launch marketing actions for them. Email campaigns can have good results, but thanks to the app, you will also have the opportunity to launch Push Notification campaigns.
Think Offline: Even if your core business is digital, sometimes offline can be appropriate for the promotion of an app. This is often the case for proximity apps and the result can be effective in-app download results.
Of course, don't hesitate to add strategies that you know well or that you have already tested with other clients.
5. New features that make a difference
GoodBarber has released many new features during this year 2022. One of the most significant changes is the launch of the Extension Store. A library of options (free or paid) that can be to each app. This is an opportunity for you to make tiered offers. This way you charge for adding certain "extensions".

In-app purchases: One of the most anticipated options of the year. With in-app purchases, app owners can block access to certain content sections and submit them for payment. This payment is done directly "In-App", for an optimal purchase experience. Friction during the purchase is limited to a minimum. This option allows you to sell subscriptions only, which promises a recurring income. This will delight content creators such as coaches and trainers of all kinds.
Appointment scheduling: another option that was in high demand. From now on, a whole new target is open to you with all the beauty salons, hairdressers, barbers, and others. Don't hesitate to create a demo app with this feature, it's a guaranteed wow effect with your leads.

Appointment Booking: another option that was very much in demand. Now, a whole new target is open to you with all the beauty salons, hairdressers, barbers and others. Don't hesitate to create a demo app with this feature, it's a guaranteed wow effect with your leads.

Delivery area by radius: Some delivery businesses, especially fast food, are sometimes limited because of the selection of delivery areas by zip code. Our team has recently found a solution to this blockage. Delivery by mileage radius. Simply determine a circle on the map in which the delivery area is located. This option will undoubtedly satisfy the fast-delivery businesses around you.

Design System: With GoodBarber you are used to making "Beautiful Apps". Our product team has further improved our design system during this year 2022 so that you can offer graphically beautiful and even more personalized apps to your customers.

Integration with Zapier and Make: These no-code API systems will delight those of you who have the most "do-it-yourself" profiles ;) Thanks to GoodBarber's integration with these platforms, you can offer connectors with external solutions without having to code.

Shopify integration: This connector is offered by our ServicePlus team. It induces an additional cost because there is a custom integration each time. This option can allow you to attack a target of Shopify users and offer them a native app. One more opportunity for you to find new growth levers.

Tawk.to: Many of our customers use our chat extension. This extension is only for interactions between app users. On top of that, there is the possibility, through integration with Tawk.to, to create a Chat between the app admin and the end users. Like a Support or Sales Chat.


If you don't find what you are looking for in our wide range of features, you can call on the ServicePlus team to develop custom options.