The story of how we created a DIY Christmas app
Written by GoodBarber Team on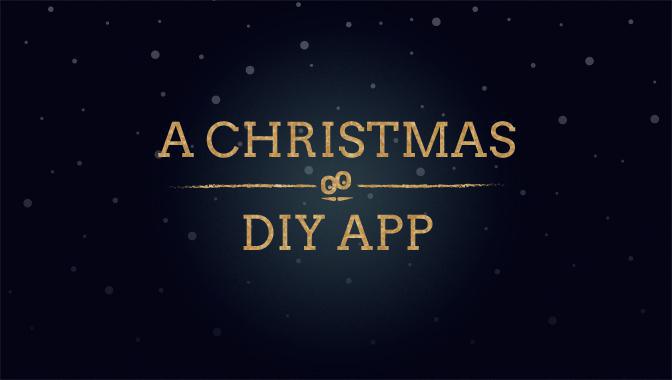 Last year, we decided to wish our GoodBarbers a Merry Christmas in the best way we could think of, with a beautiful app. One year later,
we wanted to tell you the tale of how our Do It Yourself Christmas app came to life one beautiful December morning.
We knew we could count on a robust platform to have our app up and running, and knowing how our product operates was obviously a huge plus. For instance, we already had our developer accounts set up, the submission process was familiar to us, we could rely on a talented team of designers to create a nice environment for the user experience, etc.
However, we are a DIY app builder, not DIY bloggers. So, the challenge resided in something which put us on the exact same level as our clients: coming up with content. Never one to turn down a challenge, we also felt it was the perfect opportunity to put ourselves in our clients' shoes and practice what we preach, which is:
Always provide relevant content, to impacts users, whether it's to convert, entertain, inform or any other goal. And if your app is a seasonal app or an event related app, content is all the more crucial, to extend the app life cycle and keeping users from
deleting it
.
Forget Ecards, send your season's greetings with a beautiful app!
Since our DIY Christmas app was first and foremost a gesture to wish our clients
a Merry Christmas
, we really wanted it to convey true Christmas spirit, like a holiday card but with the edge and features of a native app. It was not meant as a sales oriented operation, it merely intended to make our
most loyal customers
smile. If it ended up spreading the word about our app builder in a natural way, it was the (frosted) cherry on top!
Our thinking was, why not let the app speak for itself in the stores? As a company, what speaks better about our product than the apps we make?

With content being our number one priority, and since DIY is what we stand for as a brand, we couldn't possibly create the content externally. Plus, doing it in-house gave us a chance to oversee the app creation process from the ground up, from creating the content to feeding it to our app builder and promoting it, thanks to the tools provided by our platform and beyond!
Our DIY Christmas app set up
a Grid menu
3 mCMS Articles sections
a multi-level menu with 5 mCMS Photos (for the goodies)
a custom HTML section, to embed a 8tracks playlist
a Click to section for our Instagram
Fonts used: Cabin sketch, Dancing Script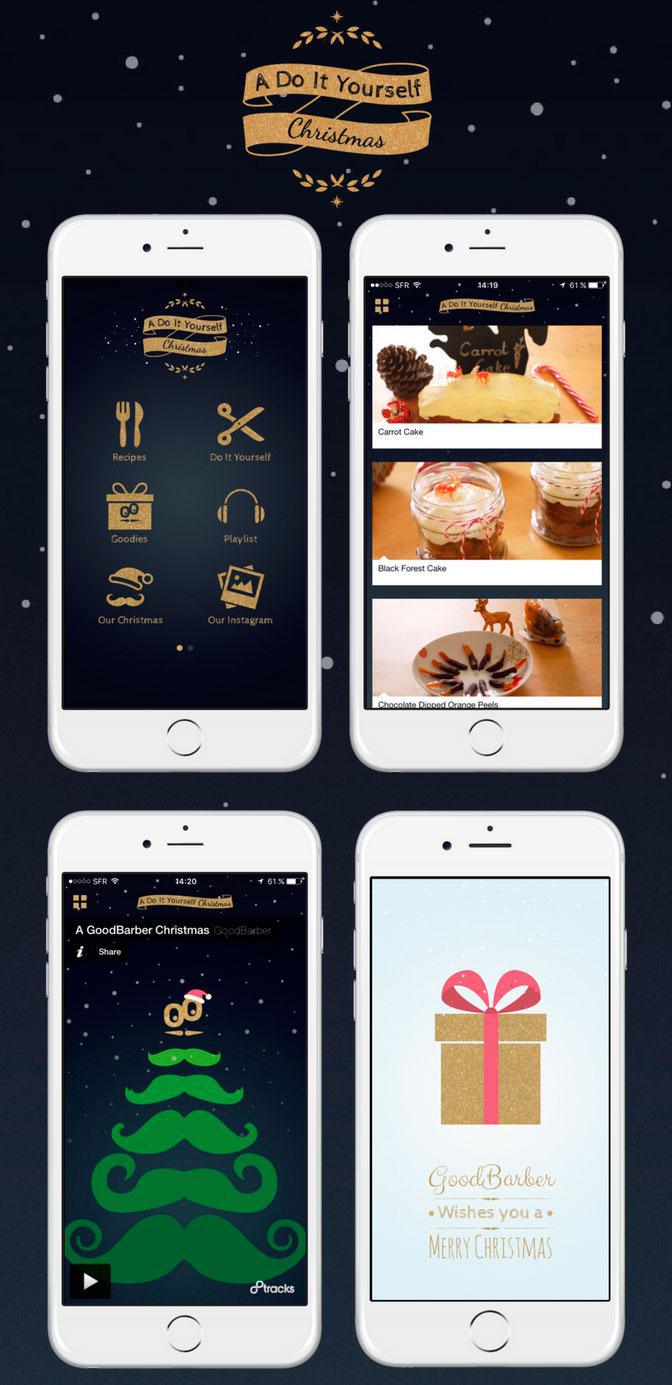 How long did it take? How many people were involved in making the app a reality?
The app's purpose was never to provide an extensive directory, we aren't Martha Stewart, but rather to package something one would be glad to open, in the spirit of a book one would pleasantly find under the Christmas tree, with options to entertain family and friends, a mix of recipes and DIYs ;) Kind of the ultimate Christmas hostess app, including last minute
gift ideas
.
Since I'm in charge of creating content for GoodBarber and I'm a little of a Christmas freak, I took over the content creation process. From shooting the videos to editing them, the entire creation process (which involved baking, tasting, crafting, decorating) took approximately a week. I shot the videos with a tripod so that it was really a one woman job. What helped was
having a clear vision
of the feel I wanted for the app, something homemade, approachable and yet sleek. I also decided to keep the number of recipes reasonable! Christmas time is a busy time of year, no need for an overwhelming amount of recipes that no one would have the time to bake. Plus then, I would have had to create a calorie counting app ;)
Feeding the app content, from the back office, was the easiest part. I worked alongside Marie-Julie, our graphic designer who completed the design within a week or so, on top of designing the goodies we wanted to offer within the app. Now, this is a good example of a little trick we used to keep the app alive. We designed a set of wallpapers, for different devices and screen sizes, and shared them one at time, sending out a push notification to alert users of new content. We also created a "Our Christmas" section, to share some of what was happening behind the scenes at the GoodBarber HQ during the holiday season. All of this in an attempt to keep the app's growing audience engaged.
All I want for Christmas is
... to be
published to the stores
. We finally had the app ready two weeks before December started. Needless to say that it was wise to plan ahead, as the submission process came with its surprises. Even the most experienced can make mistakes. In our goodies section we candidly forgot to take out a "Android" mention, which got us rejected from the App Store the first time around. Yep, you read that right. It escaped us completely, each and every one of us that tested the app, simply because it was too huge to even notice. A good state of the art mistake that teaches a very valuable lesson, don't be too sure of yourself!
In terms of promotion, we shared the app with our community, on our blog and social media, no sponsored posts or ads were involved. Beyond our own audience, the rest of the acquisition was actually natural visibility, through
ASO
. DIY and Christmas being two popular keywords, we got quite a few extra downloads on the stores during the festive season. And, we are pleasantly surprised to see that the number of downloads is again on the rise as
Christmas 2016
approaches, with downloads averaging on 14 daily without any sort of publicity. For an app which we've stopped promoting, not even updated, it's quite satisfactory and holds possibility for future developments.