What Is An App Builder And Why You Should Use One
Written by GoodBarber Team on
No-code / Low-code development platforms are on the rise. Considering over 99% of businesses are small to mid-size, most companies will need an easy way to create the apps they require. This is where no-code App Builders come into play.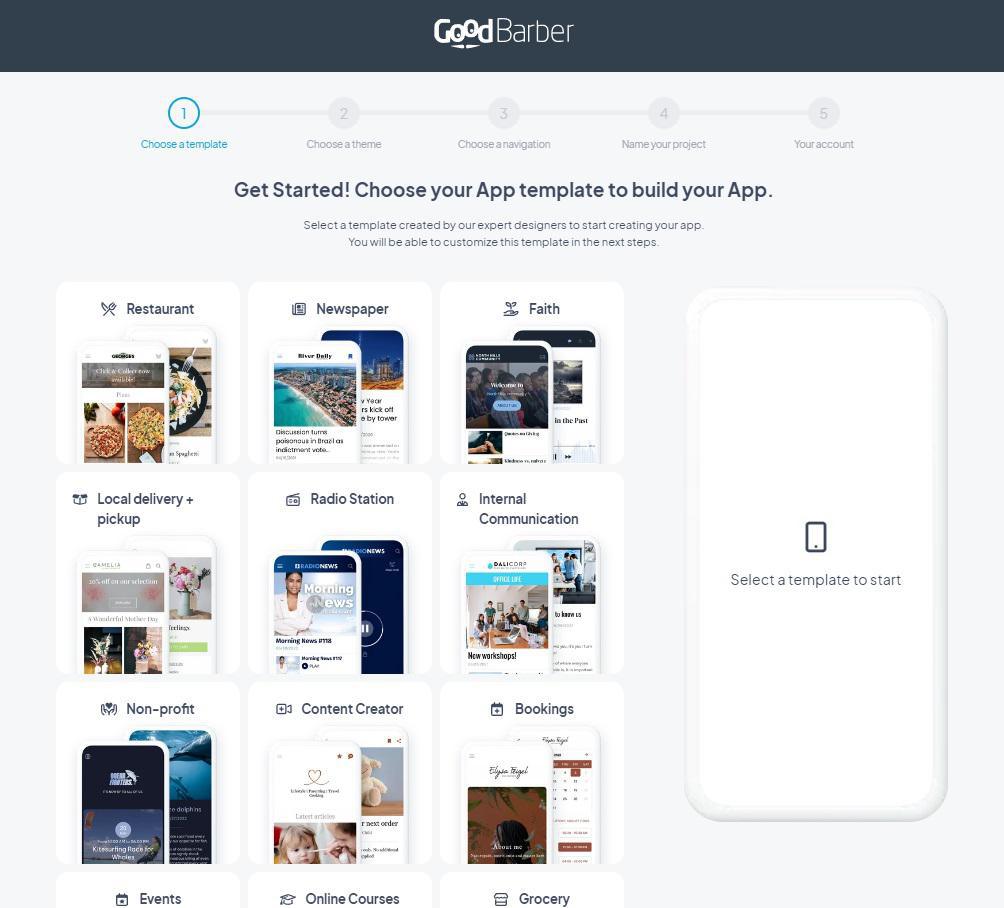 Nowadays, brands often create mobile applications to acquire and retain more customers by providing a more personalized approach. With a mobile application, one can establish engagement through push notifications, gamification, curated offers, and much more. However, mobile app development has a critical drawback — the development cost. Mobile apps are more expensive than a website and take additional development time. However, there are app development software and platforms that allow you to build your own mobile app at a fraction of the cost. These are called mobile app builders.

App builder profile overview:
What Is An App Builder
An App Builder (also known as "App maker" or "App creator") is a mobile app development software that allows users to build mobile application without coding, bypassing the classic app development process. Hosted on a "cloud platform" and based on automation routines, app builders require no programming skills and offer a hyper-productive development environment to help users make their own apps.
From the User Interface perspective, many platforms provide drag and drop visual editors that help users visualize their app as they build it, making it easier to make amends.

How Does It Work?
An app builder uses a shared codebase, making it easier for users to build applications that work seamlessly on all major platforms. Moreover, it include a built-in development, testing, debugging and deployment tools in its backend that allows developers use their current software and hardware architecture to build apps that work on different platforms. To give you an example, using an app maker, you can use a Mac to build apps for Android or use a Linux system to build an iOS app.
With the rise of mobile-only businesses in the last decade, app makers platforms have also seen exponential growth. The long list of features makes them ideal for users who do not wish to spend significant capital to make their app. These mobile app builders are helping myriad users cut down their development costs, reduce the number of app developers required and even get their apps developed within no time. We discuss more such advantages below.
Top Advantages Of Using An App Builder
Here are some of the critical advantages of using an app builder platform:

No Programming Knowledge Required: The main advantage of using an app building platform is you can make your own app, irrespective of your programming skills. A good app-building platform makes the development process direct and simple and often uses a drag and drop mechanism.
Cost-Effective Solution: When you use a mobile app builder to build your own app, the app development costs are way lower than when you go with a professional development team or an application development agency.
Fast Speed To Market: With an app builder, you can get your app up and running at an accelerated pace, as the app development time is really low. However, this does not include the time it takes for the app to publish on different play stores, which is dependent on the operating organization.
Pre-Built Architecture: Another silver lining of using app builders is the availability of pre-built architecture that can help many users build their apps in no time. A ready-made architecture providing pre-built wireframes and design can be extremely helpful in making the development process more manageable. Moreover, these templates often follow the best User Interface practices in terms of navigational elements and icons, helping users have a stellar experience while on your app. Unless you are creating something incredibly unique that requires advanced features and customization coding, the architecture can reduce the time to market and help you create applications with the best UI & UX practices.
Customer Support: many app builders offer extensive customer support that can help you before and after creating an application, including stores submission process.
Available Online, 24 hours a day, an app builder doesn't require any installation nor local technical resources

What are the business models of app builders
There are distinctive pricing models available across app makers platforms, but we have narrowed it down for you. You will find the following subscription plans:

Free: Some app builders offer a free to use platform, which helps users create minimalistic applications for free. However, many such platforms include advertisements in their applications to generate revenue.
Monthly Subscription: You will have to pay a fixed monthly fee to retain the services of the app maker and keep your application active. This may include a one-time setup cost on many platforms (if applicable).
One-Time Fee: Some platforms charge a one-time fee and offer support for the applications created. However, this support can be for a limited time or features and may require additional payments to expand the services. Many users choose this option if they wish to operate the application without recurring payments.
Freemium: Some app builders offer basic features for free but charge a set fee or a monthly subscription for additional features or services.
While these are the top subscription models for app builders, you might also find free app builders that add their advertising in your application in return for their services.
How Much Does It Cost To Use An App Builder
Many platforms also offer a variable pricing model, where the pricing changes per the number of projects, downloads, features, active users, modules and distribution channels. While some platforms are cost-effective, you might have to shell out more than €200/month on some platforms to build and sustain an application that requires additional features and add-ons.
However, GoodBarber offers customised pricing solutions as per your business needs. If you require an e-commerce application, you can opt for a standard package (35€/month) that offers features such as 1 PWA, 30 themes, payment gateway integration and much more. The full package (62€/month) provides all the standard package features, along with 1 Android Native App and additional add-ons. The premium package (125€/month) contains all the full package features, along with 1 Native App for iPhone, 1 Native App for iPad, and advanced add-ons. Similar payment structures are available for classic applications, and GoodBarber also has exciting offers for app resellers.

Who Should Use an App Builder ?
​We believe app building platforms are built for everyone who wishes to create an application. However, you should definitely choose a no-code app builder if you:

Have no technical knowledge
Are a solopreneur or a small startup
Wish to reduce development time and costs
Want to leverage the potentiality of the app maker platform, which would otherwise require an app development team
Which app builder platform is best suited to create an app ?
There are many no code app development platforms available online, making it harder to select the right one for users. Therefore, we bring you some of the best platforms to make it easier for you to build your applications.

GoodBarber

GoodBarber is one the most acclaimed app builder platforms available, primarily due to its ease of use and exceptional customer support. It offers a no-code app building environment where anyone can create an application, irrespective of their technical knowledge. Users can use their handy CMS that helps them provide a personalised experience to the app users, with features such as push notifications, one-click payment, QR codes and much more. Its products catalogue also include a reseller program. To date, over 30,000 apps have been published through GoodBarber, with the number growing constantly. The platform is built out of France but has expanded its roots in Portugal and the United States of America.

Appy Pie (AppMakr)

Appy Pie assists users in creating iOS and Android applications without using any code. Its key features include offline capabilities that help users access their apps even without internet connectivity, comprehensive customer support, and AWS security. It is one of the biggest app maker platforms based in the United States of America.

Buildfire

The BuildFire application development platform helps organisations of all kinds to create custom plugins, or use inbuilt plugins to build their mobile applications. The app-builder is interactive, and requires no coding to create mobile applications. Buildfire is based out of the United States of America and has over 10,000 applications under its belt.

AppInstitute

Based in the United Kingdom, AppInstitute is a cloud-based application development platform that offers support for Native applications. Users can create stunning applications as per their business needs without writing a single line of code. AppInstitute offers a drag and drop editor with multiple premium templates available for users to build mobile applications.

Andromo

Andromo is mobile app builder for Android applications, but it has now ventured into the iOS space as well (still in beta). The platform helps you create applications with its long list of features, templates, and no coding skills. Andromo is still in its early stages, and based in the Netherlands.

Ibuildapp.com

iBuildApp is an app-building platform that helps users seamlessly create Android and iOS applications. It provides widgets for location/contact us, coupons, video, audio, pictures, RSS, Twitter/Facebook and many other features. This company is based in the United States of America.

Conclusions
While choosing an app builder to build your app has many advantages, the choice boils down to your business rules and goals. What may be the best solution for one app may not be the ideal choice for another. But if you decide to go forward with a mobile app builder platform, choosing the one that offers multiple features while fitting the list of your requirements is necessary. With this article, we hope we have helped you make the right choice.
GoodBarber offers the right tools to users that help in building splendid mobile applications in a fraction of the development cost and time. With over 30,000 apps published on GoodBarber that garner over 3.8 Billion views per year, you too can make the most of your mobile app.

Related Contents