Revolutionize your restaurant with an app
Written by GoodBarber Team on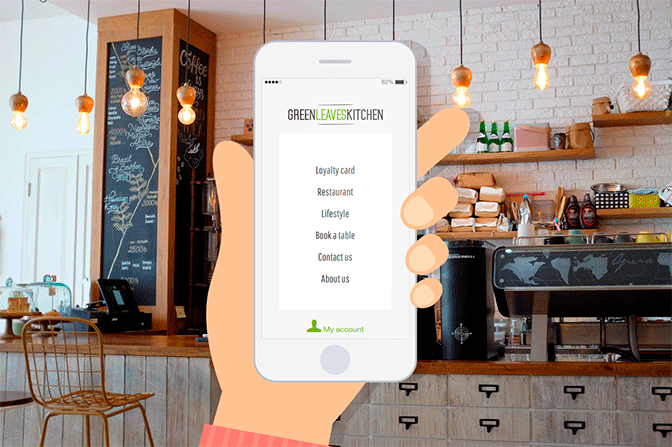 If you are looking at creating an app for your restaurant, it's most likely that you're already convinced a mobile presence will serve your business, through boosting sales, improving brand awareness and building loyalty. But, and we've said it here before, no business should create an app just to create an app. Which is why it's crucial, for restaurants and other business owners alike, to go mobile with user experience in mind, to serve customers first, the one and only way to serve your business in return.
The good news is the context's never been more encouraging. According to a Google Consumer Survey commissioned by RetailMeNot, Inc. : "1 in 4 consumers currently have at least one restaurant-specific mobile app on their smartphone". Plus a good point for small and local businesses: "42% of consumers trust the quality of food most at independent restaurants" (vs 26% for local chains and 17% for national chains).
Now, it goes without saying that
features
are key to achieving your goals. According to the same study, before attending a restaurant, users tend to browse for location first, followed by browsing the menu, placing an order and making reservations. Searching for deals also seems to be a decisive factor : "9 out of 10 diners have looked for a restaurant deal at least once".
That's where an app comes in with :
Which brings us to a very crucial ingredient to
make your app a success
: added value. What's your app bringing to the table? That's the question you should ask yourself when
coming up with a concept
for your restaurant's app. Beyond the essential features listed above, there's really no one solution fits all when it comes to designing the right app for a given business.
That's where client knowledge is, again, valuable, with two ways to look at app creation : either you already know your potential users, maybe because you already have a website / Facebook page or simply because you know your clients well, or you are starting from scratch, because you have no online presence yet or your business is new.
With the rise of app builders the great thing is you can launch your app on the market at a fraction of the price of custom development and in no time—a clever way to
get to know your users
, should you need to, and to assess your customers' appetite for mobile, on a budget. So why not create an app for your restaurant today, to get a taste of mobile?
Now, before you start cooking up your beautiful app, here's one last point to consider, regarding the life cycle of your app. Sure, creating an app using an app builder is less time consuming, but it doesn't mean you don't have to commit to regular updates, of your app's content, features and design. Making sure you get a steady amount of app downloads also requires efforts on your part, to craft an efficient app description.
ASO (App Store Optimisation)
also requires adjustments, not to mention, the importance of
promoting your app
. A great concept alone cannot work magic, the success of your app will depend on your ability to manage your app over time and advertise it to your clients.
If this puts too much on your plate, better not to create an app at all than to create one that's lacking. Or, you could always trust
a reseller to create your app for you
! One way or the other, whether you're ready to put in the effort or willing to invest in someone else's skills, the return on investment is bound to be worth it.