What the most successful apps of our clients have in common
Written by Sara Guiral on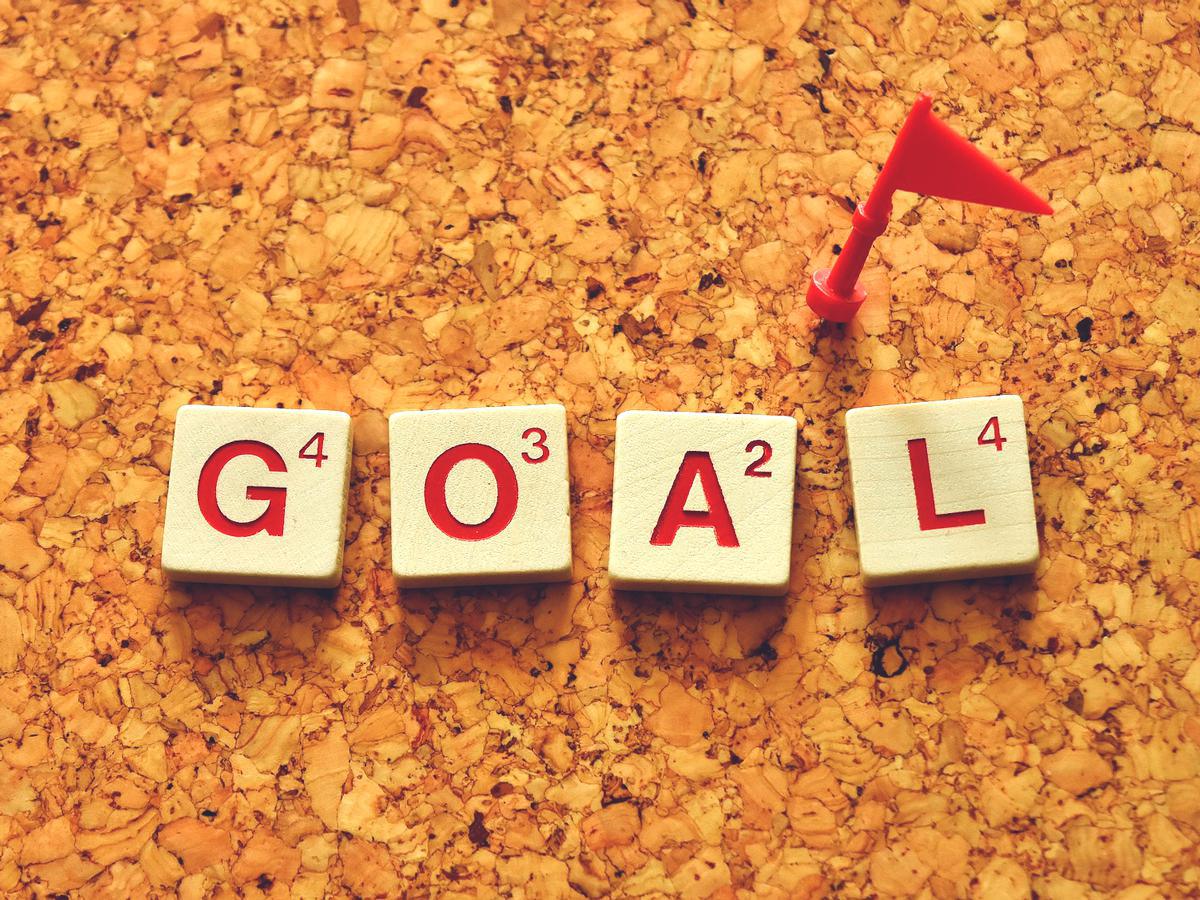 After many years of creating a product that allows anyone to deliver mobile apps, we've not only been able to create a real sense of community between us and our clients, we've also been able to learn from what many of you have achieved. There's no doubt that above all, an app needs time and attention to grow, but other key elements can also help–we've listed some of the common points that the most successful GoodBarber apps share. Let's go!
Having a community (online and offline)
Having a community is definitely a strong point. Launching a reputation-less project from scratch simply isn't the same as kicking a project off that has an existing follower base, with the possibility there to start a conversation and more.
Let's look at a possible scenario: let's say an influencer with an existing digital presence decides to go mobile after years of writing a lifestyle blog about healthy living, vegan eating, yoga, you name it…the app will most likely already have an audience, with fans eager to download. This is also true for a sports team app, such as a football club—say the club already has a Facebook page and an active Twitter account. When the app launches, these channels can be put to good use.
If you don't have a community, don't lose all hope just yet. First, we've got you covered with advice on exactly
how to build a community around your app
. Then, consider the specificities of your line of business. For
a restaurant app
for example, you might want to focus your efforts on visual platforms, such as
Instagram
or Pinterest, and if you strike a chord, why not take it up a notch and share your "chef tips" on the web.
Regardless of the timeframe, the virtuous circle always remains the same. A community = fans = better approval of your app and more chances to form a loyal audience.
A well thought-out design
It's no secret that we put a lot of emphasis on the importance of a great design and we will never get tired of advocating that. Of course we all look at our projects with a kind eye, considering its design to be the best, etc., but chances are they can be always be improved. One quick and straightforward solution? Asking for feedback.
Guillermo, currently working with the agency Pulpmedia, shared this advice over on our
Push your app podcast (in Spanish)
: "If you use illustrations they are likely to go out of style, whereas if you use nice pictures, the design of your app puts less emphasis on trends and is therefore more sustainable."

Consider this simple thought, an app is a product which relies heavily on catching the user's eye— after all its medium is a screen, right? That's why paying attention to design is so important, inside the app, to build a pleasant user experience, and beyond, to build a coherent brand image.
Providing added value
Your app should provide a feature which isn't already available through your other channels, or at least provide a mobile friendly version of that said feature.
If your application is simply meant to display content which is already readily available for your users/clients through other channels, it will be hard to get them to download your app, since it's far from a necessity. The ideal positioning is completing your existing offering with alternatives that provide added value.
For instance, if you have a restaurant, it's likely your menu and location are already available on the web, so why not make use of your app to enable more "exclusive" features, such as a
loyalty card
that will result in gifts, or a
club card
to earn privileges or
discounts
.
If we go back to the example of an influencer's digital presence, with their content already available on many channels (a blog, social media, etc.), the app's added value is most certainly its capacity to allow users to interact easily with one another, with localization options to bridge the gap between the virtual and physical worlds. We are indeed witnessing more and more online communities, for influencers, brands, and businesses, making the jump from a strictly digital presence to a physical one. This is exemplified through meetups for instance.
Last but not least, if you're just getting started with no existing community to begin with, the question of added value is probably a good one to ask yourself in order to
define the concept of your app
. There is no better guideline to drive the creation process.
Available on Android and iOS
More often than not, the successful apps we come across are available in both stores, the
App Store
and the
Play Store
. Sure publishing one's app on both platforms implies extra costs (for iOS in particular) and effort (to comply with the requirements of both platforms and submission processes), however it's bound to be counterbalanced by the fact that two distribution platforms make for a broader audience.
What's more, with
the latest version of GoodBarber, the V4,
your web app adapts to all screens, with your content available across all platforms and renders high quality UX regardless of the device.
ASO in the stores
Best practices to ensure a good ranking in the stores shouldn't be ignored either. For the App Store and Google Play, each platform has its own set of requirements, but some elements are crucial across both, such as the splash screen, an inviting introduction video, and a good description–the more relevant the better.

A good promotional campaign
When it comes to public relations, this much is true : "If you don't communicate you don't exist; if you don't speak no one will hear you". Therefore, communication is key when it comes to conveying your message.

Of course, depending on what type of app you have in mind, your promotion strategy is bound to vary, from the channels you use to the audience you target, but as you'll see, what ultimately matters is being present in the conversation. On that note, here are some articles in which we delve into the topic further:

Regular content updates
Of course content updates are related to your specific type of app, some being more static than others.
For instance, if your app is a directory of
restaurants
for a city, you'll need to keep the catalogue of restaurants up to date, as well as making sure the information for each point of interest is still accurate. In the case of a
school app
, it might be updating the school's schedule, and so on.
Regardless, here's the fact, if clients stumble upon the same content over and over again each time they log into the app, they are less likely to return over time. That is where a
content strategy
can come in handy to shake up the Home of your app with new content. Take the most popular apps out there–on top of their main and essential purpose (tracking how much you run, how many calories you burn), they come equipped with regularly updated tips as well.
Beyond content, updates related to the app itself shouldn't be overlooked either, with a commitment to fixing any bugs which may occur, and making sure that your app comes across as "in good shape", all the time. As you can see from the figures below, most popular apps in the stores do commit to regular updates: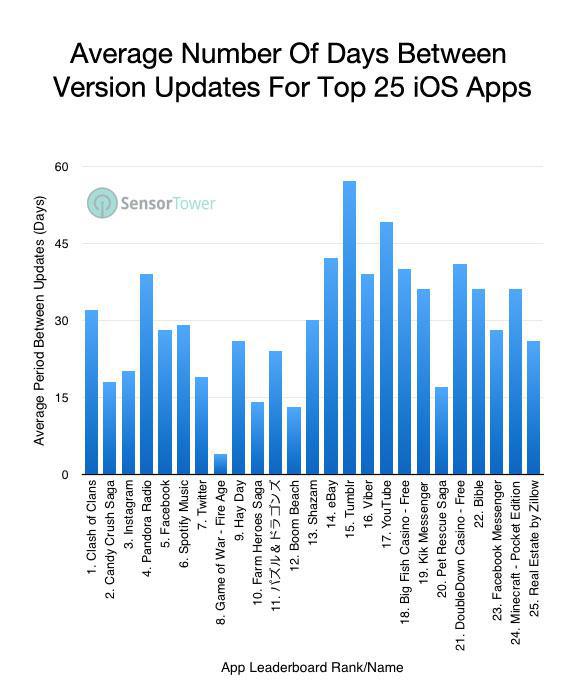 Less is more
When a lot of users first start using GoodBarber, they feel like they have to connect a lot of content and create many sections inside their app. But looking closely at the apps with the most downloads among our database, on average, their number of sections is rather small– between 4 and 10.
The first trick is of course to
organize your content, through our CMS
and with multi-level navigation if you connect external sources. But it also comes down to minimalism. If you look at some of the apps you might be using on a daily basis, such as WhatsApp, Linkedin, and YouTube, they have between 4 and 5 sections each. And as far as content apps are concerned, chances are you navigate their Home first or even just wait for notifications to arrive to go directly to news updates. Observations which could be summed up as: quality beats quantity and clarity is better than clutter.
Testing and error tracking
Last but not least, we've also noticed that the apps that make it in the long run are often the ones which have carried out A/B testing campaigns or at least run thorough tests before hitting the stores.
What these app creators have understood is that testing is a crucial step for improving UX (User Experience)— it's better to improve the UX before the app is released rather than fixing it afterwards. After all, this is your best shot at making a good first impression, because let's face it, when you download an app from the stores and it doesn't work properly, what do you do? Chances are you delete it shortly after, right? Well, your users will be doing the same with your app, unless its user experience is optimized. Case in point.
As for A/B testing, once your app is live, you can still run tests to see what performs best, such as a list display for articles instead of a template which emphasizes images, or vice versa. With our platform you can
perform changes easily
, without necessarily needing to re-submit your app to the stores, so make good use of this option to shake up your app's look and feel and surprise your users.
Still looking for app creation information before taking the plunge? Have a look at our
Apps for Beginners ebook
which will walk you, step by step, through the first steps of conceptualizing your app: