Web agencies: 5 reasons to start selling apps
Written by Christophe Spinetti on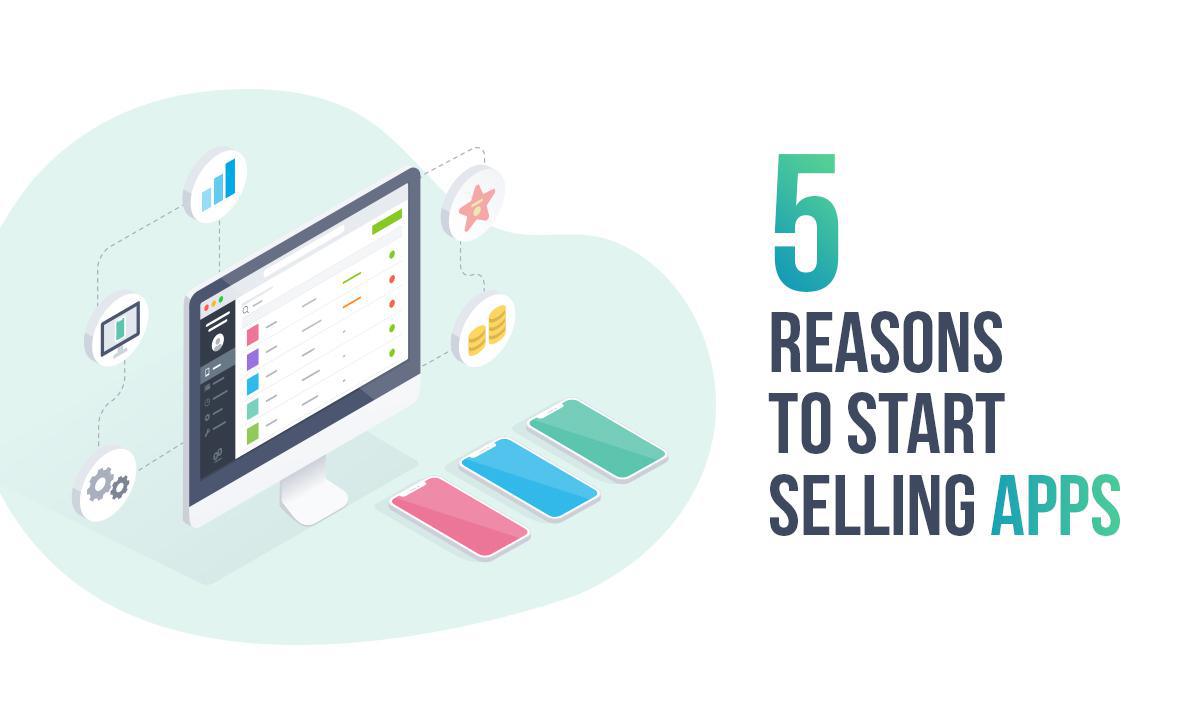 1/ A fast growing market
Your clients use their website to stay in touch with their customers and end-users. Whether it's a showcase site or an eCommerce site, you provide them with a way to communicate and sell online. These days, worldwide there are 3.8 billion smartphone users (+50% since 2016). That's considerable.
Traffic on mobile
has
surpassed that on desktop
. But what's even more important for your clients is how these smartphones are used. Indeed, each user spends more than 4 hours on their mobile every day. This audience wants services on mobile and your clients need to understand that.
Your clients need apps
You probably had to convince your clients of the value of having a website at some point. A few years ago, companies weren't sure they needed a website, but now it's a given for all organizations. For apps, we believe the same thing will happen. We assume you already offer mobile versions of your sites, and that's a good start. But on mobile, apps offer an unparalleled client experience. As we've seen before, the market is constantly growing. Your clients' audience is in demand for apps. And the health crisis has only accentuated this phenomenon. What the figures show is that the more people are in lockdown,
the more they use their cell phones
to shop or get information. These are activities that are normally done outside of work hours. Their computer has become synonymous with work, so it's with their cell phone that they allow themselves moments of relaxation. All sectors of activity are concerned. This is where your client needs to step in with their app to take orders from their customers or deliver content. For example, meal delivery apps
doubled their traffic in 2020
. If you have restaurants or
caterers
in your client portfolio, now is the time to contact them to suggest an app ;)
​2/ Apps-Builders will make your life easier
Whether you have developers or not in your team, you certainly don't have app developers. Especially since the technologies used for
PWA
s, Android apps, and iOS apps are different from web technologies. If you want to hire developers, you're going to have to invest heavily before you even launch an app. This is where Apps Builders come to your rescue ;)
Indeed, thanks to app-building platforms, you don't have to code your apps. You don't have to manage a technical base either. You create them directly from a back-office through graphical interfaces. No need to hire a team of developers, your current employees can do it. In addition to the financial gain, time-saving is significant. Indeed, as you don't have to worry about the technical side, the creation of apps will be faster and you'll be able to show demos to your clients in a short time.
More than 500 features at GoodBarber
GoodBarber offers more than 500 features that will allow you to best meet your clients' demands. The platform is organized into 2 main types of products:
Content apps
and
eCommerce apps
. In the content apps, you have the possibility to create news apps, apps for associations, business portals,
travel guides
, etc. The most popular features are
CMS
(Content Management System), forms, community management, chat, geolocation tools and push notifications. For commerce apps, we've developed features around conversion such as
cart reminder
, 1 Click payment, push notifications for
abandoned orders
. You also have the possibility to create coupon campaigns, to set up
Click and Collect
and
local delivery.
Your clients will be amazed by the speed and ease with which you create their app. Also, don't forget that GoodBarber is available in white label. This means that even if you
give your clients access to the back office
, they'll never see the GoodBarber brand. And while it's easy to create apps, the Support and Customer Success teams are here to help you on a daily basis and provide you with their expertise.
3/ A natural extension to your business
Why is it logical for you to sell apps? Simply because the business, apart from the technical side, is very similar. The first interest for you will, of course, be to recover more easily your fixed costs, your labor cost. Since some of your employees will be able to work on both app and website projects, if you have slow periods in the year, diversification towards apps will be able to absorb some of these downtimes.
Moreover, if you enter this market using an Apps-Builder, the obstacles are very low. Apart from the cost of subscribing to the platforms, the investment is almost zero. Of course, you may consider advertising, but in the beginning, if your business is already stable, you can start prospecting your existing clients. Then, you already know how to be profitable as long as your current way of
invoicing
is the same. You also have the legitimacy to enter this market because you know what the clients need. You'll just be offering them a new channel to be present on.
Finally, marketing apps can be a way to re-motivate your troops. In our business, many actors are passionate about what they do and are therefore passionate about innovation. The fact of offering a new product, which is in full expansion, will give new inspiration to your teams. Some of them will even see it as a way to progress in the company and will be all the more enthusiastic to work on app projects.
4/ A boost for your image
The boost given to your employees can be translated into the image you will give to the outside world. Indeed, apps are very popular at the moment, as we have seen above. The fact of being interested in them will position you as a modern company, but also reactive and aware of the latest trends.
The most important thing here is to communicate around the apps. We know that social media are a great place for this
kind of campaign
. Whether you decide to do paid advertising or simply create a buzz around your agency, mobile is trendy and you will be noticed. It's also a pretext to communicate with your clients. They'll see you as a company that stays tuned to the market, and a partner that will be able to follow them in the long term. When you offer them an app, even if they're not interested at first, they won't be able to deny that you'll always be at their side to help them innovate.
And of course, this image will give you a competitive advantage. Not all agencies are able to offer iOS and Android apps, with impeccable quality, affordability and in a short time frame. If you're one of the few offering apps in your domain, people will quickly know. And some of your competitors' clients might leave their current agency to work with you.
5/ An increase in your revenues
Of course, by offering apps, you'll of course widen your target audience and gain opportunities to
increase your revenues
. If, as we saw above, you invest in online advertising, these figures can increase significantly. What's certain is that the demand is there, in all sectors of activity, regardless of your geographical area. So you'll be able to reach companies that have created their site in-house but don't have the knowledge or skills to create an app. Of course, this seems obvious. But if you go into a little more detail, you'll see that there are even more opportunities to increase your revenue through apps.
First, don't forget to
discuss apps with your existing clients
. Through them, you'll already be able to increase their average spend basket with you. They may be rethinking their digital strategy. In most cases, the first people you will sell apps to will be your existing clients. Because they know and trust you, you've passed the first hurdle. But it's not that it will be easy, you'll have to argue to justify the creation of an app, but they will have an attentive ear.
Also, think about the site+app combo. Whether you're negotiating with prospects or clients, adding an app to the site can be useful. You can use the site as a gateway and talk about the app in a second step. You can also imagine a preferential rate for the clients who choose this option.
It is also important to know that the services around the mobile are more expensive than the web services. Already because the web has become common nowadays, and the competition is fiercer, so you are obliged to practice low prices. Mobile skills are rarer and therefore more expensive. Don't underestimate your work here. Just because you use an Apps-builder doesn't mean you have to sell your apps at the same price as sites. And above all, in addition to technical skills, an app requires a particular follow-up. Indeed, to
publish an app on the stores
requires to follow a long process and sometimes quite complex for the common man. You offer a real service by taking care of this process. GoodBarber helps you all along the publication process but the time spent on it must be valued. Finally, we advise you to update the apps on the stores at least twice a year. Something that is not done as regularly for a website. You must think about it and integrate it into your prices.
Finally, apps can provide you with possibilities to
charge additional fees.
Indeed, in addition to the usual services you offer to your clients (Design, SEO, marketing campaigns...), you can offer for example push campaigns, ASO (
App Store Optimization)
, or mobile-specific marketing on
social media
. The possibilities are endless.
Don't have a Reseller account yet?